Anonymizer Review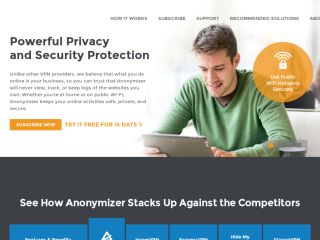 | | |
| --- | --- |
| Rating | |
| Countries | 1 |
| Servers | 50 |
| IPs | 1000+ |
| Price | $79.99/Year |
| Payment: | Credit Card |
| Protocols | IPSec |
Anonymizer has been providing VPN services since 1998! However they have marketed themselves under the name of online security and not necessarily VPN service in an effort to appeal to a wider audience. Anonymizer Universal service offers unlimited L2TP/IPSec access with daily rotating U.S. IP addresses for $79.99 a year. They also offer 14 Days Free Trial.
Anonymizer Speed Test
We got decent speeds when we tested Anonymizer in our speed test.
Anonymizer Pricing Plans


Anonymizer Universal plan Benefits:
Connect with unlimited bandwidth & speed
Access Wi-Fi hotspots securely
Surf sites discretely and anonymously
Protect against identity theft
View online content without censorship
Mask your real IP address & location
Anonymizer Setup / How To Use Anonymizer
Setting up Anonymizer is pretty easy you just download their client and run the setup and away you go. They have clients available for Mac, PC and an iphone app ( in development).
Anonymizer Server Locations
All of the locations of Anonymizer servers are in the United States. They have a pool of IP address that are based in the USA and each time you connect you will receive a randomly new IP address.
IP address support:
Shared / dynamic IP's
Anonymizer changes IP's everyday.
Countries Supported

United States
Anonymizer Protocols Supported
Anonymizer.com supports just 1 protocol – L2TP/IPSec – which stands for Layer 2 Tunneling Protocol
This security with takes two forms: authenticity (proof against tampering) and privacy (security against eavesdroppers). IPSec performs these functions on any protocol used on the Internet. IPSec has better performance than SSL, dramatically so in Virtual Private Networks.
Operating Systems and Mobile Devices Supported by Anonymizer:
Windows 7, Vista, XP
Mac OS X 10.5 (Leopard) or 10.6 (Snow Leopard)
iOS 3.0+ (iPad, iPhone, iPod Touch)
Anonymizer Errors
You shouldn't have problems with installation of Anonymizer's service but if you do – you will want to contact Anonymizer's customer support.
Anonymizer's available support for home users is via phone, email, and comprehensive FAQ pages.
Phone Support Numbers:
1-888-270-0141 – Inside the U.S.
1-858-866-1399 – Outside the U.S.
Their phone support is available Monday to Friday, from 7:30am until 5:00pm PST.
Anonymizer Conclusion
We like the fact that Anonymizer was established about 15 years ago and has continued to adapt.
They are not your typical VPN service in that they only support 1 protocol and 1 country – if you want a bit more variety you might try a more typical VPN provider from our best VPN services page or if you like what you see then take advantage of Anonymizer's 14 Days free trial surely being in business since 1998 has to help earn your trust.
Share This Webpage