BlackVPN Review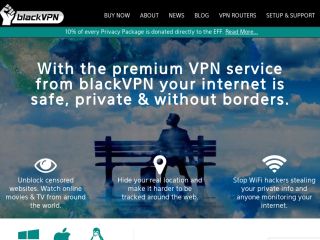 | | |
| --- | --- |
| Rating | |
| Countries | 12+ |
| Servers | 13+ |
| IPs | No Info |
| Price | €9.50/month |
| Payment: | Credit Card, Paypal, Bitcoin |
| Protocols | PPTP, IPSec, OpenVPN |
Headquartered in Hong Kong, blackVPN already has a nice selling point for those who want to take their VPN service outside of the US. The company has been around since 2008. The company has an easy to use service that should be suitable for most VPN users out there.
Speed Test
We'll have this available soon.
Pricing Plans
Pricing plans for blackVPN are as follows with 14 day 100% money back guarantee.
The TV Package, offering access to US, UK and Canada: € 7,50/month
The Privacy Package, offering access to Switzerland, Luxembourg, Estonia, Lithuania, Ukraine, Russia and Panama: € 7,50
Global Package: € 9,50
blackVPN Discounts / Coupons Codes / Special Offers
When these become available, it's usually through an affiliate. Check review site like VPNReviewz.com  for more information on any special offers that come around.
Setup / How to use blackVPN
blackVPN comes with a client that makes it easy to set up. It works with Windows, iOS, OSX and Android. Android version 4 or higher is required and iOS5 is compatible at present. Setup is not difficult.
blackVPN Server Locations
blackVPN provides access to servers in:

Canada

Estonia

Lithuania

Luxembourg

Netherlands

Panama

Russian Federation

Singapore

Switzerland

Ukraine

United Kingdom

United States
blackVPN Protocol Support
blackVPN allows users to choose between OpenVPN, L2TP and PPTP protocols. PPTP is generally not considered to be secure, but OpenVPN and L2TP are.
blackVPN vs. The Competition
blackVPN is serious about being a competitor. They make their product easy to set up and their pricing is certainly competitive. They also have their packages divided up quite interestingly, and usefully.
Privacy and Security
blackVPN has very good privacy policies. First and foremost, they don't log your IP. They just log when you were on, off and how much data you downloaded.
The company does not allow any P2P on US, UK or Singapore servers, due to DMCA concerns. They have plenty of IP addresses available on those servers and the user at the IP will be forwarded any DMCA notices that they generate.
Privacy servers have fewer IP addresses and users sometimes have to share. This prevents the company from even knowing who was doing what at a given IP address but, if there is a problem, the company will shut down access to whatever site was hacked completely. This allows them to provide safety and to protect anonymity.
Privacy locations are the only ones permitted for torrent use, but logs are never kept.
blackVPN Errors
One error that blackVPN advises users to be aware of is using OpenVPN without being Administrator on the account. This can cause problems on Windows systems.
blackVPN Service Conclusion
The privacy package is really well designed. It offers some jurisdictional layering in a package that's easy to understand and use. If you want TV access, the package for that is also well thought out. This VPN provider does a good job of showing the value of their service right in how they divide it up for their users.
Share This Webpage