GoTrusted Review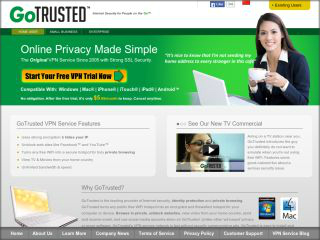 | | |
| --- | --- |
| Rating | |
| Countries | 5 |
| Servers | 5+ |
| IPs | 50+ |
| Price | $5.99/mnt |
| Payment: | Credit Card |
| Protocols | PPTP, IPSec, OpenVPN |
GoTrusted is a VPN service that offers unlimited access in more than a couple of countries, several different protocols, and will run most operating systems. Their prices are inline with other VPN providers and they offer a  7 day free trial period.
GoTrusted Speed Test
From the get go we found that GoTrusted's servers were fairly quick. Our baseline for the speed testing from the east coast of the U.S. (Atlanta, Ga.) we found that download speeds was just above 20 Mbps with an upload speed of 3 Mbps.
After using the client to connect through the secured tunnel, we rechecked our speeds and found that we had a download speed of a little over 10 Mbps, and an upload speed of just under 3 Mbps.
A bit of a drop but you have to keep in mind that this happens with VPN service providers and the loss in this case is acceptable and in line with the lower tier services.
GoTrusted Pricing Plans / Trials / Coupon
Their offer is for unlimited access using any protocols available in their service for $6. This is billed monthly and can be canceled at any time without penalty. They offer their new members a seven day free trial  and there aren't any contracts.
GoTrusted Setup / How To Use GoTrusted
Whatever OS you use, GoTrusted has a client that will work on your system. Every flavor of Windows is supported from XP on up. Mac OS X is also supported, as is most every type of mobile device produced today. Iphone, iPad, and iPod are supported.
Every web browser is supported, to include Firefox, I.E., Google Chrome, Opera, and Safari. Installation and set up are simple, just download the installer and everything is pretty straight forward. (We installed it in Windows 7 for testing, so cannot say as to the ease and configuration of settings on other systems.
After the install, the remaining configuration was fairly easily done. On the first run it will ask you for your log in information, after that it will select the fastest servers, and keep the best possible connection.
The software, called Secure Tunnel, is very configurable. If you travel often it is fairly easy to reconfigure your connection to appear as if you are always at home.
Simply right click the icon on your task bar, and go to the settings. In here you sill be able to select any server region you desire. You can surf from your home, from anywhere in the world, bypassing any restraints that may be placed on the connection you have.
GoTrusted Client Details
Secure Tunnel their client they offer monitors  many aspects of your connection. It will automatically select the best server for you, and if that server slows, or another improves, it will connect to it. The client will always pick the best server for your activities. The client is easy to use, and it's footprint on your system is reasonably small.
GoTrusted Server Locations And Protocols Supported
GoTrusted has servers located in  5 countries.

Ireland

Japan

Singapore

United Kingdom

United States
GoTrusted Protocol Supported
They support PPTP, L2TP/IPSec  and Open VPN.
The PPTP and L2TP/IPSec support are great for mobile security like on your Android or iPad and the OpenVPN is the top of the line  and latest in internet security.
GoTrusted vs. The Competition
While the client is fairly simple, and the configuration isn't complicated, it does lack a few of the major features that are in other VPN services. While their client lacks features like scheduled IP changing but they hold up well in pricing with top VPN providers like HideMyAss.
They may not have as many servers as some of the bigger guys but this gives them room for improvement.
GoTrusted Errors
We encountered no errors while using the client, speeds were sufficient to satisfy us. Our main issue was with the configurablility. We like to play with all those hidden settings most people don't think about, and with this client we couldn't do it.
GoTrusted Conclusion
GoTrusted seems to be an good company to go with however if you want a bit more variety in server locations and ip addresses for the same price we would recommended  a provider like HideMyAss .
That said, prices for GoTrusted are quite affordable and with the 7 day free trial you have a bit of time to check them out.
As always we recommend you check out our list of best vpn services and take a close look at GoTrusted also maybe take advantage of their free trial and then make your own decision.
Share This Webpage