Have a Mac? Try out VyprVPN
If you happen to be a Mac user and need a VPN service, VyprVPN has recently added a client just for this operating system. VyprVPN is one of our preferred providers and offers a very versatile VPN service with plenty of server options. The new Mac client makes it as easy to use their service on the Mac operating system as it is on Windows and spares you the hassles of setting anything up manually.
The Client
The VyprVPN Mac client allows you to connect to any of the server locations offered by this VPN provider automatically. It offers PPTP, L2TP and OpenVPN security, so you have all three of the most popular options for getting a secure, encrypted connection to the Internet.
The VyprVPN Mac client is accessible from the Mac menu bar and takes no more than a click to activate. Once you are connected, you can choose from any of the VyprVPN servers by simply selecting that option from the client's menu. The client has some very advanced security features, as well.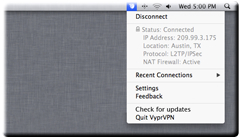 If the VyprVPN client detects that you're on an unsecured wireless connection, it will automatically route you through a VPN server so that you're not using the network in the open. It will also detect if you happen to drop your VPN connection and reconnect you automatically, so you don't end up sending and receiving network traffic unprotected.
The client will remember your most recent connections, allowing you to have a favorite server that it will choose automatically, unless you decide to change it. It also automatically replaces security certificates for OpenVPN and L2TP connections.
There's no need to do any manual configuration with this client, saving a lot of time for Mac users.
New Server Location
There's also a new server location in the VyprVPN lineup that you can use. It's located in Toronto, Canada and offers all of the supported VyprVPN connection protocols. With this server, the nations available to users of the VyprVPN service include:
Toronto, Canada
Paris, France
Frankfurt, Germany
Hong Kong
Amsterdam, Netherlands
London, UK
Austin, TX, United States
Los Angeles, CA, United States
Washington, D.C., United States
VyprVPN is one of our preferred providers. With this latest addition to their service, they're just as accessible to Mac users as they are to PC users. The PC client for VyprVPN is just as convenient and easy to use as the Mac client.
Share This Webpage