ibVPN Offers SSTP VPN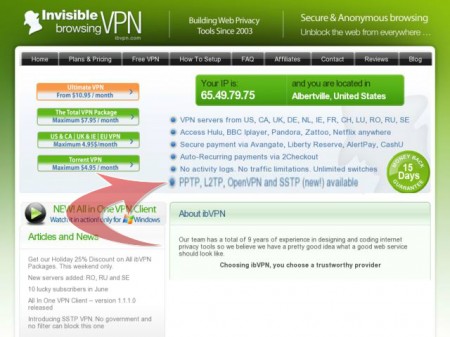 ibVPN has expanded its service to offer SSTP VPN. This will be particularly interesting to those who live in nations where a national firewall is in place. These nations include China, Iran, the UAE and others that go to great lengths to censor Internet access. SSTP offers a great alternative to some of the other protocols.
SSTP VPN vs. Other Protocols
SSTP VPN access utilizes HTTPS to provide encryption. The advantage in this is that the encryption does not require that information be sent over ports which are easily blocked. L2TP VPN, for example, is one of the best choices for nations without national firewalls but blocking the right port renders it useless. Without the right ports open, it cannot function.
If a government wanted to block out SSTP, it would have to block out an enormous number of websites to accomplish that feat. In essence, many of the most popular websites would be rendered inaccessible if this action was undertaken, resulting in what would amount to an Internet blackout.
There are limitations to this service, however.
SSTP OS Limitations
SSTP only works on the Windows Vista and Windows 7 operating systems. It does not work on mobile devices. On the operating systems that it does work with, however, SSTP is very stable, more so than LT2P. PPTP is another alternative but, unfortunately, the encryption on that protocol is very weak and does not provide the same level of security that SSTP does.
Other Alternatives
OpenVPN is another protocol that is extremely difficult to block and that is very popular with people in nations with a lot of censorship issues. Unlike SSTP, OpenVPN works on any OS and on any device, so you'll do have options if you don't happen to be using the Windows Vista or 7 platforms. SSL encryption is another good option for people in nations with restrictive firewalls.
Using a VPN allows you to access the entire Internet, unfettered. If you're in a nation where the government is starting to clamp down or where they already do, you may want to consider getting a VPN service that offers you either OpenVPN or SSTP VPN access. Either will provide you with an effective way to get on the World Wide Web. Services that do not offer these protocols, however, may not be suitable for nations with firewalls that can easily shut out other types of VPN access by simply locking down a port.
Share This Webpage