IbVPN Review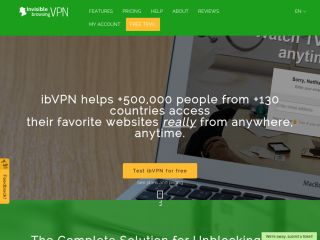 | | |
| --- | --- |
| Rating | |
| Countries | 39 |
| Servers | 94+ |
| IPs | 2000+ |
| Price | $10.95 |
| Payment: | Credit Card, Paypal, Ideal, Bitcoin |
| Protocols | PPTP, IPSec, OpenVPN, SSTP |
IbVPN is a flexible provider of VPN services that supports several protocols, including L2TP, OpenVPN, SSTP and PPTP. The servers are available in many different nations, including United States, United Kingdom, Canada, Germany, Ireland, Netherlands, France, Switzerland and Luxembourg. IbVPN also offers a DNS solution that's an affordable and reliable way to access geo-restricted content.
IbVPN Speed Test
In a PPTP test within the Unites States, where the baseline was also established, the server speed was under 10 Mbps. The upload speed remained closer to the baseline, at 1.30 Mbps.In speed testing, IbVPN was notably slower than most other services. Working from a baseline connection speed of 43 Mbps download and 1.50 Mbps upload, tests showed significant slowdowns.
While any VPN will slow down traffic due to encryption, this was a slower connection than the others tested.
IbVPN Pricing Plans
IbVPN has recently revamped their pricing plans. They are as follows:
Premium VPN and DNS Plan

Location based VPN Plan
Multi VPN Connection Plan

IbVPN Money Back Guarantee
If you have trouble with the service, you can contact IbVPN within 15 days of signing up for a refund. IbVPN Server Locations
IbVPN Free Trial
IbVPN offers a 6-hour free trial with access to all their servers.
Countries Supported

Argentina

Australia

Austria

Belgium

Brazil

Bulgaria

Canada

Chile

Czech Republic

Egypt

Finland

France

Germany

Hong Kong

Hungary

Iceland

India

Ireland

Israel
Italy

Japan

Lithuania

Luxembourg

Netherlands

New Zealand

Norway

Panama

Poland

Portugal

Romania

Russian Federation

Saudi Arabia

Singapore

Spain

Sweden

Switzerland

Turkey

United Kingdom

United States
IbVPN Setup / How to Use IbVPN
The IbVPN client is available as an all-in-one solution for both Windows and Mac users. The client allows you to get your computer configured to hook up securely to the VPN server network with no technical knowledge required.
It can also be installed manually by customers with some technical expertise. The site contains comprehensive information and tutorials on how to install the VPN service.
If you want to use a mobile device, there are clients for both iOS and Android devices available, allowing for mobile security. –see details here.
IbVPN Protocols Supported
IbVPN supports PPTP, L2TP/IPsec and OpenVPN encryption. SSTP is also supported. Browsers supported include all the major names, including Safari, Opera and Google Chrome.
IbVPN vs. the Competition
IbVPN has a unique pricing structure that lets you cut costs by choosing plans with servers located in the most popular nations. Their network is extensive, however, and those who want access to many nations will not find it lacking. This company has put out a great client, constantly updated its network and offers quite a few advantages that make them seriously competitive.
IbVPN Errors
The installer package should eliminate most errors in installation and configuration. Those who have installation issues after setting up the service manually will most likely find the solutions by checking the firewall settings and the type of encryption selected.
IbVPN Conclusion
IbVPN has recently updated their prices and put a lot of new plans out, making it a very good choice. There's enough flexibility in the pricing structure to make this service affordable for most users, and the small business services are robust.
IbVPN has many pluses to it. The client makes it easy to set up and the variety of different nations that you can connect from make it flexible enough for demanding users. If you're not concerned about encryption, their DNS solution is affordable and reliable. The 6-hour free trial is a great way to check them out for yourself.
Share This Webpage