iPredator Review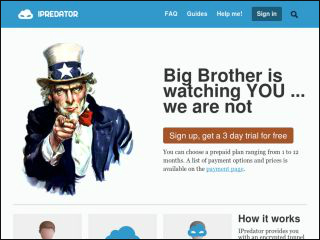 | | |
| --- | --- |
| Rating | |
| Countries | 3 |
| Servers | 100+ |
| IPs | 100+ |
| Price | 18 |
| Payment: | Credit Card, Paypal, Bitcoin |
| Protocols | PPTP, OpenVPN |
iPredator is a personal security program that can be installed to help you protect your information on the Internet.
iPredator offers encryption to help you secure your data and your personal information from being found when you are transferring files on the Internet.
iPredator Speed Test
For most website connections, you won't experience lags with iPredator. However, for major file downloads, you may experience some connectivity issues. The connection is typically stronger if you are closer to the VPN server.
In the case of iPredator – the servers are located in Sweden, Austria, and Switzerland. As we have noted elsewhere on this website — when you are further away from the Virtual Private Network, your connection will suffer.
If you are looking for software that will allow you to download files on your computer or other device, it may be best to check around for a product with a better connectivity.
iPredator Plans and Pricing
iPredator is pretty cheap compared to other programs on the market. 15 euros will cover your subscription costs for 3 months. This program does not have as many features as other programs, so you will lose out if you choose this plan over OpenVPN software programs with better features.
iPredator Set Up – How to Use iPredator
iPredator is more complex than other programs to install. You will need to activate the VPN after your Internet connection is established. You will also need to configure iPredator and fill out all of your account information. Once you have edited all of your configurations, your iPredator software program will pop up and you can begin using it.
Note: If you are running on a Mac or Windows, you will need to find out the exact installation process for your operating system.
iPredator Protocols Supported
iPredator currently support IPv4 for PPTP and OpenVPN. IPv6 is only available for OpenVPN.
iPredator Customer Support
The customer support service is helpful but not accessible all the time. You should make sure that you are able to fully install the software so that you can use it. Since the software can be purchased at such a low cost, the support is not as easy to access as with other types of security software.
iPredator Server Locations
iPredator has servers in Sweden, Austria, and Switzerland, but there will be no country switching. The software will not allow you to choose the server with the highest connectivity either.
iPredator vs. the Competition
While Ipredator achieved some popularity by being the virtual private networking service offered by The Pirate Bay with the stated goal of providing internet privacy, in reality there service is quite bit weak compared with all of the others VPN offerings available on the market.
According to our research iPredator was created in response to the introduction of IPRED law in Sweden. IPRED law allows copyright holders and law enforcement officials to request personal information about copyright infringement suspects.
Service Conclusion
We applaud iPreadator's response to such a restrictive law but actually would recommend other services unless you actually live in Sweden.
See Our List of Top VPN Services
Share This Webpage