IPVanish Launches VPN Service
IPVanish, a US based company, announced the launch of their VPN service last week. The addition of another high quality VPN service is good news for the whole VPN space and most especially the end user.
IPVanish offers a combination of fast servers, standard VPN procotols and plenty of different geographic locations (15 different countries and growing).
Details about The IPVanish Offering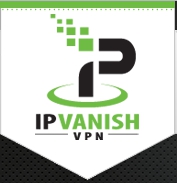 IPVanish boasts an impressive system, which it offers for only $10 per month. Unlimited VPN bandwidth is provided for users at this service level, making for one of the most competitive packages on the market. It also allows several different devices to be used for browsing, including mobile devices such as the iPhone, iPad and Android phones. OpenVPN, L2TP and PPTP are all supported on the IPVanish network, providing plenty of flexibility for users who want to use both different protocols and different devices in complete anonymity and security.
If you're unfamiliar with VPN services, they represent solutions to quite a few of the most pervasive problems on the Internet, particularly those that have to do with identity theft, with the intercepting of information when it is sent between different servers and with protecting your anonymity from people who may want to hack your computer directly. It is also an excellent service for people who live in nations where access to the Internet is restricted, as the encryption provides a way to get around most national firewalls safely.
IPVanish has over 2,500 different IP addresses that can be assigned to your computer. These IP addresses are assigned in substitute for your own IP address, which makes it virtually impossible for people to track your activity when you are visiting websites. In addition to this, encryption ensures that the traffic between you and websites is hidden from view. Anybody who tries to intercept that traffic will get nothing more than encoded information that they cannot read without the appropriate encryption key.
Why Would You Need a VPN Service?
VPN services can be used for a variety of different purposes. The most common is simply to provide anonymity when surfing. While illegal downloading is always a mistake, some ISPs do engage in a practice called traffic shaping, wherein they limit the amount of bandwidth allocated for protocols such as bit torrent. VPN services, because they encrypt traffic, provide a way for people to get around this bandwidth limiting so that they can use this useful protocol for legitimate purposes.
This is just one of the many uses that VPN services have for everyday consumers. IPVanish has thrown its hat into the ring with a strong offering that should engage the interest of anybody interested in a good VPN.
IPVanish Server Updates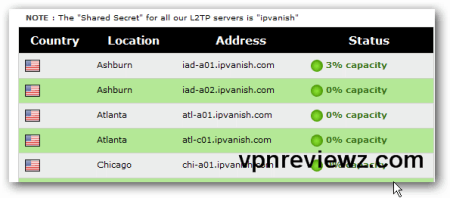 In addition to a strong and successful launch of the VPN product IPVanish has recently added Warsaw, Poland and Manchester, UK servers to their VPN network. This brings the total IPVanish network span to 38+ servers, 27 locations and 15 countries. Stay tuned for more to come!
Also check out IPVanish's control panel there on the right —  We like the fact that you can see at a glance server utilization stats . Here we see that their primary server in Ashburn, Va is at 3% capacity.  You can use this feature to quickly evaluate which server is best to connect to.
Share This Webpage