IPVanish Now in Shanghai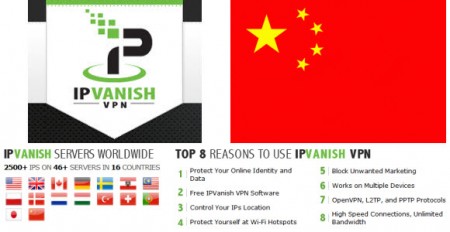 IPVanish, one of our preferred providers, now has a server available in Shanghai. The company lists quite a few different reasons as to why they added the server but, no matter what the reasons, it means that IPVanish will now be available to people in China.
Why Shanghai?
The company states that it partially located a server in Shanghai because of the heavy censorship in China. Political speech is particularly heavily censored in China and, to get news, many people in the nation have to use a VPN so that they can get through what is colloquially termed the "Great Firewall".
There's more to avoiding censorship involved in having a server located in Shanghai, however. People who are from China but who no longer live in the nation may still want to be able to access information that is only available within the Great Firewall. Utilizing this server will allow them to do so. According to the company, they should be able to watch content that is only available to people within China utilizing the server, as they will be provided with a Chinese IP address.
Anonymity, of course, is one of the most significant advantages of using a VPN and, in nations with a reputation for not looking kindly upon seeking out unapproved information or free speech, many people do go ahead and use a VPN to protect themselves.
Using the Service
To utilize the service, all you have to do is log into your IPVanish account and go to the Shanghai server. This will provide you with a Chinese IP address. If you've ever wanted to know what lies on the inside of the Great Firewall of China, this is your opportunity to find out.
For those within the nation, it offers a way to participate in free discussion on the Internet, to access information without any government restrictions and to enjoy participating in the communities on the Internet without the fear of having one's identity revealed to the wrong people.
In addition to its new server in Shanghai, IPVanish has servers located across Eastern and Western Europe, 20 separate locations in the United States, servers in Canada and more. Expanding into Turkey, Spain, Switzerland and Japan are also among the company's plans for the near future, so this VPN provider is definitely one that you'll want to keep an eye on if you're interested in signing up for a VPN service with global reach.
Share This Webpage