IPVanish Review
IPVanish offers plenty of servers and competitive pricing. The company was founded in 2012 and is based in the US. They run their own network, all tier-1, and have all the options in regards to the encryption protocols they offer and thousands of IP addresses to top it all off.
Read the technical review for more details or ..
IPVanish Speed Test
On the left hand side we have the baseline speed – a 10 Mb/s download and 600 Kb/s upload rate located in the southern Chile.
On the right hand we have an OpenVPN connection to Herndon, Va notice the slow ping times which reflect the originating server actually is located far away.  The upload speeds are actually faster via the VPN connection and although our download speed is slower than the baseline – 3.86 Mb/s actually represents a very fast connection speed considering we are on the other side of the world.
Depending on your location and your particular network situation your speed results will vary.  Ultimately the best way to test your VPN connection speed is to take advantage of IPVanish's 7 Day money back guarantee.
Pricing Plans
One of the strongest selling points for IPVanish is their pricing. They offer a very affordable package that could be a great option for people who want inexpensive VPN access.
The pricing breaks down by your term of service. All packages are unlimited in terms of bandwidth and other features. They include:
$11 per month for monthly subscriptions
$35.97 for 3-month subscriptions.
$143.88 per year
Be aware that discount offers are not uncommon from this provider. These discounts are oftentimes substantial. See below to view the current discounts.
Payment Methods
IPVanish accepts all major credit cards and PayPal as forms of payment.
Free Trial / Money Back Guarantee
IPVanish offers a 7-day no-obligation moneyback guarantee on their services. If you're not happy, you have that window in which to cancel your service without getting billed.
Coupons / Discount / Special Offers
Until February 14, 2014 use the IPVanish promo code / coupon code SOCHI  to save 25% on signup !
IPVanish regularly puts new offerings on the table to increase the value of their services. The prices with the current discount include:
17% off on one-month for a total of $10.00
25% off of 3 months for a total of $26.99
46% off of 1 year for a total of $77.99
Countries Supported
IPVanish has servers is a huge number of nations. They're among the most competitive providers in this regard:
Argentina
Australia
Austria
Belgium
Brazil
Bulgaria
Canada
China
Czech Republic
Denmark
Egypt
Estonia
Finland
France
Germany
Hong Kong
Hungary
Iceland
India
Italy
Japan
Latvia
Lithuania
Luxembourg
Malaysia
Mexico
Netherlands
New Zealand
Norway
Panama
Poland
Portugal
Romania
Russia
Singapore
Slovak Republic
South Africa
South Korea
Spain
Sweden
Switzerland
Turkey
United Kingdom
United States
VPN Protocols Supported
The three most common protocols are all supported by IPVanish, including PPTP, L2TP and OpenVPN
Number of IP Addresses
IPVanish has gotten up to more than 7,000 IP addresses since they went into business, making them competitive in this regard with any other provider.
IPVanish VPN Client
This is one of the strongest aspects of this service. They have a client available for Windows, OS X and Apple and Android mobile devices. They also have a setup option for Ubuntu—manual—and the service is compatible with DD-WRT compatible routers.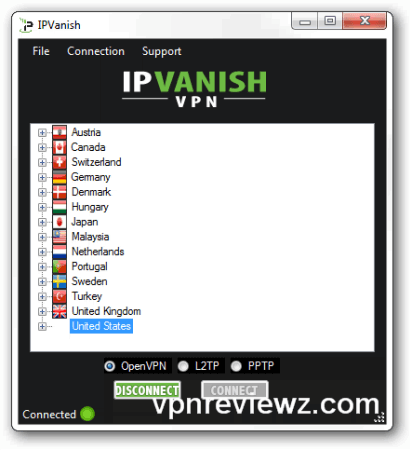 Common Error Messages
None reported and this company has excellent customer service.
Logging and Privacy Policy
They have the best possible logging policy: they don't keep logs of anything.
Legal Use / Torrent Policy
As long as it's legal, you can use the VPN for whatever you want. There isn't any filtering to worry about with this service.
IPVanish vs. The Competition
| | IPVanish | HideMyAss | ExpressVPN |
| --- | --- | --- | --- |
| Price | $10/Month | $6/Month(Year Signup) | $10/Month |
| # Countries | 14 | 36 | 19 |
| Quality | Very High | High | High |
| Windows/Mac Clients | Yes | Yes | Yes |
| Mobile Clients | No | No | Yes |
IP Vanish offers a quality product that's competitive with any of the others out there.
IPVanish Conclusion
There really isn't' anything lacking in this service. The network has been expanding since they went into business and they offer an easy to use client. They've got great customer service and support the three most common VPN protocols.
Share This Webpage