IPVanish Review
IPVanish is a VPN service provider that offers OpenVPN, LT2p and PPTP services for $10/month. IPVanish has more than 90 servers located across 41 different nations. There are more than 3,500 IPs available to subscribers.
IPVanish has been in business since 2012 and is headquartered in the USA. PVanish runs their own high-quality tier-1 network and is an excellent choice for a VPN provider.
Read the technical review for more details or ..
IPVanish Speed Test
On the left hand side we have the baseline speed – a 10 Mb/s download and 600 Kb/s upload rate located in the southern Chile.
On the right hand we have an OpenVPN connection to Herndon, Va notice the slow ping times which reflect the originating server actually is located far away.  The upload speeds are actually faster via the VPN connection and although our download speed is slower than the baseline – 3.86 Mb/s actually represents a very fast connection speed considering we are on the other side of the world.
Depending on your location and your particular network situation your speed results will vary.  Ultimately the best way to test your VPN connection speed is to take advantage of IPVanish's 7 Day money back guarantee.
Pricing Plans
IPVanish offers the following plans:
$10 for 30 days of service
$26.99 for three months of service
$77.99 for annual service
Each subscription includes 2 simultaneous VPN connections with unlimited bandwidth. The software provided by IPVanish is free.
Payment Methods
IPVanish accepts payment methods including:
PayPal
Credit Cards
UltimatePay
UltimatePay allows you to use more than 85 different payment methods and to purchase from 190 different nations.
Free Trial / Money Back Guarantee
IPVanish offers a 7-day free trial in the form of a money back guarantee.
Coupons / Discount / Special Offers
IPVanish is currently offering a discounted rate of $6.49 per month on monthly service, which equates to a 46% discount over their usual prices.
Countries Supported
IPVanish has servers is a huge number of nations. They're among the most competitive providers in this regard:
Argentina
Australia
Austria
Belgium
Brazil
Bulgaria
Canada
China
Czech Republic
Denmark
Egypt
Finland
France
Germany
Hungary
Iceland
India
Italy
Japan
Latvia
Lithuania
Luxembourg
Malaysia
Netherlands
New Zealand
Norway
Panama
Poland
Portugal
Romania
Russia
Singapore
Slovak Republic
South Africa
South Korea
Spain
Sweden
Switzerland
Turkey
United Kingdom
United States
VPN Protocols Supported
IPVanish supports the major VPN protocols: OpenVPN, L2TP and PPTP. We seem to get the best results out of using OpenVPN in our speed tests and so we would recommend using OpenVPN whenever possible.
Number of IP Addresses
IPVanish has over 3,500+ possible IP addresses. IP addresses are dynamically assigned which we feel is best for privacy anyways.
IPVanish VPN Client
IPVanish has a software client for both the Windows and MacOSx operating systems. There are clients for Macintosh computers running both OS X 10.6.8 and above and 10.6 and below. Here is what the client looks like in action. This provider also supports iOS and Android mobile devices.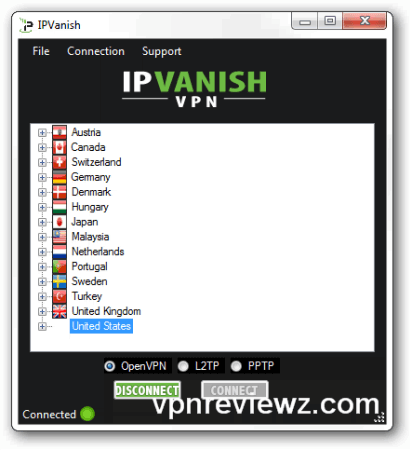 Common Error Messages
If you are running into errors (and we did not during our setup and speed tests), you have a variety of support options. The first stop would be visiting their FAQ or forum, and then if you continue to have your next stop would be customer support directly via email or chat.
Logging and Privacy Policy
IPVanish states "During our normal course of duties, we do not monitor, record or store logs for any single customer's VPN activity. We will, however, record the following data: Timestamp (date and server time) of the connection to us, duration of the connection, IP address used for the connection and bytes transferred. Logs are regularly cycled."
Legal Use / Torrent Policy
According to IPVanish there are "no restrictions on any legal use of the VPN" furthermore protocols such as bittorrent are not filtered.
However, IPVanish is a US-based company and they state on their privacy policy they will "terminate in appropriate circumstances the accounts of subscribers who infringe the copyrights of others".
While VPNReviewz does not condone illegal behavior, we will note that the definition of illegal behavior does vary among countries and if you are a US based customer using a protocol like bittorrent and paying for a VPN service it would make sense to connect to a VPN outside of your home country.
IPVanish vs. The Competition
| | IPVanish | HideMyAss | ExpressVPN |
| --- | --- | --- | --- |
| Price | $10/Month | $6/Month(Year Signup) | $10/Month |
| # Countries | 14 | 36 | 19 |
| Quality | Very High | High | High |
| Windows/Mac Clients | Yes | Yes | Yes |
| Mobile Clients | No | No | Yes |
IP Vanish has added a tremendous number of servers to their lineup over the past year. They've gone from just more than 30 to over 90 and have expanded their reach into many new nations. This makes them an excellent choice if you're interested in having access to the net from a range of different nations and if other providers have too few servers to accommodate that. They are among those providers that offer unlimited bandwidth, which is a huge competitive advantage.
IPVanish Conclusion
IPVanish does well in terms of speed, customer service, IP addresses and nations supported. They support all three of the most used VPN protocols, making them suitable for those who need to use a particular one of them for security reasons. They also have a great client and are always improving their network, making them a good choice all around. Their payment options should be flexible enough for most anyone.
Share This Webpage