NSA Parody Site Actually Explains a Great Deal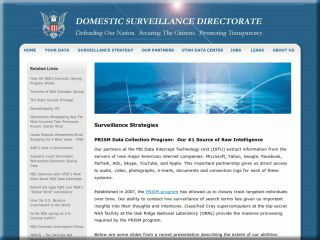 Parody works best when it's humor is anchored in reality. An NSA parody site managed to nail it right on the head with what they've made available on the Internet. Taking information leaked by Edward Snowden and adding quite a bit of humor to it, it actually gives a very good overview of what the NSA is doing and presents it in a way that is amusing and that actually makes it quite a bit easier to take in all the technical details.
What it Reveals
Even people who have been following the news recently will likely find some new information on this website. The people who put it together did a very good job of setting up the information so that it is quite informative, the commentary is funny but actually accurate and it's really quite an easy read. You get a few laughs out of it, as well, which may diffuse some of the anxiety that you may justifiably be feeling about a completely unaccountable government agency being able to violate your rights and look at your information without going through the usual processes required to justify such an intrusion.
Some of the headlines on the site are really quite in line with the arguments that people have made to justify the NSA intrusions into people's privacy. For example, the site that gives information on your data begins with the headline: "Your Data: If You Have Nothing to Hide, You Have Nothing to Fear". Sarcastic and cynical, of course, but that's really what makes good parody work and, as is the case with all good parody, this parody website does get the message across without being heavy-handed or giving lectures.
The Info
Many of the informational slides given on the website are ones that were leaked to media agencies regarding the activities of the NSA. While these have usually been presented in major media outlets with all of the requisite apologist arguments for the policies, seeing them in their raw form and the implications of what they say is really quite striking. In this case, the humor really does help to alleviate a little bit of the gravity of the situation while not taking away anything from how seriously it really does need to be taken.
The site has plenty of links to get more information on the NSA spying program and does a great job of satirizing some of the more ridiculous measures the NSA has taken to, as they say, protect national security. Take a look at the site and you just might learn a few new things and you'll certainly get some laughs out of it if the information is already well known to you.
Share This Webpage