PayPal Nixes TorGuard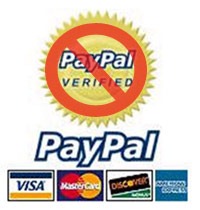 PayPal, one of the largest Internet payment providers in the world, has recently stopped taking payments for TorGuard, a VPN service. The reason given was that PayPal doesn't want to promote torrent trackers, according to a report in DSLReports.com. It remains to be seen whether or not PayPal will continue accepting payments for services for other VPN providers.
VPNs and Torrents
PayPal is making the assumption that VPN users utilize VPN privacy services exclusively to engage in piracy. The problem with the assumption is that, quite simply, this is not true.
Over this summer, the ISPs began monitoring people's Internet traffic on behalf of the entertainment industry. This is not being done by a law enforcement agency, is not being done with a warrant and it is not being done with the consent of users. Is part of a "six strikes policy" that is designed to discourage users from engaging in Internet piracy.
As part of the program, ISPs will check traffic for bit torrent downloads. A user who is found to have been downloading pirated material off of a bit torrent site will be given a series of six warnings, each of which comes with a more severe downgrade in their service. As was previously reported, there is no accepted procedure after this warning and, presumably, the user's service would go back to normal, anyway.
VPNs and Reality
VPN services have been exploited by hackers and pirates in the past. They do not constitute the majority of users by any stretch. VPN services are frequently used by people located in nations with extremely restrictive policies towards speech and information sharing. The services allow them to get through national firewalls, to access information freely and to safeguard their anonymity which, in some nations, is likely the equivalent of safeguarding their very lives.
VPNs are also used by people in free nations who simply don't like the idea of having their Internet traffic monitored any more than they would like having their mail opened by the post office to make sure that they hadn't copied a cassette tape and sent it to a friend. The assumption PayPal is making is that everybody using a VPN must be doing something illegal.
Chatter on the Internet reveals that many users are already finding different ways to pay for their services, of which there are many and of which some are actually anonymous in and of themselves, allowing even better privacy protection.
Share This Webpage