Pirate Party UK May Get Into VPN Business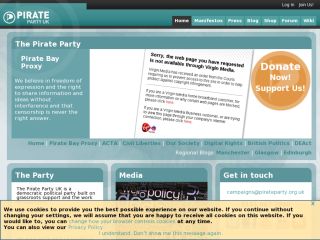 The Pirate Party UK may be endorsing a VPN service, if they're able to work out an arrangement with what they describe as a "trusted long-time supporter and member" in a press release. The party has been openly opposing efforts by United Kingdom lawmakers to fight piracy by locking out websites and tracking user activity. Similar laws have already been passed in many European Union nations and United States ISPs will be voluntarily monitoring the activity of users on behalf of the entertainment industry as of July, 2012.
The Service
According to the press release, the new service will be called PRV.IO and will be priced to be competitive with existing VPN services. The press release also goes on to say that people who choose to sign up for the service early will receive a discount. The way the service is slated to run conforms with what the Pirate Party UK endorses about user privacy.
First and foremost, the service would not log user activity any more than is required by UK law. If the company was presented with a legal request for user data, of course, they would have to provide it, but the Pirate Party UK assures users that the service would work to provide the maximum possible privacy to the user in question.
The UK Pirate Party is also endorsing a VPN service that would offer PPTP, IPSec and OpenVPN connectivity, according to their website. While the service has not yet been launched, the Pirate Party is committed to the right of people to browse the Internet privately and would donate part of the profits from the VPN service to the group's political efforts.
UK Law
Currently, there is no UK law in place but there are very vigorous efforts to get stricter monitoring of UK Internet users instituted on behalf of copyright holders. The Ofcom will start warning users if they are suspected of copyright violations by sending them letters.
How the VPN Would Help
PRV.IO would be a completely legal service that allows users to browse the Internet with their traffic encrypted, preventing ISPs from being able to track user activity. The service also prevents websites from gleaning the user's actual IP address from their visit.
The Pirate Party wants to make the service available for a more affordable price point than what most providers can offer. In particular, the most secure forms of VPN connections –OpenVPN and IPSec— tend to come at premiums and that makes them cost prohibitive for some users. They hope to extend the service to users in the United Kingdom and European Union at large.
For more information on VPN services check out the following links
Share This Webpage