PureVPN Release iOSVPN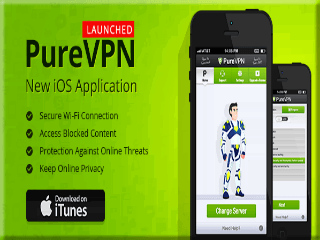 If you have an iOS device and you're looking to up your security, PureVPN has an app for you. The new iOS app comes with an enhanced user interface that makes it much easier to find your way around and protect your privacy. Being able to protect your privacy on mobile devices may be more important than you think. Apps can track your location and, in some cases, these devices are particularly vulnerable to being spied upon on public networks, making a VPN a great security enhancing.
Features
The new app from PureVPN includes 256-bit data encryption. This is very secure and prevents data from being read in transit. The app allows you to choose from multiple different encryption protocols and even has a purpose selection tool built into it to make this easier.
The iOSVPN app will automatically look for the fastest server it can find and, once you connect, the server speeds are unrestricted. An in-app subscription interface can make it a lot easier to take care of your account, even if you prefer to do that from your mobile device rather than from your desktop.
Also read full review of PureVPN Here
The Need for Privacy
According to PureVPN itself, 1 out of 8 people using a mobile device with the iOS operating system are victimized every day by cybercriminals. The amounts to $1.2 billion per year in losses directly attributable to unsafe Wi-Fi usage.
VPN can fix that. VPN connection provide encryption that keeps data, and users, safe If you're on an iOS device and want to try out the new app, you can download it from the PureVPN site and start getting better privacy protection right away.
Share This Webpage