Steganos VPN Review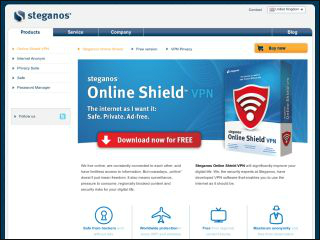 | | |
| --- | --- |
| Rating | |
| Countries | 1 |
| Servers | 10+ |
| IPs | No info |
| Price | $49.95/yr |
| Payment: | Credit Card, Paypal |
| Protocols | OpenVPN, SSTP |
Steganos is a German company that provides Internet anonymity features. There are some caveats with this VPN service—which is actually a bit different than most VPNs—that users should be aware of.
Steganos falls in the middle range of prices. It uses the OpenVPN protocol, which is fast becoming the preferred option, though there are potentially privacy issues that bear further discussion with this provider. The company also offers a range of security related products aside from VPN services that may be interesting to some users.
Speed Test
Speed test coming soon
Pricing Plans
Payment Methods
You can pay through PayPal, MasterCard of Visa.
Free Trial / Money Back Guarantee
None
Coupons / Discount / Special Offers
None
Countries Supported
All Steganos servers are located in Germany.

Germany
VPN Protocols Supported
Number of IP Addresses
Not specified. There are over 10+ different servers available.
VPN Clients Information
The client has proven difficult to install. While it is simple enough to use, it provides little in the way of useful features.
Common Error Messages
None reported, aside from the difficult installation procedure.
Logging and Privacy Policy
Germany does not allow VPN service and all of the Steganos servers are located in Germany. The company could be ordered to monitor and log traffic at any time. This is not a service for those who want true anonymity.
Legal Use / Torrent Policy
Not specified, though this service would not provide anonymity for such uses.
Steganos vs. The Competition
Steganos is a security company. They have interesting products on their home page related to securing your computer but, where VPN services are concerned, they are lacking in several regards. This service cannot be truly called a VPN because of its security issues compared to other services.
Steganos Conclusion
If you want a VPN service that will provide you with anonymity and security from having your log files examined, Steganos is not what you're looking for. Because Germany can order them to provide information off of their servers at any time, there is no way that this company can be recommended as one that provides actual privacy. There is no jurisdictional layering and there is no real guarantee of privacy to speak of. If you just want basic, 128-bit encryption to protect yourself against hackers, this service may work. If you want a full-featured VPN that provides you with protection against more sophisticated threats, this will not do.
Steganos is not a bad company. Some of their security products are very interesting, they have a professional web presence and their products manage to address a wide range of security concerns. Where an actual VPN service is being discussed, however, users could do much better for a lower price.
VPN services are widely available that offer what Steganos does not: guaranteed privacy, jurisdictional layering and a logging policy that does not provide a way for government or other authorities to step in and demand records of user traffic.
Share This Webpage