TellyPass Review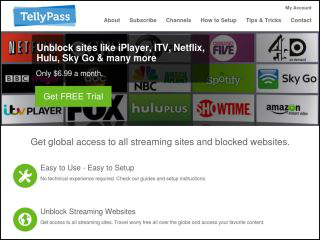 | | |
| --- | --- |
| Rating | |
| Countries | 7 |
| Servers | 8+ |
| IPs | No info |
| Price | $8.99 |
| Payment: | Credit Card, Paypal |
| Protocols | PPTP, IPSec, OpenVPN |
TellyPass is a VPN and proxy service that's very much designed around unblocking geo-restricted content. In fact, the interface for the service is even designed around this, making it a very easy choice for people who only want a VPN service for that purpose. It's a full-fledged provider, however, and TellyPass has a lot of other nice features, as well.
Pricing Plans
TellyPass offers the following subscription options.
Monthly: $6.99
3 Months: $19
12Months: $69
Monthly Plus VPN: $8.99
3 Months Plus VPN: $24
12 Months Plus VPN: $88
Payment Methods
TellyPass takes PayPal and credit card payments.
Free Trial / Money Back Guarantee
You can get a 7-day free trial from this provider to see how the service works.
Coupons / Discount / Special Offers
None at present.
Countries Supported
TellyPass has proxy servers located in:
London, UK
New York city, USA
San Jose, CA, USA
Raleigh North Carolina, USA
Istanbul Turkey
VPN connections are made to a UK server.

Canada

France

Germany

Spain

Turkey

United Kingdom

United States
VPN Protocols Supported
Setup instructions on the site indicate to use PPTP for manually setting up connections. Proxy servers don't offer encryption, but allow the user to get an IP address that gets around geo-restrictions.
TellyPass VPN Client
Setup is done manually for VPN connections, but the service has an interesting setup for proxies. In the user's account page, the proxy is set according to channel preferences, with the service taking care of the technical details. The user can opt to have both UK and US channels available, as well as Netflix from different locations, IE channels and others. This allows the user to set their proxy based on the content they want to watch rather than based on technical details. The closest proxy is chosen automatically.
Their DNS server is another option that works much the same as their smart proxy service and offers the same benefits.
Common Error Messages
None reported.
Logging and Privacy Policy
Tellypass logs your connection date and how long you were connected, as well as page accessed. They also collect information about which sort of device and software you use to connect. They erase their oldest logs at intervals.
Legal Use / Torrent Policy
No restrictions stated.
TellyPass vs. The Competition
TellyPass is really all about watching TV and it does a great job in that regard. The ability to configure your connection based on channels will likely appeal to a lot of people who want a proxy service for just that specific need.
TellyPass Conclusion
TellyPass has a lot to offer for those who want a service to stream television on. The VPN service is limited compared to specialty VPN providers, but may be fine for people who only use it once and a while. The different options for getting around geo-restrictions, however, and their ease of use are excellent.
Share This Webpage