UltraSurf Review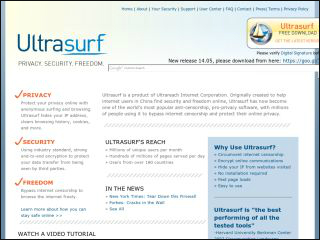 | | |
| --- | --- |
| Rating | |
| Countries | No info |
| Servers | No info |
| IPs | No info |
| Price | Free |
| Payment: | Credit Card |
| Protocols | PPTP |
UltraSurf is a proxy server that lets you get through some Internet censorship schemes. The software has not been updated in a long time and there are concerns about malware, which the company addresses.
Speed Test
There will be a speed test conducted shortly.
Pricing Plans
UltraSurf is free software. There are no paid packages available from this provider.
Payment Methods
Not applicable.
Free Trial / Money Back Guarantee
Not applicable.
Coupons / Discount / Special Offers
Not applicable.
Countries Supported
Not available on site.
VPN Protocols Supported
Not listed.
Number of IP Addresses
Not listed.
VPN Clients Information
The client software that comes with UltraSurf is designed to work with Internet Explorer. It can be manually configured for other browsers and there is an extension for Firefox. This service does not work on Mac or Linux operating systems.
Common Error Messages
Anti-virus software will oftentimes alert the user that UltraSurf is a Trojan.
Logging and Privacy Policy
See below.
Legal Use / Torrent Policy
UltraSurf has an internal content filter that filters out pornographic sites and other content that the company considers to be unsuitable for their service. There is no specific information on torrents.
UltraSurf vs. The Competition
UltraSurf is free and that is its principal differentiating feature from most of the competition out there. That being said, the program is undeveloped compared to the clients offered by other services and hasn't been brought up to date in some time. The concerns about privacy and the client being a Trojan are very real and have been noted by experts, including black hat hackers. The details on this are given below.
UltraSurf Conclusion
The price for UltraSurf certainly could not be better. Installation is easy on Windows PCs. The problems start where your anti-virus is concerned, however.
Your anti-virus may well identify this software as a Trojan. There are conflicting reports from experts on whether or not this is actually the case. One of the developers for this software, a NASA scientist, claims that suspicious behavior is due to the fact that the software is constantly being developed so that it can be used to penetrate the Great Firewall of China. As the software hasn't been updated in some time, this may or may not be true.
Security and hacking experts point out that there is suspicious activity from this software that looks very much like a Trojan. It probes IP addresses proximate to the ones that people connect to, it shows up as a virus in anti-virus software and it may be part of a network of attack software. Users may wish to look elsewhere.
Share This Webpage