UnblockUS VPN Review
| | |
| --- | --- |
| Rating | |
| Countries | 1 |
| Servers | 10+ |
| IPs | |
| Price | 5 |
| Payment: | Credit Card |
| Protocols | PPTP |
UnblockUS is a service that's not exactly a VPN.  Instead UnblockUs is a smart DNS system that allows you to get to specific sites that may be blocked in your nation or at your workplace, as long as you're using their DNS and not your own to complete the request. This service is priced very well and if your needs for a VPN-type service are very simple , this may be right for you.
Speed Test
No speed tests will be coming as speeds to most websites are unaffected.
Pricing Plans
UnblockUS offers a free 7 day trial program and a paid subscription for $4.99 CAD per month.
Payment Methods
Unblock takes PayPal, Visa and MasterCard for payments.
Free Trial / Money Back Guarantee
There is a 7-day free trial offered to let you get an idea of what this service has to offer.
Coupons / Discount / Special Offers
None.
Countries Supported
This service is not a traditional VPN service and does not have multi-national server layouts as other VPN services typically do.
VPN Protocols Supported
This is a DNS service, not a VPN service.
Number of IP Addresses
N/A
VPN Clients Information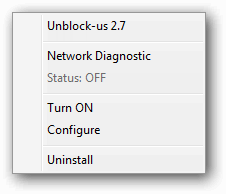 There is no traditional VPN client.  However for Windows and Mac platforms, a small file can be downloaded from the site which will take care of the DNS and HTTP setup, so you can get everything working quickly. Here is a picture of the client in action.
Common Error Messages
None reported. This service offers extensive technical support around the clock. We sent in a message for tech support and got an immediate reply.
Logging and Privacy Policy
N/A
Legal Use / Torrent Policy
This service is primarily designed to unblock sites that are not accessible in some nations and behind some network firewalls. The service allows access to the major streaming sites, which is one of its main features.
UnblockUS vs. The Competition
This is not a VPN service, so comparisons are difficult. This service is well-designed and effective for those who simply want to access blocked sites. It does not offer encryption, as do VPN services, but it is also very easy to use, required no client and supports a great many sites and services.
Note: UnBlockUs does not use encryption and as such may not work well in highly monitored or encrypted locations like China. We have tested here in Chile however and the service works great and is fast.
UnblockUS Conclusion
Unblock would make a great choice for anyone located in a region where site access is restricted, provided that the site in question is one of the supported destinations for UnblockUS. The service concentrates heavily on sites that stream media—Hulu, YouTube, etc.—and that are oftentimes blocked in nations with restrictive media policies or in nations where the site owner has deemed it necessary to restrict traffic for another reason.
UnblockUS is easy to use and minimally invasive on your system. You don't need to install new software, learn about VPN protocols or deal with any of the other complications that sometimes turn people away from using a traditional VPN. That being said, it's not as secure as a regular VPN and users who are concerned about their anonymity will not find what they're looking for in a Smart DNS service like UnblockUS.
This service, however, is great for those who just need a way to get to some of the most popular entertainment and social networking sites on the Internet. The setup is made much easier by the exe file that UnblockUS provides.
Highly Recommended if you just want to get around the geographical restrictions put on Hulu, YouTube, NetFlicks, etc and you don't about privacy or anonymity.
Share This Webpage