UnoTelly Review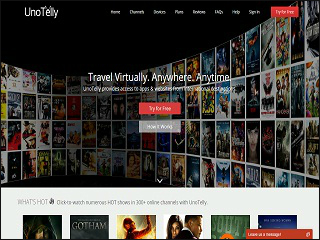 | | |
| --- | --- |
| Rating | |
| Countries | 4+ |
| Servers | 4+ |
| IPs | No info |
| Price | $3.94/mnth |
| Payment: | Credit Card, Paypal |
| Protocols | PPTP, OpenVPN |
UnoTelly is a DNS-based tool that allows people to watch movies, to stream television shows and to enjoy other forms of entertainment that may be restricted in their home nations. A user on this service, for example, could get a Netflix subscription from a nation that had a restricted selection, but stream any movie they wanted due to the fact that the site would see them coming from an unrestricted nation.
Speed Test
A speed test for UnoTelly will be posted in short order.
Pricing Plans
There are two plans that you can go with for UnoTelly.
The gold package gets more channels than the premium package.
Payment Methods
You can pay by PayPal, Visa or MasterCard for this service.
Free Trial / Money Back Guarantee
There is a free account that you can use to give this service a try. It only gives you access to free channels, however, and you can't sign up for premium channels with it.
Coupons / Discount / Special Offers
There are none at this time.
Countries Supported
UnoTelly allows you to access these services from any nation. This is not a VPN service, however, so it does not have the encryption that a VPN offers.

Canada

Netherlands

United Kingdom

United States
VPN Protocols Supported
This is not a VPN service.
Number of IP Addresses
There is a constantly-updated list of IP addresses that the company offers through its site.
VPN Clients Information
There is no VPN client for this service. You're simply changing your DNS server so that you can get by DNS blocking by your nation or by a corporate firewall.
Common Error Messages
Any DNS issues that you have can usually be resolved by checking the settings in your Control Panel.
Logging and Privacy Policy
There is no logging.
Legal Use / Torrent Policy
This service is for streaming television and movie sites. Only supported television stations are available, though there are constantly new ones being added.
UnoTelly vs. The Competition
The main competition for UnoTelly is UnblockUS, which offers a similar service. The primary difference between the two is that you're allowed to register more IP addresses with UnoTelly. This allows you to surf from different locations and to access all of the streaming content you get through your subscription. UnblockUS only offers one plan, as well, while UnoTelly is set up more like a satellite or cable television service and allows you to choose from a specific package of channels.
UnoTelly Conclusion
UnoTelly is a new venture, so it lacks some of the polish of its competition. It is a very good service, however, and users who are looking for a direct DNS option may find themselves very pleased with this one.
Share This Webpage