VPN provider HideMyAss adds new server locations
Popular VPN service HideMyAss has not been resting on their laurels recently instead they have been working and busy adding new servers in Brasil, Germany, the Netherlands and USA.
Here are the details from their blog.
According to their blog they have added 24 new VPN servers and 2708 IP addresses to their VPN network.
In total, HideMyAss now has 240 servers in 42 countries with 27415 IP addresses.
HideMyAss Server Improvement Details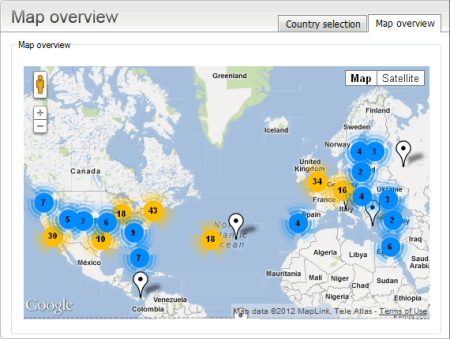 Brasil, Joao Pessoa – 127 IP addresses
Germany, Bavaria, Nuremberg – 124 IP addresses
Greece, Athens – 60 IP addresses
Netherlands, Amsterdam – 118 IP addresses
Netherlands, Schiedam – 127 IP addresses
USA, Ohio, Columbus – 102 IP addresses
USA, Illinois, Chicago – 61 IP addresses
USA, Indiana, South Bend – 124 IP addresses
USA, New Jersey, North Bergen – 129 IP addresses
USA, New York, Manhattan – 129 IP addresses
HideMyAss Company Values
We like HideMyAss because they are continually improving their network and moreover they are commited to being transparent as a company about how they do business.
Case in point, on a recent blog post they state the history of their company that in 2005 they were initially setup to bypass censorship of the world wide web through a free proxy service and then evolved the business model of offering a VPN service.
Here it is directly from them – Although our web proxy accounts to a high percentage of our traffic, our VPN service accounts to nearly all of our revenue. Our main customer base use our VPN service to ensure their sensitive web traffic cannot be intercepted on insecure networks, though there are many other legitimate uses such as the ability to unblock GEO-restricted websites.
Nice Job and Nice Improvement HideMyAss — Keep It Up!
Share This Webpage