VyprVPN Releases New Mac Version and New Server
VyprVPN has released a new version of their client for Macintosh systems. This makes it easy to hook up to the VyprVPN servers and comes with some very convenient features.
The client allows you to access VyprVPN servers from your menu bar with one click. You can choose from three different protocols: PPTP, L2TP or OpenVPN by simply selecting the appropriate option. You can also choose from any of the VyprVPN servers in North America, Europe or Asia without having to do any manual reconfiguration on your network connection; the client takes care of all of this for you.
More Advanced Features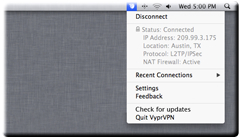 The VyprVPN client also has some very advanced features that protect your privacy. If you happen to drop your VyprVPN connection, the client will automatically reconnect you. It will also automatically connect you if you're on an unsecured wireless connection, allowing you to avoid one of the most significant hazards to privacy out there.
When there are updates to the server locations, the list of available servers on the VyprVPN will automatically update. It will also automatically update security certificates for OpenVPN and L2TP.
This client allows you to completely avoid having to configure anything for your VyprVPN connection manually. All you have to do is download it, install it, enter your credentials and go.
New Server Locations
VyprVPN also added a new server to their lineup. The new server is located in Toronto, Canada. It supports all the VyprVPN protocols, including PPTP, L2TP and OpenVPN. If you have the VPN client installed, whether it's on Mac or PC, your list of available servers will automatically be updated. If it is not, simply log out and log back in and the new option will appear.
With this newest addition, VyprVPN now as servers available in: Austin, TX; Washington, DC; Los Angeles, CA; Amsterdam, Netherlands; Paris, France; London, UK; Frankfurt, Germany; and Hong Kong. VyprVPN is one of our preferred providers, and they keep adding features that make them well worth checking out. Their service can be purchased along with products from Giganews and the Dumptruck online storage service, which offers secure file storage and easy access and sharing. Giganews is a partner of Golden Frog, with Giganews providing USENET access and Golden Frog offering the VyprVPN and Dumptruck services, all of which together make for a nice security, file storage and USENET access system.
Share This Webpage