VyprVPN Review
VyprVPN  is a personal VPN service offering PPTP, L2TP/IPSEC and SSL VPN (OpenVPN), VyprVPN currently has 712 servers located throughout 38 countries across North America, Europe & Asia (see server locations below)
VyprVPN is the only VPN service offering desktop and mobile apps for Windows, Mac, iOS and Android. It is also one of a few personal VPN services that uses in-house server clusters rather than hosted solutions that rely on third parties.
VyprVPN was developed by Golden Frog, a corporate partner with the well-known and highly respected Usenet company Giganews. Golden Frog respects user privacy and is committed to an open and free Internet. You can read more about the companies background here.
VyprVPN is a preferred solution for someone seeking a high quality VPN solution and someone interested in security and also additional techy features such as mobile and desktop apps.
Currently VPNReviewz has a special deal with VyprVPN for just $6.67 / month when you signup with our link..
VPN Speed Test
In doing some speedtests for VyprVPN, first a baseline speed is established for our ISP which in this case is in Saint Petersburg, Florida. Connecting to Vyprvpn server in the Washington DC area you can see that things slowdown a bit but only in relation to the ping time which doubles to about 55ms – connection speeds are actually very fast.
There is some minor delay when using VyprVPN when surfing the net but its not very noticeable. Granted a 20 Mb/sec Internet connection is fairly fast to begin with but with other VPN services the slowdown effect can be more noticeable. With other lower quality VPN services there is more of a noticeable lag effect as these providers seem show slower ping times due to crowded and overloaded servers.
VyprVPN basic
VyprVPN Basic – $6.67/mo
1 Connection
Desktop Apps Windows & Mac
No Mobile Apps
Unlimited Usage & Speeds
PPTP
128-bit Encryption
10 GB Dump Truck Online Storage
24x7x365 Support
3 Day Free Trial
VyprVPN Pro
VyprVPN Pro – $8.33/mo
2 Connections
Desktop Apps Windows & Mac
Mobile Apps Android & iOS
Unlimited Usage & Speeds
PPTP, L2TP/IPsec & OpenVPN
256-bit or 128-bit Encryption
25 GB Dump Truck Online Storage
24x7x365 Support
3 Day Free Trial
VyprVPN Premier
VyprVPN Premier- $10.00/mo
3 Connections
Unlimited Data Use
NAT Firewall
PPTP, L2TP/IPsec & OpenVPN
256-bit or 128-bit Encryption
50 GB Dump Truck Online Storage
24x7x365 Support
3 Day Free Trial
VyprVPN also has a 3 day free trial and payment options are either Paypal or Credit Card.
VPN Setup / How To Use VPN
Setup for VyprVPN using their provided desktop or mobile apps is simple and after installing the apps it takes just a few clicks to get connected. The VyprVPN instruction pages have lots of helpful information about how this process works. Take a look at our video below where we install VyprVPN  but here are the basic steps for VPN installation on Windows 7.
Open Network and Sharing Center in the Control Panel
Setup a New connection or Network
Choose Connect to Workplace
Choose Use my Internet Connection (VPN)
Choose a Server Location
Use your Giganews or VyprVPN Username/ Password
In addition to the helpful userpages VyprVPN has an app which can streamline the VPN setup and connection process.
VyprVPN Desktop App In Action
As you can see below we have included some screenshots of the VyprVPN client version 2.0 in action.
The VyprVPN Windows App
The Mac Osx Version App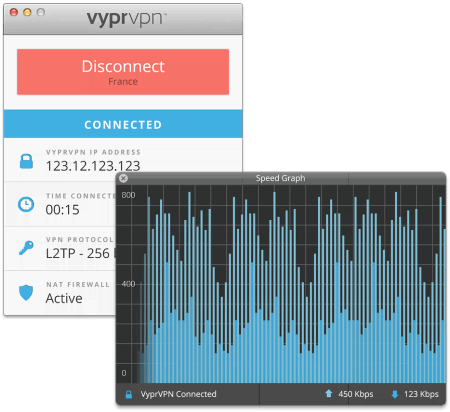 VyprVPN Mobile Apps
VyprVPN now supports two mobile apps for both  iOS and Android. Here a few highlights.
Easy installation of Mobile Apps for both Android and iOS
Connect with a single tap
Autoselect the fastest server based on your location
Currently available in Apple's AppStore and the Google Play Marketplace
| | |
| --- | --- |
| Android Mobile App in use | iOs Mobile App in use also |
VyprVPN Mobile Apps
All VyprVPN users have access to  mobile apps for both iOS and Android that make it easy to secure your mobile browsing. Here are a few highlights that both apps share:
Connect with a single tap(after unlocking your screen on Android) and on iOS setup to automatically connect
Auto-select the fastest server based on your location
Change protocols quickly and easily
Encrypt your web browsing, email and apps
Encrypted DNS  called VyprDNS to prevent DNS leaks and ISP snooping
Each app also has unique features:
VyprVPN on Demand for iOS detects when your iPhone or iPad initiates an Internet connection and automatically connects to VyprVPN.
With VyprVPN for Android you use VyprVPN widgets to connect or disconnect from your home or lock screen. You can also view your server location, throughput and IP address.
Both apps are currently available in Apple's AppStore and the Google Play Marketplace.
VPN Server Locations
VyprVPN has service locations in the following general geographic areas:  USA, China, Oceania, South America, Central America and Europe.   Specifically include Los Angeles, Washington DC, Austin TX, Hong Kong, France, Canada, Netherlands, Germany, UK and Amsterdam.
The specific server hostnames include but are not limited to the following list:
Asia – Hong Kong – hk1.vpn.goldenfrog.com
Austria – Vienna – at1.vpn.goldenfrog.com
Australia – Sydney – au1.vpn.goldenfrog.com
Belgium, Brussels – be1.vpn.goldenfrog.com
Canada – Toronto – ca1.vpn.goldenfrog.com
Czech Republic -cz1.vpn.goldenfrog.com
Denmark – Copenhagen – dk1.vpn.goldenfrog.com
Europe – Luxembourg – lu1.vpn.goldenfrog.com
Finland –  fi1.vpn.goldenfrog.com
France – Paris – fr1.vpn.goldenfrog.com
Iceland – is1.vpn.goldenfrog.com
Ireland — ie1.vpn.goldenfrog.com
Indonesia – Jakarta –  id1.vpn.goldenfrog.com
Italy – it1.vpn.goldenfrog.com
Japan – Toyoko – jp1.vpn.goldenfrog.com
Germany – Frankfurt – de1.vpn.goldenfrog.com
Lithuania –  Vilnius –  lt1.vpn.goldenfrog.com
Malaysia – my1.vpn.goldenfrog.com
Netherlands – Amsterdam – eu1.vpn.goldenfrog.com
New Zealand Auckland – nz1.vpn.goldenfrog.com
Norway – no1.vpn.goldenfrog.com
Phillipines – ph1.vpn.goldenfrog.com
Poland – pl1.vpn.goldenfrog.com
Portugal – Lisbon – pt1.vpn.goldenfrog.com
Romania – Bucharest – ro1.vpn.goldenfrog.com
Russia – Moscow – ru1.vpn.goldenfrog.com
South Korea –  kr1.vpn.goldenfrog.com
Spain – es1.vpn.goldenfrog.com
Singapore – sg1.vpn.goldenfrog.com
Sweden – Stockholm – se1.vpn.goldenfrog.com
Switzerland – Zurich – ch1.vpn.goldenfrog.com
Thailand – BangKok- th1.vpn.goldenfrog.com
Turkey – tr1.vpn.goldenfrog.com
U.K. – London – uk1.vpn.goldenfrog.com
U.S. – Austin – us3.vpn.goldenfrog.com
U.S. – Los Angeles – us1.vpn.goldenfrog.
U.S. – Miami – us4.vpn.goldenfrog.com.
U.S. – Washington, D.C. – us2.vpn.goldenfrog.com
Vietnam – Hanoi – vn1.vpn.goldenfrog.com
VyprVPN's servers are different than those of the average VPN service. Golden Frog owns their server clusters and manages their network which translates into better quality connections, greater reliability and better user experience. No need to be concerned about getting kicked off and having to reconnect.
VPN Protocols Supported
VyprVPN supports PPTP, L2TP/IPSec and OpenVPN.  In addition to supporting these top three VPN protocols, VyprVPN added an optional NAT firewall service or a packet filter which mimics the behavior of a wireless router to help protect against outside threats.
Additional Bonus Features
In addition to the easy config desktop and mobile apps VyprVPN offers the following bonus features.
DumpTruck Software – 50 GB/month of free online security storage software.  DumpTruck functions similar to the well known DropBox service however your data is encrypted and not stored on Amazon S3 servers.
VyprDNS – VyprDNS is an encrypted DNS service that prevents ISP snooping, DNS leaks and man in middle attacks.
Chameleon VPN Protocol –   a proprietary VPN protocol which helps VPN users disguise the nature of their traffic.  Note: VPN traffic is always encrypted however due to the nature of the VPN connection process, ISPs can see that you are sending encrypted VPN data and shut down the connection.  This happens in China often and the Chameleon protocol helps to prevent this type of monitoring  –  more detail on the Chameleon VPN protocol  here –
VPN Errors
Assuming you use one of VyprVPN's  clients for windows or MacOsx then you should not have any errors in connection.   This is not to say that errors in connection do not happen but rather they should be a rare occurrence again assuming you download and install GoldenFrog's software.
All VPN services will show errors at times especially when initiating connections, VyprVPN is no different and typically if  you are going to have errors you will see in the case of Windows – the generic windows 800 error.
What I have seen from time to time has been the can't connect errors or timed out connections every now and then.
First thing you have to identify is where is this error occuring – is it your own network or the VPN you are trying to connect to ?
Simply, goto to a command prompt window and type telnet us1.vpn.giganews.com 1723 – if you are not able to connect then check your network  as it could be your own network: your firewall, your router, etc.
Also you can always visit the giganews.vyprn usenet newsgroup or just contact support (VyprVPN has very quick customer support) if you have any particular questions.
VPN Conclusion
VyprVPN is one of our top recommended VPN Providers. Yes, they are priced a bit higher but you are paying for quality, higher security, apps and speed. Plus with our 50% for the first month you can quickly and cheaply evalute the product.  VyprVPN's servers and network infrastructure are all their own and  top quality. Click through our link and check them out.
Check out our video below to see VyprVPN in action before your signup.
VyprVPN Video Review
Share This Webpage