What OverPlay's SmartDNS Service Is and Why It's Cool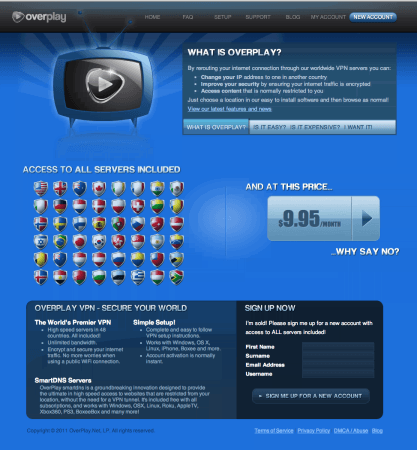 Overplay has introduced a tool that should be of great interest to anyone who needs to be able to access websites that are blocked to them. If you are not familiar with SmartDNS. Overplay has been promoting them recently quite a bit.
The SmartDNS service has the convenience of a VPN service in that it unblocks sites from your browser but, unlike a VPN service, it's not an encryption service. If you need to get around a pesky firewall and don't want to install anything on your computer.
OverPlay includes this service as a part of their standard VPN package. Think of it as a very convenient add-on to your service that you can use whenever you want to get to a site that's blocked out from your network but when you don't really need to use your VPN service.
Here are a few important points about Overplay's SmartDNS system
First things first: If you need a VPN for encryption purposes, Smart DNS is not a substitute. A VPN service completely masks all of your traffic, providing the highest level of security. SmartDNS allows you to visit web sites that are blocked by your ISP or on your network but anyone checking traffic logs will be able to see where you've been.
SmartDNS is more of a convenience tool more than a security tool. What makes it very cool is that it opens up a great many sites without requiring you to install anything on your computer to do so. It's enabled from your OverPlay account area and then by making a very easy change in your configuration.
After making this change, you'll be able to access some of the most popular sites that also happen to be blocked by ISPs quite frequently. You can get around your college or school's firewall or get to them from your workplace.
This service relies on whitelisted sites, so there are probably some sites out there you won't be able to get to. The whitelist is always expanding, however, so don't expect to be shut out for too long!
One extra convenience: You can set your router up to work with the service, which means that your entire network will be able to go through the SmartDNS service to access whatever Internet resources are blocked off by your ISP.
This level of convenience makes it easy to use the service for LAN parties or for when you just want to makes sure that anyone who hooks up to your wireless can see the entire Internet rather than just those parts that are approved by your ISP.
Read our review of Overplay to get more information about OverPlay and their smart DNS tool.
Share This Webpage