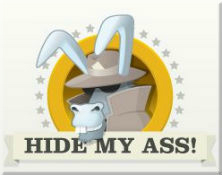 If you have an Android device and a Hide My Ass account, the company just made life a lot easier for you. Their new app makes it very simple to connect to their VPN network from your mobile device. It's a free app that you can download from the Google Play store.
Tablet or smartphone, this app can keep you much safer when you're out and about. It can also defeat attempts by apps to use your location to track you, which is a serious advantage.
Convenience
This is very easy to use. Download, install and open it up and it's very intuitive from the start. Your username/password combination is the same as you use to connect to the HMA network from your desktop.
The app will automatically look for a server for you to connect to. You don't have to take its recommendation, however. If you tap on the right of the recommended server screen, you get the whole list. Considering that this is an HMA app, that list is huge. They have more than 600 servers located around the world. You can connect to a staggering amount of different cities across the globe, right from your mobile device.
Click here for Hide My Ass 30 Days Free Trial
Performance
This app allows you to choose your protocol, so you can pick the one that's easiest on your device. Once you're hooked up, you get tight encryption that protects you from spying.
The connection speeds are very fast, as is the case in general with this particular provider. Once you're connected, you can stream geo-restricted content and use the Internet on your device without being spied upon. If you're on a public Wi-Fi network, all of your traffic is encrypted, so anyone trying to take a peek at what you're doing won't be able to tell anything about what you're sending or receiving. Given the amount of credential theft and other hacking that goes on over public Wi-Fi connections, this is a significant advantage to using the service.
Get it if You Need it
If you use an Android mobile device, there's no reason you shouldn't be using this app already. It's convenient, easy on resources and provides a very important layer of protection for your data when you're on your mobile. It's free and HMA certainly made it easy, so be sure to check it out. You can read our full review of this excellent provider if you don't have an account with them yet.
Useful Links: