HideMyNet is a US-based provider that offers servers in an array of different nations. They have been in business since 1998, so have no need to establish themselves in that regard. The company offers quite a few features that may be of interest to those in need of a VPN provider.
HideMyNet Speed Test
We will be testing HideMyNet for speed in the near future.
HideMyNet/IronSocket Pricing Plans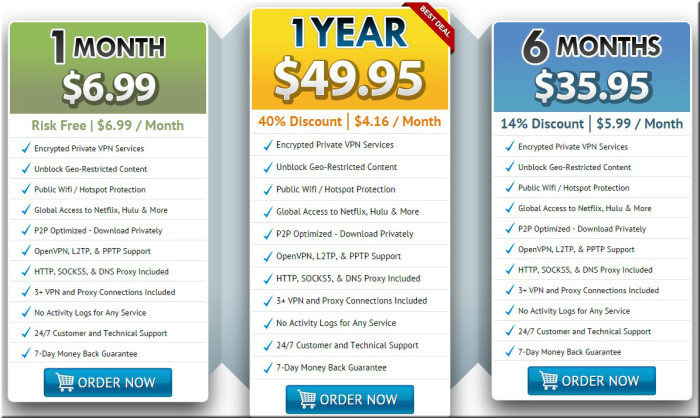 HideMyNet/IronSocket Payment Methods
American Express
Visa
Master Card
Discover
Paypal
Bitcoin
HideMyNet Discounts
HideMyNet has none at present.
HideMyNet Setup
HideMyNet supports all operating systems.
HideMyNet/IronSocket Server Locations

Argentina

Australia

Brazil

Canada

Cyprus

Denmark

Egypt

France

Germany

Hong Kong

Iceland

India

Indonesia

Ireland

Italy

Japan

Luxembourg

Malaysia

Mexico

Netherlands

New Zealand

Norway

Panama

Philippines

Romania

Russian Federation

Saudi Arabia

Singapore

Spain

Sweden

Switzerland

Taiwan

Thailand

Ukraine

United Kingdom

United States
HideMyNet IP Addresses
HideMyNet currently has more than 10,000+ IP addresses available.
HideMyNet Protocols Supported
HideMyNet supports all of the major protocols, including OpenVPN, L2TP, & PPTP. They can also function as an HTTP proxy and as a DNS proxy.
HideMyNet vs. the Competition
HideMyNet offers a lot of IP addresses and plenty of server locations to choose from. They also offer a very simple pricing model. Paying in advance for 12 months of service certainly has its financial benefits.
HideMyNet is among the VPN providers that accept Bitcoin payments, which are as anonymous as online payments can be. For those who are in nations where protecting their privacy at every step is an issue, Bitcoin is a real advantage.
If you're a fan of leaving your VPN on at all times, the fact that they allow you unlimited bandwidth on this service is an advantage.
HideMyNet Conclusion
HideMyNet doesn't restrict your bandwidth, what type of VPN you use or your server usage, and those are all good things in their favor. They also accept Bitcoin payments, which are becoming increasingly popular but aren't accepted by everyone out there, and it's a great enhancement to the service.
Their longevity in the VPN industry is also a plus in their favor. Overall, this is a good service that should provide some users with everything they need to get up and running with a VPN quite easily and with minimal hassle. For those who insist on using Bitcoin for payment, this is among the fewer options out there that make Bitcoin a possibility, so it will obviously have a great deal of appeal to such individuals.