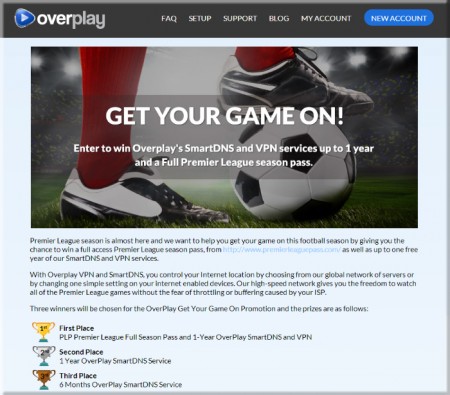 OverPlay VPN has a promo going on that's worth taking a look at. Entitled "Get Your Game On", it could end up netting you a full Premier League Season Pass and 1 free year of services from OverPlay.
The Promo
You can enter the promo here. If you want to get more entries in the contest, you can start following OverPlay on Twitter, like them on Facebook and share the link to the promotion on either of those services and on Google+. This will maximize your chances of winning by getting you more entries in the contest, of course.
The promotion runs through the 13th of August, 2014, so you'll want to sign up fast. The winners will be chosen at random, so it's the luck of the draw as far as getting the prizes goes.
The Prizes
The prizes are as follows.
First Prize: PLP Premier League Season Pass, plus 1 full year of OverPlay VPN and SmartDNS.
Second Prize: 1 year of OverPlay VPN and DNS
Third Prize: 6 months of Overplay SmartDNS.
SmartDNS service allows you to get around geo-restrictions on content and to view most any site, no matter where in the world you happen to be located. VPN services provide the same benefit, plus encryption that helps to protect your privacy.
Click here to Join OverPlay Promo Now
Sign Up
This is a great deal, particularly if you happen to be a football fan who wins the first prize. The OverPlay service is one of the best out there, with flexible VPN options, all the major protocols and great privacy protection on servers all around the world.—Read full review of OverPlay VPN here.
OverPlay does not log your traffic, so they're among the providers that will have an edge in that regard for those who are particularly concerned about their privacy. The SmartDNS service does not offer encryption, but it's a great option for maximizing the speed of your connection and getting an IP address that allows you to watch content that might be blocked in your home nation.
This promo isn't lasting long, so sign up now. The winner of the first prize will get to see all the action from Barclay's and an entire year of both the SmartDNS and VPN services, which is a great value. The second and third prizes don't come with the football, but they're great offerings, as well, from a reputable and fast VPN provider.