Proxy.sh is based in the Seychelles, a great jurisdiction for privacy. Proxy.sh alsohas very affordable packages relative to what other providers offer. The security this provider boasts is excellent on several fronts, but the performance of the VPN was lacking when we tested it.
Pricing and Plans
Proxy.sh divides up its prices by the connection's maximum speed and the number of nations available. The pricing is as follows.
 Quick: $2 for 72 hours of access, 1Gbps, two nations available
 Basic: $5/month, 1Gbps, five nations available
 Solid: $10/month, 1Gbps, fifty nations available
 Pro: $20/month, 50Gbps, same package as Solid along with early access to new features and client updates
This provider accepts a huge number of payment methods. Bitcoin is among them.
Free Trial / Money Back Guarantee
Proxy.sh doesn't offer refunds. The company's seventy-two hour plan, however, provides a good way to test the service for only $2.
Privacy & Anonymity
Proxy.sh does not keep logs, but they do warn that, if legally required, they may have to inspect their network using monitoring tools. In such cases, the company will notify their clients through a report, a network alert, or their warrant canary.
Torrent Policy
Bittorrent can be used on this provider's networks.
Customer Support
Customer support is provided through a ticketing system. Proxy.sh says that they have support staff on duty twenty-four hours per day. They also say that most support requests will be answered within three days, a rather long span compared to other providers.
Product Testing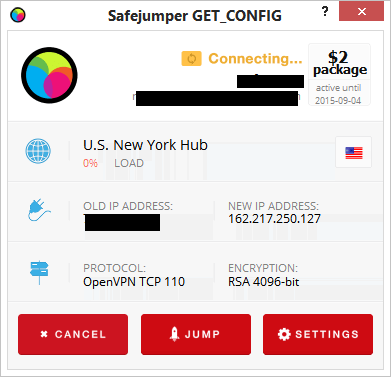 We tested this provider's service using their Safejumper software, included with the subscription. Safejumper has a straightforward interface with few options. It's easy to change your IP. The interface features the percentage server load for the location where you're connecting.
Windows, Mac OSX, Android, IPhone, etc.
Safejumper runs on Linux, Android and iOS. Mac users can use the Tunnelblick client to connect. Viscosity is also available at the Proxy.sh page.
You'll have to download the configuration files for the servers you want if you're going to use Viscosity or OpenVPN. The download links can be found on your account page.
Speed Test

Proxy.sh Baseline Speedtest

Proxy.sh VPN Speedtest
Proxy.sh was slow in testing. We tested it on a 50Mbps/5Mbps connection. The package we tested only allowed us to connect to servers in New York and Ukraine. We opted for New York. Our download speed was reduced to less than 3.50Mbps.
We also had some connection issues involving authentication failures when testing with both Viscosity and the
OpenVPN client.
IPCheck and DNSLeak
Proxy.sh changed our IP, but our DNS did leak. You'll want to manually configure your DNS settings to avoid this.
Feature Summary
 RSA-4096 encryption
 No logging
 Accepts Bitcoin
 PPTP, L2TP, OpenVPN
 Torrenting allowed
Countries Supported

Australia

Austria

Brazil

Bulgaria

Canada

Chile

Czech Republic

Estonia

Finland

France

Germany

Hong Kong

Hungary

Iceland

India

Ireland

Isle Of Man

Israel

Italy

Japan

Latvia

Liechtenstein

Lithuania

Luxembourg

Moldova

Netherlands

New Zealand

Panama

Poland

Portugal

Romania

Russian Federation

Singapore

South Africa

Spain

Sweden

Switzerland

Thailand

Turkey

Ukraine

United Kingdom

United States
We Liked
 Good encryption
 Diverse payment options
 No-logging policy
Areas for Improvement
The speed with this service was too slow. Proxy.sh may allow torrenting and have a good logging policy, but the speeds tend to negate those advantages.
Conclusion
Proxy.sh offers one of the most affordable services out there. If you need a low-cost VPN with great privacy protection, this company does offer that. However, their speeds were lacking and that level of network performance tends to make this provider a lot less attractive than any of our recommended VPN services.