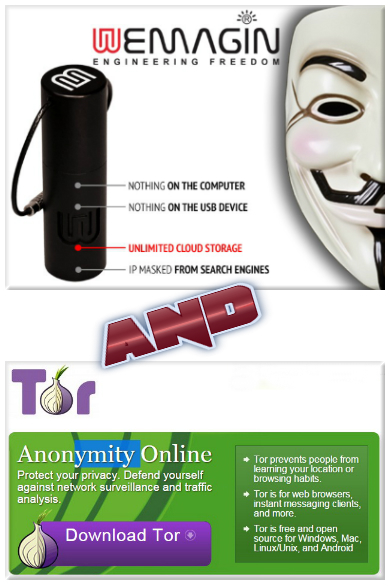 Wemagin VPN is a project on Kickstarter, which is designed to make using a VPN service easier for everyone. The project has kicked off some rather intense debates in the comment section, while technical questions are thrown back and forth, never answered to the questionnaire satisfaction but seemingly answer to everyone else's satisfaction. Kickstarter comments can rival YouTube comments for pure bile, in some cases, and this project seems to have attracted quite a bit of it.
It's more useful to take an objective look at Wemagin and to compare it to other available tools, including Tor.
Not a Bad Idea
The people behind Wemagin, without question, deserve some credit for their business strategy and for their PR strategy. They made a promotional video that does a very good job of explaining the most basic elements of Internet privacy and, whether you're interested in the product, it would actually serve as a decent video for explaining to someone not in the know why Internet privacy is so important and how one can go about getting it.
The convenience of the item also has some very admirable aspects to it. Rather than having to learn how to use Tor or a VPN service – neither of which is as complex as they may seem on the surface – all the user has to do is plug in the USB drive, open up the included browser and start browsing. They are automatically routed through a VPN service with 256-bit AES encryption.
As a product and as an idea, Wemagin seems to have quite a bit to offer. It's a good idea to look at the other options out there, however, and see what they have to offer that Wemagin may fall short on providing.
Tor
Tor is free to use and supported by a network of volunteers who offer their own Internet connections as relays. If you need an endorsement as to the effectiveness of Tor in protecting anonymity, you only need to know two words: Edward Snowden. Edward Snowden endorses Tor and, given that he had access to the most sinister of US intelligence apparatus dedicated to spying on citizens, it's likely safe to take the man at his word.
VPN
Wemagin is packaged with a VPN service that you have to pay for on a subscription basis. This is where the value of the product starts to become questionable. For less than the over $100 it costs to get the USB drive for Wemagin, you can get a year of good VPN service that isn't attached to any other product. Tor, of course, is free, so you can basically build the same product for yourself with less money and it isn't really any harder to use.
Wemagin seems to be founded on good ideas by people who, judging from what they've said thus far, actually do care about people's Internet privacy. If it gets more people into the habit of surfing privately, that's a good thing. However, for the moment and for the foreseeable future, a VPN service and Tor will likely cost you less and provide you with equal – perhaps better – privacy protection.
More detail on Wemagin can be found here : http://cybergibbons.com/security-2/why-does-the-wemagin-internet-privacy-gadget-look-like-snake-oil/