Founded in 2016, iTop VPN is a secure and reliable VPN service provider that has over 10 million users worldwide. iTop VPN offers Internet security with a fast and free VPN. With iTop VPN, you can hide your IP and encrypt your network data to keep your location, activity and identity unmonitored, secure and private.
While iTop has free apps for Windows, Android and iOS and offers free VPN service, they also have a paid option which includes more features compared to the free option.
Pricing & Plans
iTop VPN has a single plan that can be paid on either a monthly, 6-month and annual basis. If you choose a longer duration, the bigger the discount you get. We especially like how low their pricing is for their 1-year service offering. This annual plan also comes with an extra 1 year which gives its subscriber about 80% off from the original price.

iTop VPN plans can be paid via credit cards, PayPal or Bitcoin.
Free Trial/ Money-back Guarantee
As mentioned, iTop VPN can be used for free. However, it has certain limitations when compared to iTop's paid plan. The free option features:
16 servers
700MB of data per day
Privacy & Anonymity
iTop VPN has a strict no-log policy, which means that under no circumstance will this VPN service track or record any information of your profile, be they the input/output IP, the transient servers, or the websites you visit.
Provider Logging Policy
According to their privacy policy: iTop VPN does not log your activity while you are utilizing the services, including your browsing history, the bandwidth you used, or how long you connected to VPN servers. They do not store your original IP address or the server IP address that you connect to.
Torrent Policy
It is quite unclear if iTop VPN allows P2P or Torrenting on all or some of their servers. However, iTop VPN does mention that they support UDP which is a choice for applications in which speed is paramount like streaming, gaming and, of course, file-sharing.
With that mentioned, iTop VPN has dedicated servers for WhatsApp, PUBG, Free Fire, Netflix, BBC iPlayer, etc.
Customer Support
iTop VPN has a support center available on their website where you can submit online feedback and send a support request. The iTop VPN website also has a comprehensive FAQ section that covers basic questions on how to use the iTop service, certain feature descriptions, and other vpn-related inquiries. Aside from that, the site also has a 'How to Activate' page and a User Manual.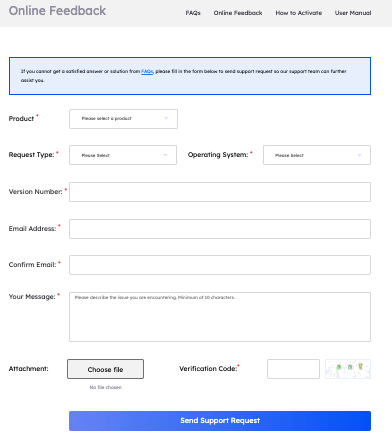 Upon testing their customer support, iTop VPN responds within 24 hours from sending our support request. Of course, this would also depend on how simple or complex a user inquiry is. But based on our experience, iTop VPN provides very good customer support.
For other contact details, you can reach them at:
Product Testing
iTop VPN has applications for Windows, Android and iOS. A free iTop VPN for Mac is coming soon, so we should be on the lookout for that.
iTopVPN also supports Safari on iPhone/iPad, Chrome, Firefox, Edge, Opera, IE, Vivaldi, Waterfox, Pale Moon, and Chromium-Based Browser.
Upon testing their service, we liked how easy the VPN client is to use. The iTop VPN interface is clean and modern-looking and is convenient to use even for first time VPN users. Servers are categorized by usage which makes it easier for you to locate which ones would work best for your needs. Also, one iTop VPN account can be signed in on up to 5 devices at the same time.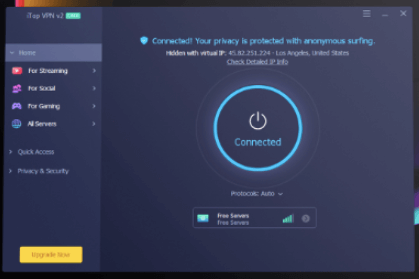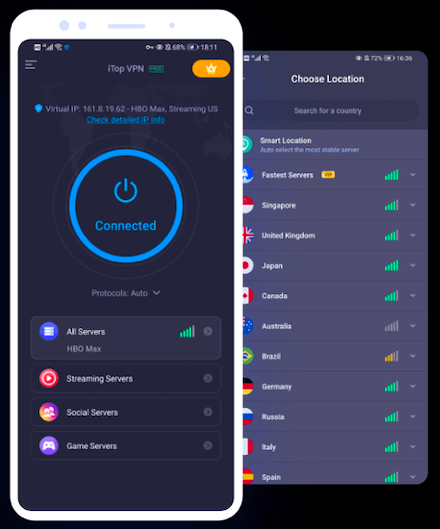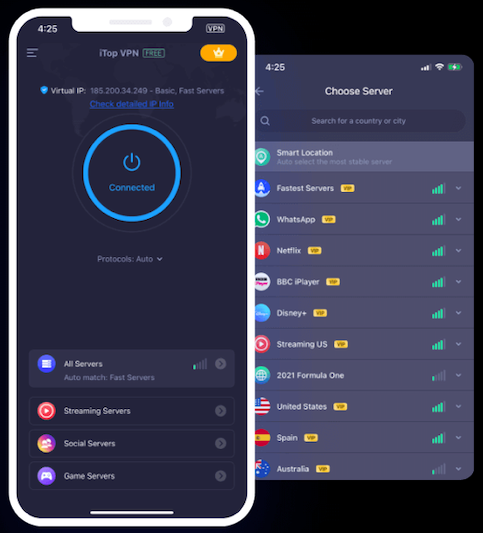 VPN Server Locations
iTop VPN has 1800+ servers in over 100 locations. As mentioned, an iTop VPN account can be used on 5 devices at the same time.
Countries Supported:

Australia

Brazil

France

Germany

India

Japan

Philippines

Russian Federation

Singapore

Korea

United Arab Emirates

United Kingdom

United States
Speed Test
Our speed test generated good results. The change in speed between the baseline test and the speed when connected to the VPN service is barely noticeable, proving that iTop VPN does keep its promise to not slow down your network connection. iTop VPN even manages to mitigate the influence of IPS throttling.
IPCheck and DNSLeak Test
iTop VPN successfully hides our original IP address and resolves to the exact IP address shown on the iTop VPN client. There were also no DNS leaks.
iTop VPN prevents the leaking of internet traffic and DNF requests, and thus decreases the risks of getting hijacked or spammed by cybercriminals.
Feature Summary
One click connection to easily connect your device to the network of the servers
Smart Location – auto selects the most stable server for you
Search for a specific country to connect to
Network Protocols – provides several protocols to fulfill different needs
Unlimited Bandwidth
Use on 5 devices under one VPN account
Global Connection: 1800+ Servers in over 100 locations
Applications for Windows, iOS and Android (MacOS coming soon)
Supports mainstream browsers
No log policy
24/7 Tech Support
DNS Protection
Additional Bonus Features
Kill Switch – guards against the sudden switch-off of VPN connection. In this type of emergency, iTop VPN will instantly close the tunnel so that your data will be still under the defense of encryption until the connection recovers.
Security Reinforce – With this function activated, your PC will be less likely to suffer from data leakage. And any insidious or malicious bugs will be detected and fixed automatically.
ADs Block – helps to block malicious ads, especially when you are visiting web pages with browsers. Permitting no pop-ups and leaving no traces for advertisers, iTop VPN for Windows returns you the purest Internet environment with one click of connection.
iTop VPN also has other free products that you can download from their site:
iTop Screen Recorder

Record any area of your screen, a featured screen with Facecam.
Unlimited recording time, record HD videos with no watermark.
For multiple occasions: work, education, game, personal or more.

iTop Screenshot

Select any area of your screen to take screenshots. No limitations.
Scrolling screenshots supported to create a long screenshot.
Easily edit after capturing & sharing to other platforms.

Online Screen Recorder

Access online screen recorder from their website
No need to download software
No account login required
100% Free
Full support for Chrome, Firefox and Opera
We Liked
Multi-platform clients with MacOS support coming soon
Dedicated protocols
Very good no log policy
Quick Access and Smart Location feature
Security Reinforcement – Browser privacy cleaning, ADs block, DNS protection
Easy to use VPN client
Areas for Improvement
There is not much to complain about this VPN service. However, they still lack a client for MacOS which, as mentioned on their site, is in development and will be available soon.
Conclusion
iTop VPN is a relatively young VPN service provider having been around for less than 10 years. However, while they were only founded in 2016 they have already established themselves as one of the better VPN service providers in the market today with over 10 million users worldwide.
iTopVPN has a lot of good features including a strict no logs policy, unlimited bandwidth, multi-platform support and a high level of security, to name a few. What sets iTop VPN apart from other mediocre providers is that it has security reinforcement features that includes browser privacy cleaning, DNS protection and Ads block. Plus the iTop VPN client is very much easy to use and is simple enough to be enjoyed by even beginner users especially with its quick access and smart location feature.