PrivadoVPN isn't as well known yet in Internet privacy circles, but it will be. Despite being relatively new, this zero-logs VPN service already has 200+ servers in 45 nations. They also own their infrastructure, so have total control over their network quality, security, and speed.
PrivadoVPN offers OpenVPN and IPsec (IKEv2) for protocols, as well as a SOCKS5 proxy feature for P2P users that masks IP addresses, but doesn't encrypt data for faster speeds.
As a Swiss company, which has the strongest consumer privacy laws in the world, PrivadoVPN is very focused on privacy and offers a great service for you to easily maintain your online security. That is part of why they offer a free VPN plan which utilizes the same security and privacy technologies as their paid plans.
Pricing & Plans
PrivadoVPN has no free trial, but even better, offers a free plan that provides 10 GB of high-speed access every 30 days on 12 server locations. Both paid plans give you unlimited monthly data, access to all servers in all locations, and the other benefits listed below.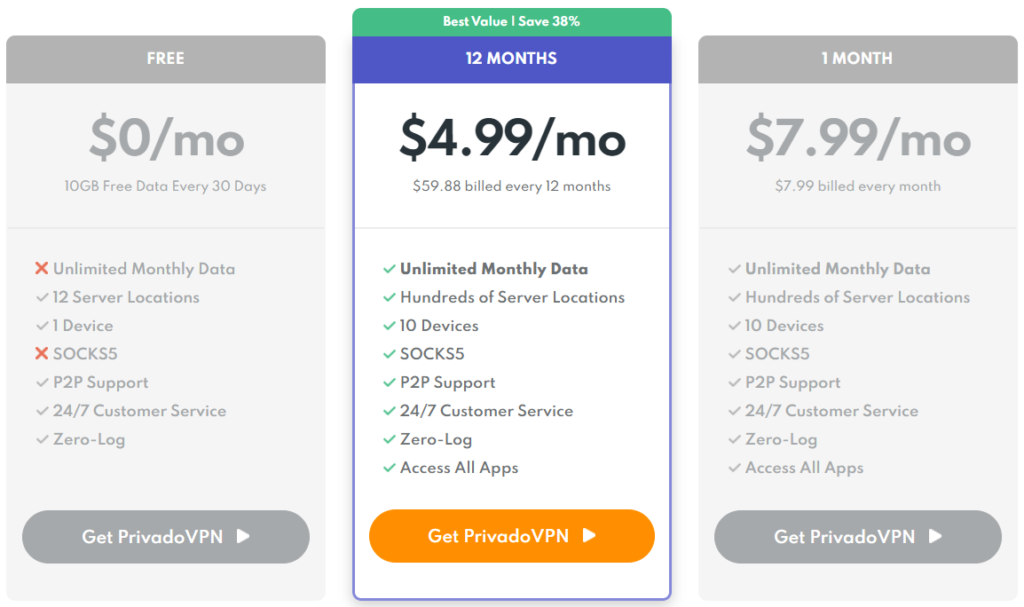 PrivadoVPN Free
PrivadoVPN Free – Free
10GB Monthly Data
12 server locations
Support for 1 device
Desktop App for Windows
Mobile App for Android
Unlimited Speeds
IKEv2/IPsec & OpenVPN
256-bit Encryption
24x7x365 Support
Zero-Log Policy
PrivadoVPN Premium – 12 Months
PrivadoVPN Premium – 12 Months – $4.99/mo (38% savings)
Unlimited Monthly Data
200+ Server Locations
Support for 10 devices
Desktop Apps Windows & Mac
Mobile Apps Android & iOS Devices
P2P Support
IKEv2/IPsec, OpenVPN, and SOCKS5 proxy
256-bit Encryption
24x7x365 Support
Zero-Log Policy
PrivadoVPN Premium – 1 Month
PrivadoVPN Premium – 1 Month – $7.99/mo
Unlimited Monthly Data
200+ Server Locations
Support for 10 devices
Desktop Apps Windows & Mac
Mobile Apps Android & iOS Devices
P2P Support
IKEv2/IPsec, OpenVPN, and SOCKS5 proxy
256-bit Encryption
24x7x365 Support
Zero-Log Policy
Free Trial / Money Back Guarantee
PrivadoVPN does not offer a free trial, but they do have a robust free plan with unlimited speeds and a generous monthly data allotment. We saw no money back guarantee on their website.
Privacy & Anonymity
In addition to being a zero-logs VPN service, PrivadoVPN owns and operates their own backbone and runs their own DNS servers. Over 40 SOCKS5 proxy servers are also available for people who want to torrent and keep their speeds high while masking their IP address. This is a great additional feature for those looking for a nice balance between speed and privacy.
PrivadoVPN Logging Policy
Unlike many other VPNs, PrivadoVPN has a strict no-log policy. In fact, their privacy policy page precisely lays out their key policies at the front and center.
PrivadoVPN logs the following information and only retains it to maintain accounts:
Customer's email address for account creation
Customer's payment information on paid accounts (it is noted on their site that they do not collect or store your credit card number)
Support data to troubleshoot specific issues
Anonymous mobile app statistics
They do NOT log:
Browsing history
Traffic destinations
Data content
IP addresses and physical locations
Personally identifying information
According to their Free VPN page, PrivadoVPN considers individual privacy to be a human right that shouldn't be unavailable to those who can't afford expensive services, hence why they offer a free account option.
Torrent Policy
All PrivadoVPN servers allow you to use torrents and don't put restrictions on P2P file transfers. The addition of the SOCKS5 proxy makes it easier for customers to maintain high speeds while still keeping their identity hidden.
Customer Support
There is an extensive support page and 24/7 email support offered with all PrivadoVPN plans. While it would be better if there was a real-time support option, responses to questions are pretty quick.
Product Testing
PrivadoVPN Desktop App In Action
We have included screenshots of both the Windows and macOS desktop apps below.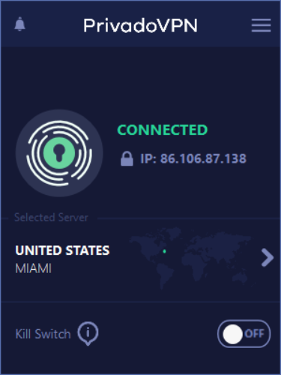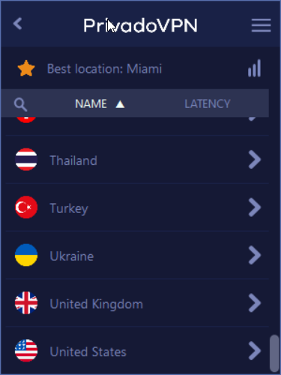 PrivadoVPN Mobile Apps
Currently, PrivadoVPN supports mobile apps for iOS and Android devices, though the iOS app is only available on paid plans.
Easy installation of Mobile Apps for both Android and iOS
Connect with a single tap
Auto-select the fastest server based on your location
Currently available in Apple's AppStore and the Google Play Marketplace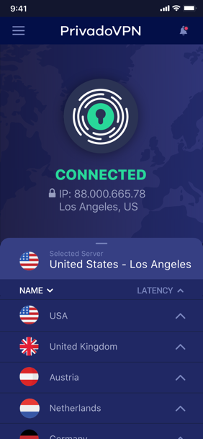 Both iOS and Android apps have all of the same features as the desktop versions and make it easy to secure all mobile data transfers.
These are some benefits of the PrivadoVPN apps:
Auto connection options as well as one-tap connection
Auto-select the fastest server based on your location
Auto-connect to last connected server
Manually select any server
Change protocols quickly and easily
Encrypt all of your incoming and outgoing data
Encrypted end-to-end tunneling to prevent DNS and IP leaks
Both apps are currently available in Apple's AppStore and the Google Play Marketplace.
VPN Server Locations
PrivadoVPN has server locations in 42 countries in the following general geographic areas: North America, Oceania, South America, Central America, East Asia, Southeast Asia, and Europe.
Because they own their network and purchase IP addresses directly from ISPs, they have the ability to respond quickly to any issues like server outages and IP blocking. This is a major feature that we recommend any user to look for when signing up with a VPN service, especially with a long-term plan. We also found PrivadoVPN's connections to be reliable and fast for gaming and streaming on Netflix and BBC iPlayer.
Countries Supported

Argentina

Australia

Austria

Belgium

Brazil

Bulgaria

Canada

Czech Republic

Denmark

Finland

France

Germany

Hong Kong

Hungary

Iceland

India

Ireland

Japan

Latvia

Lithuania

Mexico

Netherlands

New Zealand

Norway

Poland

Portugal

Romania

Serbia

Singapore

Slovakia

South Africa

Korea

Spain

Sweden

Switzerland

Thailand

Turkey

Ukraine

United Kingdom

United States
Speed Test
IPCheck and DNSLeak Test
We tested this with a few different systems in various locations and PrivadoVPN's IP check resolved to the exact IP address that was shown on the client. We also found no DNS leaks and all servers reported back as we expected.
Feature Summary
Tier-1 Zero-Log VPN provider
Swiss-based (strongest consumer privacy laws)
Unlimited monthly data
Unlimited speed
200+ Server Locations (12 available on Free plan)
Windows, Mac, Android and iOS apps
Connect up to 10 devices simultaneously
Works with popular streaming services like Netflix, BBC iPlayer, and Hotstar, Disney+, Hulu, and HBO Max
P2P Support
SOCKS5 feature for faster torrent speeds
Kill Switch in client
IKEv2/IPsec, OpenVPN, and SOCKS5 proxy
256-bit encryption
24x7x365 support
Additional Bonus Features
Along with the simple configuration, including desktop and mobile apps, PrivadoVPN offers the following bonus features.
Free Service – PrivadoVPN Free offers the same service as the paid plans, but restricts users to 1 device, 10GB per month of data transfer, 12 servers, and has a few missing extra features.
SOCKS5 Proxy – primarily for P2P users, this extra feature offered on paid plans masks IP addresses on the application level. It doesn't encrypt the data, but it still hides the identity of a user while keeping their speeds high.
We Liked
Strict zero-logs policy
Excellent speeds
Very stable client on all platforms
Unlimited bandwidth on paid plans
A long term free plan for users with smaller data needs
Areas for Improvement
It would be good to see the macOS app available on the free version. Currently, the free version includes apps for iOS, Windows, and Android.
Conclusion
We are very impressed with PrivadoVPN. Their apps work well and are easy to use, it's a solid network, it works for unblocking streaming services, and our speeds were consistently high. They also have one of the best and clearest privacy policies we've seen. Users will find a lot to love with this service and can feel secure knowing that their data will be well protected.