OVPN is a VPN service that is said to seriously uphold privacy and security. According to their site and several other sources, they don't just promise to not log any browsing information, OVPN actually does not have the ability to do so. The OVPN servers don't have hard drives and their operating system, and the VPN runs entirely in RAM.
As an overall VPN service, OVPN performs well and has some decent features and a few add-ons that make it a good VPN choice.
Pricing & Plans
OVPN offers three subscription plans covering either 1 month, 6-month or 12-month use. All subscriptions include the OVPN desktop client, browser extension, customer support, high-speed unlimited bandwidth and, of course, a guarantee that no logs are created.

OVPN accepts major credit cards, PayPal, cash payment and cryptocurrencies like bitcoin and Ethereum.
Free Trial/ Money-back Guarantee
OVPN does not have any free trial offering. However, they do have a 10-day money-back guarantee included in all of their subscription plans.
Privacy & Anonymity
OVPN has a multi-layered security model in place to keep privacy and security as its core focus.
Physical security on the VPN Servers – All servers operate without hard drives as operating system only resides in RAM memory
Software security on the VPN Servers – exclusively uses a scaled down version of Alpine Linux as operating system; The OpenVPN processes do not have any write privileges, and syslogs have been disabled.
Desktop client for Windows, macOS and Ubuntu – in active development; has killswitch to prevent data leaks
Browser Extension available for Chrome and Firefox exists for two reasons: Block WebRTC and Block trackers
Transparency – clear privacy policy, terms of service and transparency policy
Website – no email address required when creating an account. Information stored is discussed extensively on the privacy policy
Insurance that covers legal fees – OVPN has signed up for an insurance that covers legal fees as an extra layer of safety which grants them the financial muscle to refute any requests for information.
OVPN Logging Policy
The core focus of OVPN is privacy and security. It does not log any activity when connected to their VPN service and that includes:
No logging of traffic
No logging of timestamps
No logging of DNS Request
No logging of IP addresses
No logging of MAC addresses
No logging of individual user bandwidth volumes
Torrent Policy
OVPN allows P2P / torrents / file sharing on all their VPN servers. They suggest opening ports and following the guide below to maximize your connection and to properly seed:
Open a Port
Use a port with TCP and UDP
Once port has been opened, follow the rest of the steps below for BitTorrent and uTorrent:

Open Settings
Click the Network tab
Enter the port number you got from the control panel in Incoming TCP port
Make sure that Randomize port during launch is unchecked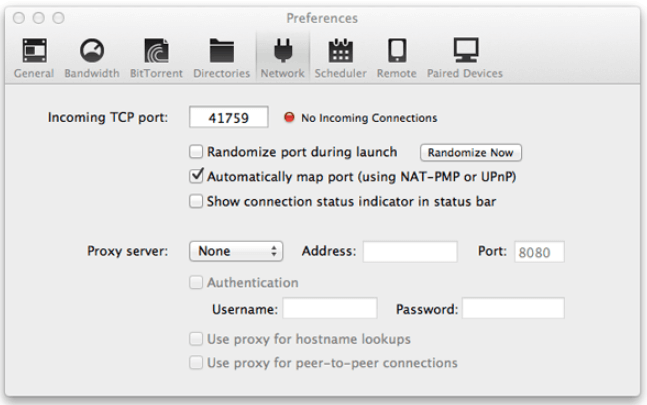 Customer Support
OVPN has multiple means of customer support from a contact form on their website, live chatbot, email address and a snail mail option.
Email address: support@ovpn.com
Address:
OVPN Integritet AB
Org.nr: 556999-4469
OVPN Integritet AB
Engelbrekts Kyrkogata 7B
114 26 Stockholm
Sweden
Upon testing their customer support, their live chat option is a good choice for quick inquiries and fast interaction but it is not available 24/7. Working hours are 9AM to 5PM CET. Their email support and contact form option, which should ideally take just 24 hours, takes quite a bit of time for response. That being said, OVPN still has a good support team that has good technical knowledge and pleasant customer service.
Product Testing
OVPN is compatible with many popular platforms including Windows, MacOS, Debian, Ubuntu, iOS and Android. Other platforms supported are:
Manjaro
Raspberry PI
FreeBSD
CentOS
Fedora
Routers – AsusWrt, DD-WRT, EdgeOS, OpenWRT, OPNsense, Tomato, pfSense, Vilfo
Other devices – Asustor, FreeNAS, SynologyNAS, QNAP
OVPN Application Screenshots
VPN Server Locations
OVPN has servers in 27 cities across the globe. According to OVPN, they prioritize quality and security over quantity and marketing, that is why they do not have servers in every place imaginable.
Countries Supported:

Australia

Austria

Canada

Denmark

Finland

France

Germany

Japan

Netherlands

Norway

Romania

Singapore

Spain

Sweden

Switzerland

United Kingdom

United States
Speed Test
IPCheck and DNSLeak Test
OVPN passes IPCheck. The vpn client shows that exact ip address and shows if you have securely connected successfully or not.
OVPN also comes with a built-in leak protection feature. In order to prevent DNS leaks, the client:
Changes the settings of all available network adapters on your device to ensure that OVPN's DNS servers are used
Checks the DNS settings on the adapters every second to ensure no installed software attempts to change the used DNS servers
Feature Summary
OVPN comes with a decent number of features with security and privacy being on the top of their list. Some of the key features they have are the following:
256-bit AES Encryption in combination with RSA-2048 handshake and SHA-1 for authentication
Two protocols – OpenVPN and Wireguard
Kill Switch
DNS Leak Protection – prevents your DNS address from leaking when you visit any website. Can be enabled or disabled on the settings.
DNSCrypt – prevents DNS spoofing
Streaming Mode – allows you to unblock streaming services.
Multi-platform support: Windows, Mac, Ubuntu, Debian, iOS, Android and more
Very good no log policy
Additional Bonus Features
OVPN offers two separate add-ons:
Multihop – routes your traffic through two of OVPN's data centers and encrypts your traffic an additional time
Public IPv4 – devices that connect to OVPN's standard service are assigned a shared IP address, which is not optimal for server usage. Public IPv4 allocates a static public IPv4 address.
We Liked
Proven and verified no-logs VPN provider
Strong physical security together with solid software security
Total infrastructure ownership (no rented servers)
Transparent company and policies
Supports phone, computers and routers
Add-on: Multihop & Public IPv4
Areas for Improvement
When compared to other VPN services, OVPN has a low number of servers and that could be an area of improvement for them. However, the company upholds quality over quality and may not consider matching their number of servers with that of most VPN providers.
We also tested the streaming mode feature of OVPN. And while it should have unblocked streaming services, it was unable to unblock Netflix, BBC iPlayer and Hulu – that may be something they could work on.
Conclusion
OVPN may not be as popular as our top VPN service providers, however they are still considered as one of the more decent providers in the market today.
Some users may complain about OVPN not having a lot of servers, but the company upholds security and quality over quantity and this mentality has worked for them for years. Despite not having a lot of servers compared to their competitors, their existing servers are fast, and they operate without storing any user logs. That being said, they should still consider improving their server network for diversity and wider reach.