VyprVPN is one of the most well-known names in Internet privacy. They have a large network that spans 64 nations, with more than 700+ servers available. That network offers users more than 200,000+ different IP addresses to choose from. Their server clusters and DNS servers are entirely in house, eliminating any issues with third-party providers. In addition to all three of the popular VPN protocols, they offer their own, Chameleon, which prevents deep packet inspection and allows you to avoid throttles and blocks on encrypted traffic.
VyprVPN was developed by Golden Frog, a corporate partner with the well-known and highly respected Usenet company Giganews. Golden Frog respects user privacy and is committed to an open and free Internet. You can read more about the company's background here.
Currently VPNReviewz has a special deal with VyprVPN for just $5.00 / month when you signup with our link..

Pricing & Plans
VyprVPN has a 3 day free trial and payment options are either Paypal or Credit Card.


VyprVPN basic
VyprVPN Basic – $5.00/mo
3 Connections
Desktop Apps Windows & Mac
Unlimited Usage & Speeds
PPTP, L2TP/IPsec & OpenVPN
128-bit Encryption
24x7x365 Support
3 Day Free Trial
VyprVPN Premium
VyprVPN Pro – $6.67/mo
5 Connections
Desktop Apps Windows & Mac
Mobile Apps Android & iOS
Unlimited Usage & Speeds
PPTP, L2TP/IPsec & OpenVPN
256-bit or 128-bit Encryption
NAT Firewall
24x7x365 Support
3 Day Free Trial
Free Trial / Money Back Guarantee
VyprVPN always gives you a free three-day trial so you can test the service out.
Privacy & Anonymity
VyprVPN has some innovative ways to keep your browsing data private. They use their own DNS servers—VyprDNS—which are owned and operated by the company exclusively for their customer's usage. This service is included with every plan.
VyprVPN Logging Policy
The logging vs. no logging issue is a passionate one for many people and VyprVPN is no stranger to this. They have decided that increased performance, reliability and ability to prevent abuse are worth  minimal logging and they are transparent about it.
Golden Frog logs the following information and only retains it for 30 days:
Customer's source IP address (generally the IP address assigned by the customer's ISP)
VyprVPN IP address used by the users
Connection start and stop time
Total number of bytes used
They do NOT log:
The content of your communications
The websites that you visit
The services that you use
Your physical location
Any other personal information
In their view, the purpose of a VPN is to greatly increase privacy and security but does not guarantee anonymity. Note this applies especially for purposes of committing crimes, hacking, etc.
Torrent Policy
There are no restrictions on using torrents over VyprVPN. If you do plan on torrenting, however, it's always advisable to connect to a server located outside your home nation. With over 700+ servers to choose from, this is a non-issue with VyprVPN.
Customer Support
GoldenFrog, the parent company, offers support for their products around the clock and they update and improve their desktop and mobile apps on a regular basis. You can access support directly from their app.
Product Testing
VyprVPN Desktop App In Action
As you can see below we have included some screenshots of the VyprVPN client version 2.0 in action.
The VyprVPN Windows App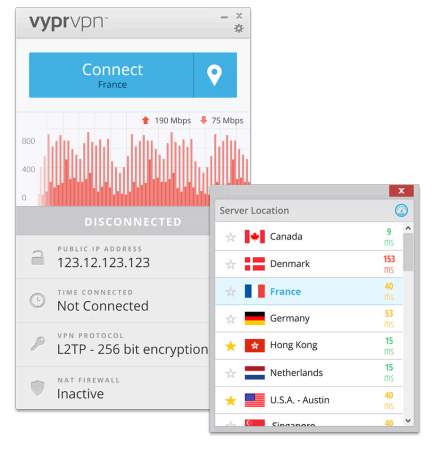 The Mac Osx Version App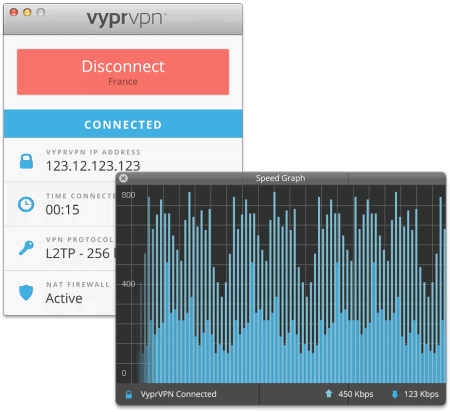 VyprVPN Mobile Apps
VyprVPN now supports two mobile apps for both  iOS and Android. Here a few highlights.
Easy installation of Mobile Apps for both Android and iOS
Connect with a single tap
Autoselect the fastest server based on your location
Currently available in Apple's AppStore and the Google Play Marketplace
| | |
| --- | --- |
| Android Mobile App in use |   iOs Mobile App in use also |
All VyprVPN users have access to  mobile apps for both iOS and Android that make it easy to secure your mobile browsing. Here are a few highlights that both apps share:
Connect with a single tap(after unlocking your screen on Android) and on iOS setup to automatically connect
Auto-select the fastest server based on your location
Change protocols quickly and easily
Encrypt your web browsing, email and apps
Encrypted DNS  called VyprDNS to prevent DNS leaks and ISP snooping
Each app also has unique features:
VyprVPN on Demand for iOS detects when your iPhone or iPad initiates an Internet connection and automatically connects to VyprVPN.
With VyprVPN for Android you use VyprVPN widgets to connect or disconnect from your home or lock screen. You can also view your server location, throughput and IP address.
Both apps are currently available in Apple's AppStore and the Google Play Marketplace.
VPN Server Locations
VyprVPN has service locations in the following general geographic areas:  USA, China, Oceania, South America, Central America and Europe.
VyprVPN's servers are different than those of the average VPN service. Golden Frog owns their server clusters and manages their network which translates into better quality connections, greater reliability and better user experience. No need to be concerned about getting kicked off and having to reconnect.
Countries Supported

Argentina

Australia

Austria

Belgium

Brazil

Canada

Colombia

Costa Rica

Czech Republic

Denmark

Finland

France

Germany

Hong Kong

Iceland

Indonesia

Ireland

Italy

Japan

Lithuania

Luxembourg

Malaysia

Mexico

Netherlands

New Zealand

Norway

Panama

Philippines

Poland

Portugal

Romania

Russian Federation

Singapore

Korea

Spain

Sweden

Switzerland

Taiwan

Thailand

Turkey

United Kingdom

United States

Viet Nam
Speed Test
Baseline Speed – Albuquerque NM
Speed with VPN connected- VPN Server Location: Austin Texas
Pictured on top is a baseline speed test over a 50Mbps download/5Mbps upload connection from Albuquerque, NM to Washington DC. Below is the same connection running through VyprVPN's servers.
The download times in this test showed just under 14Mbps in speed reduction; hardly noticeable as a percentage reduction in speed. The upload speeds were barely affected at all. Ping time increases would not be noticeable unless that figure was particularly important, such as in FPS gaming.
Your results will vary, but the connection speeds over VyprVPN on our lines were very fast.
IPCheck and DNSLeak Test
VyprVPN's IP check resolved to exactly what their client showed. There were no DNS leaks with Windows setup to get the DNS address automatically. The VyprDNS was seamless and all DNS servers reported back as theirs.
Feature Summary
More than 700+ servers in 64 nations with 200,000+ IPs
PPTP, L2TP/IPSec, OpenVPN and Chameleon
128- and 256-bit encryption
Windows, Mac, Linux, Android and iOS apps
Unlimited bandwidth
Unlimited speed
NAT Firewall protection
No third-party servers
VyprDNS
24-hour support
3-day free trial
Kill switch on client
Additional Bonus Features
In addition to the easy config desktop and mobile apps VyprVPN offers the following bonus features.
VyprDNS – VyprDNS is an encrypted DNS service that prevents ISP snooping, DNS leaks and man in middle attacks.
Chameleon VPN Protocol –   a proprietary VPN protocol which helps VPN users disguise the nature of their traffic.  Note: VPN traffic is always encrypted however due to the nature of the VPN connection process, ISPs can see that you are sending encrypted VPN data and shut down the connection.  This happens in China often and the Chameleon protocol helps to prevent this type of monitoring  –  more detail on the Chameleon VPN protocol  here –
We Liked
Very stable client on all platforms
Excellent speeds
Unlimited bandwidth
Chameleon protocol
Areas for Improvement
The logging policy might put some users off, but VyprVPN is very transparent about it.
Conclusion
VyprVPN is an outstanding provider. Their networks are fast, their software always improved upon and their reputation is rock solid. This is a highly-recommended service for business and personal users. The Internet kill switch and Chameleon protocol really make them outstanding in terms of valuable extras.