Unlocator is a SmartDNS service. While you can upgrade to include a VPN, in many cases you may not need a full VPN service, especially if there is no need to hide your IP. And where SmartDNS service is concerned, however, this Danish company delivers in a big way.
Pricing and Plans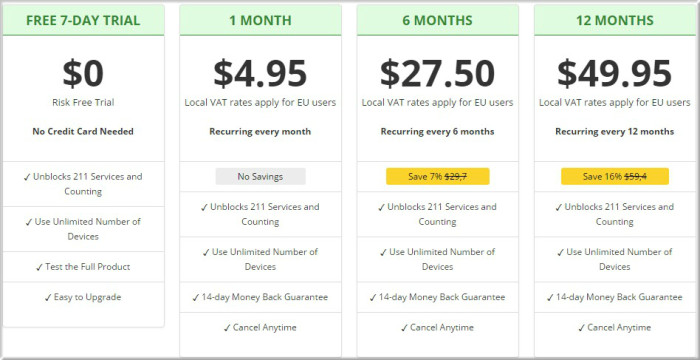 Unlocator offers very affordable pricing. All of the plans allow an unlimited number of devices. The pricing is as follows:
• $4.95 per month
• $27.50 for 6 months
• $49.95 for 1 year
Unlocator accepts PayPal, DK, Visa and MC for payment.
Free Trial / Money Back Guarantee
You can get a seven-day free trial from Unlocator to try the service out. There's no credit card required to take advantage of the offer. It's a full product test, so there aren't any limitations. If you decide to buy, you have a fourteen-day money back guarantee.
Privacy & Anonymity
This company doesn't keep any logs of your usage. They're located in Denmark, so Danish privacy laws apply.
Torrent Policy
There is no official policy stated regarding torrents.
Customer Support
Customer support can be obtained through the company's very well-developed support section on their site or by emailing support directly.
Product Testing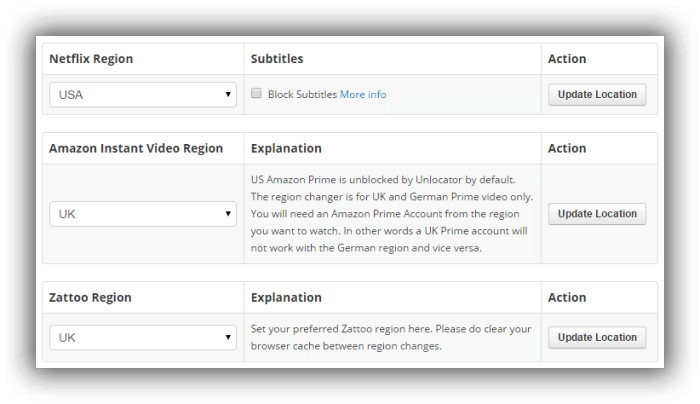 Unlocator performed marvelously in testing. It delivered on what it promised. As you'll see below, it had no discernable effect on Internet speed.
You configure your options from the website, as shown in the screenshots. Simply select which streaming service you want, update your location and you're ready to go. Tip: Users that want to start accounts on US streaming services should enter a US ZIP code in their profile at the streaming site.
Speed Test
Unlocator Baseline Speedtest

Unlocator Speedtest
Unlocator Speedtest with VPN
Unlocator has two different options for configuration. You can configure it like a standard SmartDNS, meaning you put their DNS server addresses in your network settings, or you can connect by building a VPN connection. The important thing to remember about that latter option is that it's not encrypted and doesn't change your IP address. It does, however, allow you to get around blocks on SmartDNS services, which you might run into in airports or hotels.
We tested both versions. In both cases, Unlocator had no discernable effect on Internet speed. This service simply provides you with a DNS server address that allows you to access geo-blocked content. Your speeds will depend upon your connection.
IP Check and DNSLeak
DNS doesn't leak, of course, as it's configured manually. This service does not change your IP, except to the streaming service provider sites.
Feature Summary
Unlimited Devices
210 Unblocked Services
Easy Configuration
Mobile Compatibility
SmartVPN option
Countries Supported

Argentina

Australia

Austria

Belgium

Brazil

Canada

Colombia

Denmark

Finland

France

Germany

India

Ireland

Italy

Luxembourg

Mexico

Netherlands

New Zealand

Norway

Saudi Arabia

Spain

Sweden

Switzerland

United Kingdom

United States
We Liked
Very detailed setup instructions
Great free trial option
Areas for Improvement
As far as SmartDNS services go, this one really does a great job. Adding a full-fledged VPN would be a nice enhancement.
Conclusion
This is a great SmartDNS service. It's not suitable as a complete online privacy solution but, if you just want to stream entertainment, this is an affordable option. The SmartVPN service is a great addition for people who find their SmartDNS service blocked.
Overall, this is a quality offering, and would be particularly good for people with low Internet speeds who need to preserve as much of their bandwidth as possible. Two Thumbs Up or 4.5 stars. 😉