UltraSurf is a bit different from most of the VPN services we review. This is a free service, provided by the company UltraReach, which is headquartered in the US. It was designed to help people in China get around government censorship, but has a global user base.
Pricing & Plans
This product is completely free of charge. It is compatible with iOS, Android and Chrome. Currently it only has a Windows client.
Free Trial/ Money-back Guarantee
There is no free trial or any money-back guarantee since the product is completely free of charge.
Privacy & Anonymity
UltraSurf was designed to circumvent censorship, but it's not a privacy tool in the same way that the products from our preferred providers are.
UltraSurf does log. The logs aren't retained for a long period of time, but UltraReach uses the data to check their network performance. This company has been criticized for being too willing to turn over information to the government when requested.
The service filters content, as well, which is perhaps ironic, given their mission. Adult sites and some other content may be unreachable over the network.
Torrent Policy
This service is browser-based and not appropriate for torrenting.
Customer Support
There is not a lot of information on the UltraSurf site. When compared to other VPN service providers, UltraSurf does not have any knowledge base, live chat support or contact form available on their site. For questions and inquiries, you may email them at info9@ultrasurf.us.
Product Testing
UltraSurf is very easy to use. The program comes in a ZIP file and requires no installation. After the program is downloaded, you simply extract it, double-click the EXE file and the program runs.
The program will open IE by default, but you can change this in the preferences menu. A gold lock icon appears in the system tray area of the screen, indicating that you've been routed through an encrypted proxy. The client also displays a simple status window that lets you know you're connected. Server selection is automatic.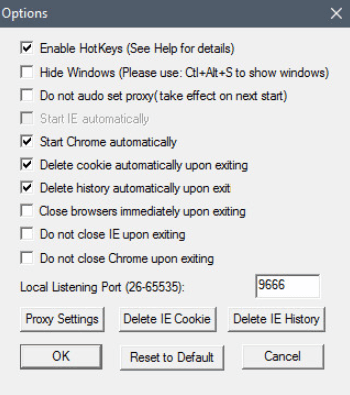 At present, this program only has a client for Windows. However there are also set up instructions for iOS, Android and Chrome.
VPN Server Locations
It is unclear how many servers UltraSurf has and which countries their servers are located in.
Speed Test
UltraSurf not only tested impressively for a free service, but rivaled some of the best paid services out there. In fact, there was barely any speed reduction at all. This product generally has a good reputation for performance and, in our testing, it lived up to that reputation. Our speed only dropped 2Mbps.

IPCheck and DNSLeak Test
UltraSurf changed our IP and DNS server addresses successfully.
Feature Summary
Free
Easy to use
No installation required
Automatic server selection
Very high speed
We Liked
Very accessible
No charge at all
Areas for Improvement
This company has been criticized for not allowing third-party inspections of its product. There is very little information available on the specifics of how it works, but UltraSurf is known to use TLS/SSL security.
Conclusion
This service does offer quite a lot. If you're in a nation where Internet access is censored and cannot buy a more feature-rich service, UltraSurf is a good option. It's surprisingly fast. It is not, however, suitable for torrenting and there is some censorship on this network, so UltraSurf is not a replacement for a standard VPN service.