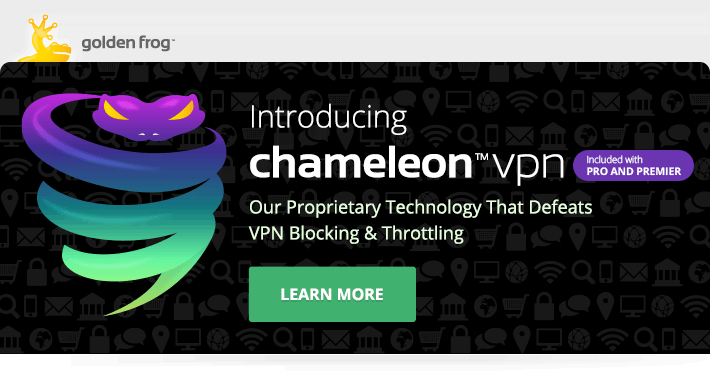 VyprVPN has introduced a new VPN protocol: Chameleon. Chameleon is a proprietary protocol, so it's not open for inspection, but it provides encryption using the open source OpenVPN 256-bit encryption method, according to the company. The difference between Chameleon and standard OpenVPN is that Chameleon scrambles the packet data so that it cannot be identified as VPN protected. According to the company, this makes it possible for people in nations like China, where deep packet inspection is used to find VPN-protected traffic, to get around the firewall and to the free Internet.
The Protocol
This protocol was developed in response to user concerns. While encrypted data cannot be read by intercepting parties, network admins can sometimes detect that the data is encrypted and throttle that data or block it altogether. The new protocol is designed to defeat this, allowing users to get around government or corporate efforts to downgrade their speed.
The protocol is available on any of the VyprVPN servers worldwide. It's only available to the Pro and Premier account levels, however. It does come with the Diamond package from Golden Frog. To access the protocol, one need only select the protocol under their options window on the VyprVPN client. The latest update will add the Chameleon option to the list of protocols available.
The protocol doesn't work with iOS yet, due to restrictions in place on the operating system itself. It will work with Windows, Mac and Android operating systems, however, so only those using Apple mobile devices are left out of the new protocol at present.
Click here to try VyprVPN – 3 Days for free
Who Might Use This?
Obviously, people in nations such as China and Iran will find ready use for this protocol and, according to information the company has put out, their customers in those nations have had luck with the new protocol already.
For those in nations where the Internet is, at least officially, free, there are still good reasons to consider using this protocol. Corporate Internet connections will oftentimes be throttled for encrypted traffic, which also means that the corporation is scanning for that type of traffic, of course. Even a home ISP could throttle encrypted traffic. With the new Chameleon protocol, according to VyprVPN, the companies cannot tell that the traffic is encrypted, even with DPI, which should make it possible to slip by traffic throttling efforts and to get the Internet speed you're supposed to get for whatever you want to use that connection for.
If you're getting blocked or throttled, you may want to take a look at Chameleon.