ActiVPN is a VPN services provider headquartered in the Netherlands and has been in business since 2011. ActiVPN supports OpenVPN protocols in 32 countries and offers 60+ IP addresses. ActiVPN offers an OpenVPN 2048-bit Encryption, bypassing all censorship and all restrictions. They also have no log retention.
Pricing & Plans
Choose from either ActiVPN's 1-month, 1-year and 2-year subscription plans. All these plans cover all the features that this provider offers including unlimited data transfer, simultaneous use on 5 devices and use on multiple platforms.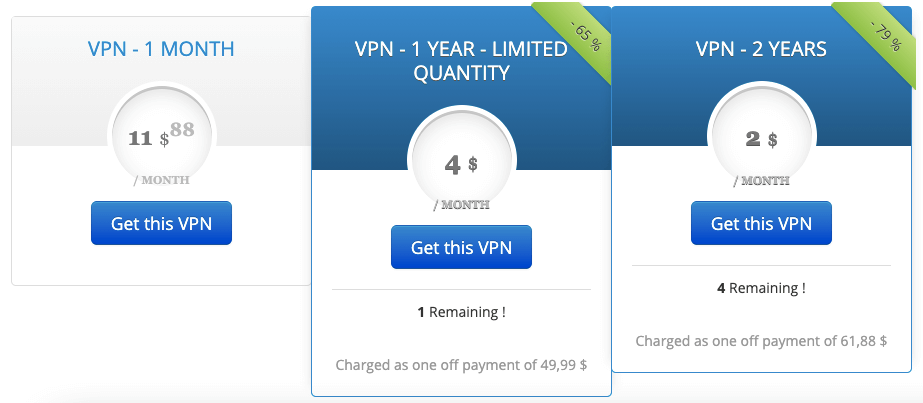 You can pay for ActiVPN's service via credit cards, PayPal and Bitcoin.
Free Trial/ Money-back Guarantee
ActiVPN doesn't offer a free trial or a money-back guarantee. However, ActiVPN does have a refund policy but there are certain conditions that must be met before they refund your money. These conditions include:
Compliance with their troubleshooting steps
Unable to connect to several servers
The refund policy does not cover inability to connect or access a specific server or slow speeds.
Privacy & Anonymity
ActiVPN anonymously encrypts all traffic. They use AES-CBC 256 plus PKI RSA 2048 bits for improved security and encryption. ActiVPN also secures public wifi to protect you and ensures the integrity of your internet.
ActiVPN Logging Policy
According to their terms of service, ActiVPN does not log your browsing activity:
No traffic data logging
No IP address logging
No DNS Request logging
No bandwidth data logging
No connection timestamp logging
It is also good to note that ActiVPN keeps an update on their website that informs users if authorities have asked for any information or documents. And based on our most recent check, ActiVPN has not received any National Security letters or FISA court orders.
Torrent Policy
Torrenting is allowed on all of ActiVPN's servers. However, there have been reports that only one of their US servers can mask IP addresses. That could put the location at risk on P2P networks or to anyone monitoring your connection. For that reason, while torrenting is allowed, ActiVPN is not one of our top choices for torrenting.
Customer Support
ActiVPN has a contact form available on their website and for increased privacy, you can use their PGP key. At most, their customer support team replies to emails and concerns in 2 days. However, upon testing the support team, they actually respond in less than a day. According to their site their average response time is 34 minutes.
Product Testing
One of the features stated on their site is that ActiVPN is an easy-to-use software. In terms of connection, ActiVPN is quick while using a local server however, it tends to slow down when tested on overseas servers. Make sure you use servers closest to you to have the best speed possible.
All of their applications from desktop apps to mobile apps work well and keep your activity secure with their AES-CBC 256-bit encryption. This offers a high level of security that protects your data from trackers and hackers.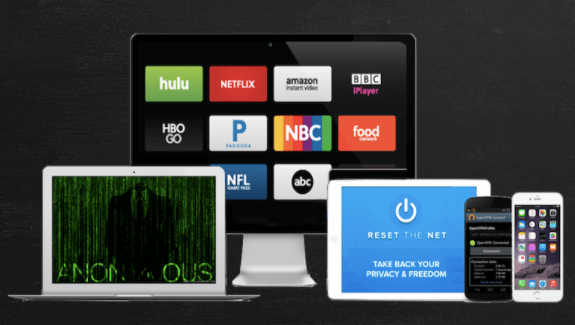 VPN Server Locations
ActiVPN has 65 servers in over 30 countries, and you can connect to 5 simultaneous devices via these servers.
Countries Supported:

Algeria

Argentina

Australia

Belgium

Brazil

Canada

Chile

Costa Rica

Cuba

Czech Republic

France

Germany

Hong Kong

India

Israel

Japan

Mexico

Morocco

Netherlands

Panama

Poland

Romania

Russian Federation

Singapore

South Africa

Spain

Sweden

Switzerland

Tunisia

Ukraine

United Kingdom

United States
Speed Test
IPCheck and DNSLeak Test
Based on our IP check, ActiVPN resolved to the exact IP address that was shown on the client. It also anonymizes activity and data. We also found no DNS leaks.
Feature Summary
Security – AES-CBC 256 + PKI RSA 2048-bits
Low Ping
Good Privacy
Unlimited Data Transfer
Multi Platforms – Windows, MacOS, iOS, Android, Linux, Router
Connect up to 5 devices simultaneously with one account
"Easy-to-use" software
Protocols – OpenVPN, L2TP + IPSec, PPTP
Multiple language support – Arabic, Chinese, French, German, Portuguese, Spanish, Russian, Italian
Kill Switch
Supports Torrenting
Additional Bonus Features
AdBlocker Feature – blocks banners, pop-ups and video ads
BotNet Blocking – blocks known command and control servers that black-hat hackers use.
Anti-DDoS Protection – deflects DDoS attacks at the network layer; perfect for gamers; advanced anonymity and security.
We Liked
Good long-term plans
Good speed on certain servers
Good customer support
Multi Platform
Accepts Bitcoin
Ad Blocking
Secures Public Wifi
Botnet Blocking
Areas for Improvement
While ActiVPN generally has good speed on a lot of their servers, there are some servers that show a dramatic speed loss when compared from a local server to an overseas server.
ActiVPN can also improve on their compatibility with streaming services. When tested, Netflix detects that VPN was being used. Other streaming sites that ActiVPN could not bypass were Hulu and BBC iPlayer.
Conclusion
ActiVPN is a decent VPN service provider because of its good speed, no-logs policy, multiple payment options and two-year subscription option, to name a few. However, when compared to market leaders ActiVPN is not yet at their level. There are things that they can still improve on. While ActiVPN has decent features, there are other providers that really offer better service.