AirVPN has some serious credibility. It's based in Italy and was created by the Pirate Party itself. Because of that, their claims to protect your privacy carry weight. They're not covered by the EU's onerous data retention laws, another reason to consider them as a provider.
Pricing & Plans
AirVPN offers several subscription plans that vary in duration from three days to three years.
Three days – €2.00
One Month – €7.00
Three Months – €15.00
Six Months – €29.00
One Year – €49.00
Two Years – €79.00
Three Years – €99.00
As of writing, AirVPN is on their Birthday Sale. The pricing image below shows the discounted rates for one year, 2 year and 3 year subscription.

AirVPN has multiple subscription options including credit cards, PayPal and several cryptocurrencies.
Free Trial/ Money-back Guarantee
The easiest way to get a free trial with this provider is to sign up for a three-day account and cancel it before the three days are over. They'll give you a refund.
Privacy & Anonymity
This is one area where AirVPN excels. This company was founded by activists. They keep no logs, and they strictly follow the best practices outlined by the EU for safeguarding user privacy.
The company also accepts Bitcoin. Between the no-logging policy and the fact that they offer 256-bit encryption over SSH, SSL and Tor, AirVPN is entirely appropriate for people who live in nations where VPNs are not allowed and where national firewalls have to be circumvented to even gain access to the Internet using a VPN.
AirVPN Logging Policy
According to AirVPN they have planned solutions designed to give higher security and stronger anonymity layers which can be used by anyone. They offer solutions on their FAQ page to keep the confidence of their users:
If you don't wish to leave a trail payment, the most secure way is to buy a subscription via some cryptocurrency. AirVPN accepts a wide variety of cryptocurrencies.
For extremely critical data transfer (whistleblowers, reports on organized crimes, etc.) please consider using AirVPN over Tor, or Tor over AirVPN (on top of end-to-end encryption, of course).
If/when you need to communicate with us, always use a secure and safe e-mail account which can't be exploited to reveal your identity.
Torrent Policy
Torrents are allowed on this service.
Customer Support
AirVPN has a ticketing system in the Client Area of their site that you can use for support. They also have forums where you can ask questions, and plenty of self-help information available. Their FAQ page also contains a comprehensive list of questions or guides that you can check out to make your AirVPN experience better and more efficient.
Product Testing
AirVPN is compatible with Windows, Linux, macOS, Android, iOS and chromeOS. Routers are supported, as well. Configuration files for any device can be downloaded from their site.
AirVPN Desktop Application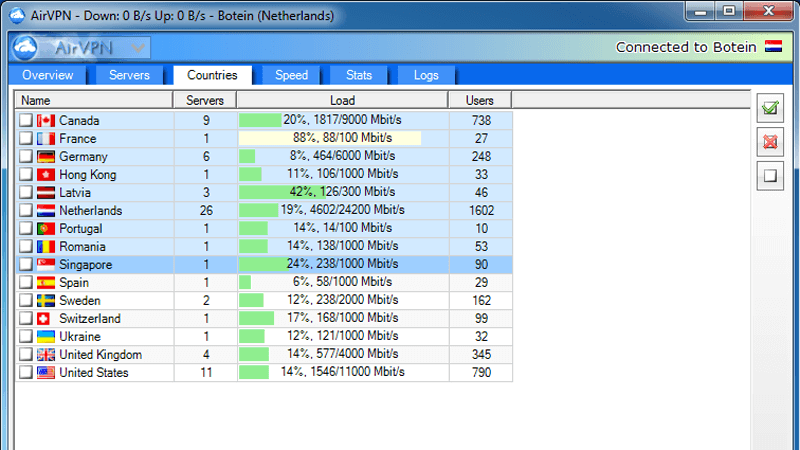 AirVPN has a very detailed interface on their Windows client. You access your various settings and stats through tabs. The client gives you speed information right on the interface, as well, which is a nice touch.
AirVPN Mobile Application
VPN Server Locations
AirVPN has over 200 servers in more than 20 countries.
Countries Supported:

Austria

Belgium

Brazil

Bulgaria

Canada

Czech Republic

Estonia

Germany

Japan

Latvia

Netherlands

New Zealand

Norway

Romania

Serbia

Singapore

Spain

Sweden

Switzerland

Ukraine

United Kingdom

United States
Speed Test
IPCheck and DNSLeak Test
Our IP was successfully masked by AirVPN and our DNS server address did not leak.
Feature Summary
Anonymous Surfing – hide your IP
No monitoring; no logging
Security – 4096-bit RSA keys size, AES 256 GCM Data Channel, HMAC SHA384 Control Channel
SSH, SSL, Tor
No Traffic limit; No time limit
Five simultaneous connections per account
No maximum speed limit. Minimum allocated granted bandwidth: 4mbit/s download + 4mbit/s upload
Forwarded ports and DDNS to optimize your software
No personal information required when you open an account
Transparent policies
Protocols: OpenVPN, PPTP
Fully compliant with the European Union legal framework protecting your privacy
Additional Bonus Features
Application Programming Interface – allows customers to access and control their accounts using custom written software
Port Forwarding/ DDNS – without this, the performance of some applications, for example BitTorrent and eMule clients, would severely be impaired and services on your computer would not be reachable from the internet.
Internal VPN DNS based on root servers
We Liked
It's hard not to like this company. They have a commitment to their business model that extends beyond making money off of it. They were founded by people who are genuinely concerned about Internet privacy.
Areas for Improvement
AirVPN may be a good VPN for torrenting however, it may not be the best tool for streaming. It does not work with some popular streaming sites like Netflix or BBC iPlayer. Still, you can try their service out with other streaming sites. You can check out their website for the list of blocked websites to check which streaming sites are not working with their service.
The speed was also somewhat lacking, but AirVPN really emphasizes its high encryption levels and privacy policies as the key points of its service.
Conclusion
AirVPN seems to be a very trustworthy company. Their product is excellent where privacy is concerned, and suitable for people in nations where using encryption might pose a personal risk. The speed was less than some other providers, but that doesn't take away from AirVPN in terms of their vision and mission as a company.