Betternet is a free VPN service from Betternet Technologies, Inc., located in Vancouver, BC. Betternet has two products: a browser extension and a VPN. We tested the VPN to see how it performed. As is the case with any free service, it's always good to dig into the details.
Betternet also offers premium plans that have account benefits.
Pricing & Plans
Betternet is completely free. However, they also offer premium plans with the following benefits:
Several location options (outside of US)
Faster connection
No ads
High Quality Support
Link up to 5 devices

Premium account plans can be paid via credit cards. There are no other payment options offered.
Free Trial/ Money-back Guarantee
As mentioned, users can either download Betternet for free or pay for a premium plan. Their premium plans have no money-back guarantee option.
Privacy & Anonymity
Betternet is an advertiser-supported service, so they do allow third parties to access cookies on your computer or device. Betternet doesn't take any responsibility for the advertisements or information their advertisers provide. They suggest apps for you to download. The company says that they do not log or store any personally identifying information, though they will collect the time you connected to their servers and the amount of data that you transferred while connected. To be able to remove ads from the client, you can avail of their premium account plan.
Betternet Logging Policy
According to their privacy policy they collect the following information when you use their service:
the duration of VPN sessions and the bandwidth consumed – to monitor, support and optimize their VPN services, as well as enforce free app usage limits.
the domains that have been accessed by our users, but on an anonymized basis such that they do not know which user accessed which domain. They also aggregate this information on an approximately monthly basis – to monitor, support and optimize their VPN services.
Device hashes, which are used to identify devices and associate them with other data they collect such as for measuring bandwidth use, providing support, understanding how you interact with their VPN, and other analytics and marketing purposes. Device hashes are not linked to VPN browsing activity.
It is unclear how long Betternet retains this information. It is not stated in their policy.
Torrent Policy
Betternet allows torrenting.
Customer Support
Betternet has a social media presence where you can interact with the company. There's also a help center on their site with an FAQ and a getting started guide.
Their free and premium users can use ticket request submissions on Betternet's website. However, their 24/7 email support team is only available for premium account holders.
Product Testing
Betternet has a very simple client. It uses OpenVPN to provide the tunnel. As you can see from the screenshots below, we did experience some oddities while connected to the network. There are redirection issues, and the company addresses this on their FAQ. They say they have no Middle Eastern servers and that the issue emanates from Google.
Another downside is its inconsistent speeds but is significantly faster when connecting to servers outside the US. It is also unable to connect to some streaming sites like Netflix and Hulu, despite its claims.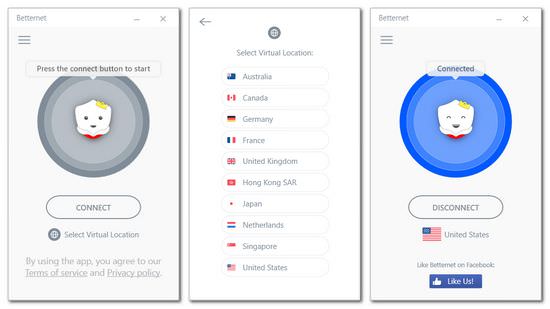 VPN Server Locations
Betternet only has about 17 servers spread out in 10 countries. This may be a low number when compared to top VPN services in the market today.
Countries Supported:

Australia

Canada

France

Germany

Hong Kong

Japan

Netherlands

Singapore

United Kingdom

United States
Speed Test
IPCheck and DNSLeak Test
We detected no DNS leaks while connected to Betternet during our security tests, however, this service does not have an automatic kill switch which means your data could be leaked if there is a sudden disconnection with your VPN. With regards to our IP, it was changed with this service, strangely.
Feature Summary
Betternet's free account features the following inclusions:
Free Service
Access to US servers only
Displays Ads
OpenVPN
500MB daily bandwidth cap for free account
Limited to one device per account (free account)
Offers dedicated apps for Mac, Windows, iOS, Android, Linux
Chrome extension
No access to 24/7 email support
Additional Bonus Features
Betternet offers premium account options that has features that their free account does not have:
Access to Betternet servers outside of US
No ads
Faster connection
Link to up to 5 devices
24/7 email support team
We Liked
Free, but limited service
Option for a premium account
Good speed with premium account
Simple VPN client; easy-to-use interface
Areas for Improvement
While it is great that Betternet offers free but limited VPN service to users who don't want to pay for a VPN provider, they could improve on several aspects with their free account. The slow and inconsistent speed that their free account has is a major cause of concern. Users are also limited to just using US servers. To access other servers, you would need to purchase a premium account.
Also, this is an advertiser-supported service, so there's always an issue with privacy that, quite simply, cannot be avoided. The company is very transparent about their ad-supported business model, however. They make money when you download an app, not when you see an ad, which is somewhat better than the conventional ad-supported model.
Conclusion
While there may be some flaws with Betternet's service as a free VPN provider, we still find them as one of the better free services we've tested. Of course, as a free VPN service there will be certain limitations as expected so we cannot really compare them with top paid VPN providers. However, if we compare Betternet's premium service with that of its competitors, there are certain features that they don't have that other providers offer like Kill switch and DNS leak protection, which are more like prerequisites these days.