BolehVPN allows you to regain your privacy, security and anonymity with their Virtual Private Network which protects and hides your actual network identity by giving you their server's identity instead of your own.
BolehVPN is a Malaysian company. They offer an impressive selection of servers and affordable plans. Their location and xCloak service makes them a good choice for people who find themselves stuck behind the Great Firewall of China.
Pricing & Plans
BolehVPN offers multiple packages that cover unlimited bandwidth and downloads. You can pay through debit cards, credit cards, PayPal and Bitcoin. Bank transfers is only available in Malaysia.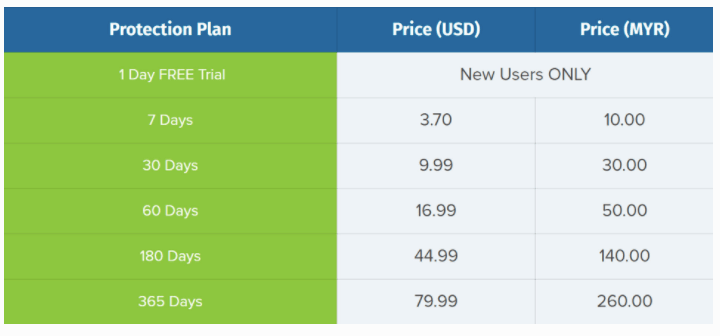 Free Trial/ Money-back Guarantee
BolehVPN only has a 1-day free trial for new users. You can also buy the seven-day plan and test out the service. They do not offer refunds, however, if there is some kind of technical issue, they'll refund your money within seven days.
Privacy & Anonymity
BolehVPN does not keep logs of user activity including user access, DNS requests, timestamps, bandwidth usage or user's IP addresses. They do monitor overall traffic of the server and number of connections in which the server is pushing through but not on an individual level.
BolehVPN Logging Policy
While they do not keep logs of user activity, they do terminate usage of users who have unusual activity on their servers via their general monitoring or receive a specific complaint (hacking/spam) they may turn on logs temporarily to identify abuse of our services (such as DoS or spamming through their servers).
Torrent Policy
BolehVPN allows torrenting and they even provide seedbox hosting.
Customer Support
BolehVPN offers a ticketing option, forums and a panel system. They have live chat on their site and, when the staff is available, you can use it to get support. Remember that they're in Malaysia, so customers in the western hemisphere may only be able to use live chat at odd local hours.
Product Testing
BolehVPN has an attractive client that's also quite easy to navigate. The proxy settings are available on their own tab. Configuring your connection is easy, and there's a checkbox for the DNS leak protection that's built into the client.
VPN Server Locations
Countries Supported:

Canada

France

Germany

Japan

Luxembourg

Malaysia

Netherlands

Singapore

Sweden

Switzerland

United Kingdom

United States
Speed Test
IPCheck and DNSLeak Test
BolehVPN effectively hides our IP address. And since they have DNS leak protection, our DNS leak did not leak upon testing.
Feature Summary
A registered company located outside of FVEY countries
Access to all 35 servers from 12 strategically located countries around the world (Canada, France, Germany, Japan, Luxembourg, Malaysia, Netherlands, Singapore, Sweden, Switzerland, United Kingdom and USA)
Accepts Bitcoin and anonymous cryptocurrencies such as Dash, Monero, Zcash and Zcoin
Supports custom and standard user interface for ease of use.
On demand choice in Fully Routed or Proxied VPN servers
Ability to obfuscate VPN traffic to mask VPN use
No bandwidth limits
No logging of user activities on the VPN
Support multiple devices with one account
Supports Windows, MacOS, Android, Linux and OpenVPN supported Routers for e.g. (DD-WRT/AsusMerlin-WRT/Tomato)
24×7 Online Customer Help Desk
Established history and operating since 2007
Additional Bonus Features
BolehVPN does not have any additional bonus features.
We Liked
BolehVPN has a great privacy policy. Their xCloak service makes them ideal for those who need to get around firewalls, as well, making this a good service for people in censoring nations.
We also like that BolehVPN provides a good level of customer support through their multiple mediums of assisting users.
Areas for Improvement
BolehVPN can use some improvements in terms of their speed. Their packages can also be improved to be able to compete with more well-known and top VPN providers.
Conclusion
While BolehVPN is a good VPN provider that has some decent features and price point, it cannot seem to keep up yet with more premium providers. Despite their attractive privacy policy, BolehVPN will not likely appeal to people who want to do a lot of downloading via torrents since it does not get you anywhere near the download speed you get when you're not using a VPN at all. However, if you simply need to use a VPN undetected, particularly in Asia, then BolehVPN is a good choice. There are numerous servers in their network that are located in Asia, making them even more appealing in that regard.