Boxpn is a Turkish based VPN service offering OpenVPN, PPTP, L2TP, and SSTP protocols. Boxpn currently has VPN servers located in more than 30 countries with more than 250+ IP addresses.
Boxpn has been in business since 2010 and is rapidly evolving and putting in a good amount of effort to be one of the better VPN service providers.
Pricing & Plans
Boxpn offers multiple account plans from 1 month, 12-month to 24-month plans. They offer up to 75% discount when you purchase their 24-month account.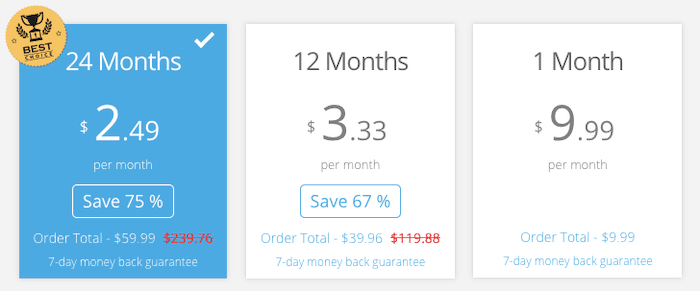 All plans include:
5 simultaneous connections
Unlimited Bandwidth and Speed
Military Grade Encryption
Streaming Support
Torrents and P2P Networks support
150+ VPN servers in over 32 countries
Strict NO logs policy
Free Trial/ Money-back Guarantee
Boxpn has a 7-day money-back guarantee.
Privacy & Anonymity
According to Boxpn, they do not keep logs of your activity and IP address, however they keep your payment and email information as well as your cookies and Google analytics data.
Boxpn Logging Policy
While they mention that they have a strict NO logs policy, there was no mention if they store your connection logs – that includes your IP address, how much data you've used and how long you were connected.
Their privacy policy is not as straightforward compared to other VPN providers who uphold privacy more.
Torrent Policy
Boxpn allows torrenting and P2P on their servers. Most of their servers can be used for torrenting however, their desktop and mobile application does not show which servers can be used for torrenting. You would have to go through the server list one by one to find out which ones are suitable for torrent downloading.
Customer Support
Users can submit support tickets or check ticket status through the support link on their website. Their support page also has a comprehensive list of FAQs that can help you with basic information that you may need. Boxpn also has a contact page where you can reach their support and sales team.
For quick response, you may opt to use their live chat on their mobile apps and website since it sometimes takes their support team a while to respond to emails and support tickets.
Product Testing
Boxpn is compatible with Windows, MacOS, iPhone and Android. You can also set Boxpn up on Linux devices and routers.
Boxpn reliably unblocks most streaming platforms and does effectively support torrenting. However, their speed may be an issue for some especially during torrent downloads.
Boxpn Desktop App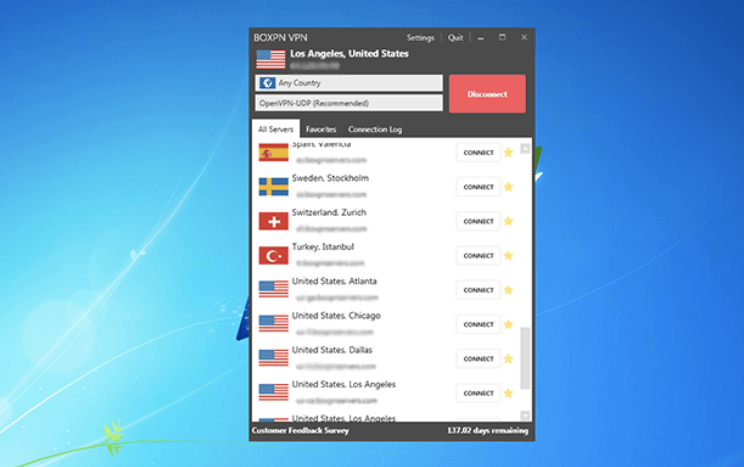 Boxpn Mobile App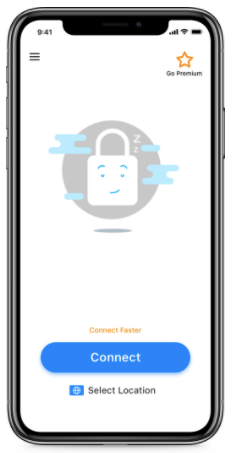 VPN Server Locations
Boxpn has more than 150 servers in over 30 countries.
Countries Supported:

Argentina

Australia

Brazil

Canada

China

Costa Rica

Czech Republic

Denmark

Finland

France

Germany

India

Ireland

Israel

Italy

Japan

Luxembourg

Mexico

Netherlands

New Zealand

Norway

Poland

Portugal

Singapore

Korea

Spain

Sweden

Switzerland

Turkey

United Arab Emirates

United Kingdom

United States
Speed Test
While Boxpn offers unlimited speed and bandwidth, upon testing, it does not perform exceptionally well in terms of speed. During other activities like normal browsing and streaming, the speed Boxpn provides via its servers are decent. However, during torrent downloading, it seems to be slower when connected to their servers.
IPCheck and DNSLeak Test
Based on our IP check, it showed that my connection Is on the correct server. It completely masked my actual server location. It also passed leak tests including DNS, RTC and IP leaks.
Feature Summary
Protocols: OpenVPN, PPTP, L2TP
Unlimited Bandwidth, Switching & Speed
2048-bit encryption
Up to 5 simultaneous connections
Torrent & P2P network
Worldwide VPN Server Network
Desktop and Mobile Apps
No Extra Charges
7-day money-back guarantee
Additional Bonus Features
Boxpn has an automatic Kill Switch function but is only available on their desktop application.
We Liked
We appreciate that Boxpn is a decent VPN service for torrenting. Compared to other lesser-known providers, they are effective when it comes to torrent downloading despite having not so ideal speeds for downloading.
We also like that it effectively unblocks popular streaming sites Netflix on multiple servers and Hulu on their US servers. However, other major streaming platforms like Disney+ and HBO Max were blocked.
Areas for Improvement
From what we've noticed upon our testing and from feedback from some users, Boxpn is not the most reliable VPN service in terms of speeds. This is something they should improve on since this is a key factor that a lot of users are also looking for when considering a VPN service.
Conclusion
While there may be some issues with this VPN provider in terms of speed, it still gets the job done. It effectively masks your actual server with no IP and DNS leaks. Boxpn provides a secure way to surf the internet and maintain online anonymity. It may not be one of the top VPN services in the market today but for its pricing, competitive performance and easy-to-use interface, it can be considered as one of the more reliable ones.