BTGuard is headquartered in Canada. They carry the endorsement of TorrentFreak, which gives them quite a bit of credibility as far as P2P use goes. They have a relatively small server network compared to other providers. They do offer 256-bit encryption, however, and their service is very streamlined and easy to use.
Pricing & Plans
BTGuard has two services you can choose from.
BitTorrent Proxy: $6.95 per month. This comes with a Torrent client that's setup to work with the BitTorrent proxy service. It doesn't provide an encrypted connection, but it does hide your IP when you're downloading from a Bittorrent swarm. You can also use this service with other clients, but it requires that you configure them manually.
VPN: $9.95 per month. This option offers PPTP and OpenVPN. It's a rather basic service compared to some other providers, but it does perform very well.
You can pay with PayPal, Credit cards or Bitcoin.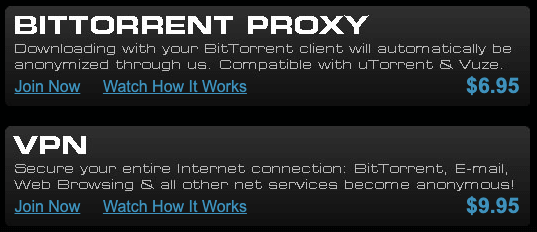 Free Trial/ Money-back Guarantee
BTGuard does not provide any information on their website regarding free trial offerings or money-back guarantees.
Privacy & Anonymity
BTGuard does not keep any logs of your activity including your IP addresses and usage. They also take Bitcoin, a significant privacy advantage.
Logging Policy
The following outlines their privacy policy:
Does not sell, trade or rent your personal information to other companies.
They identify the purposes for which information is being collected.
They collect and use personal information solely with the objective of fulfilling those purposes specified by us and for other compatible purposes, unless they obtain the consent of the individual concerned or as required by law.
They only retain personal information as long as necessary for the fulfillment of those purposes.
They collect personal information by lawful and fair means and, where appropriate, with the knowledge or consent of the individual concerned.
They protect personal information by reasonable security safeguards against loss or theft, as well as unauthorized access, disclosure, copying, use or modification.
Torrent Policy
Given their name, BTGuard obviously allows torrenting on their network, and is one of the better choices for using P2P in general.
Customer Support
There's a knowledge base and FAQ on the site. There's also a ticketing system you can use to contact support for problems you cannot solve on your own.
Product Testing
BTGuard has instructions for setting up their service on a variety of different operating systems, including Mac, Android, Ubuntu, Tomato, DD-WRT, iOS and more. However, BTGuard doesn't provide its own client. You can configure your PPTP connection manually or, if you opt to use the more secure OpenVPN protocol, you can use the OpenVPN GUI. The configuration files for OpenVPN can be downloaded from the account area of the site. They come in a package that automatically unzips them to the correct directory. Once they're installed, you can select any of the servers on the BTGuard network from the OpenVPN GUI.
VPN Server Locations
BTGuard has servers in only three countries.
Countries Supported:

Canada

Netherlands

Singapore
Speed Test
BTGuard tested very well in terms of speed. Using their OpenVPN option, we were able to get greater than 33Mbps speed, as you can see from the screenshots below. This was a small reduction off of our 48Mbps baseline and certainly fast enough to torrent.
IPCheck and DNSLeak Test
BTGuard changed our IP address but, as is the case with many VPN services without their own clients, our DNS did leak. Configure your DNS server manually when hooking up to the network for the best possible privacy.
Feature Summary
Multi-platform support
Simple download and install
No records of usage stored
256-bit AES encryption
Unlimited download speeds; 10GB servers
Protocols include: OpenVPN & PPTP
Servers in Canada, Europe and Asia
Accepts Bitcoin
Additional Bonus Features
Compared to other basic VPN services, BTGuard also offers a Bittorrent Proxy which is compatible with uTorrent and Vuze.
We Liked
The speed was good with this service and accepting bitcoin is also a bonus. Combine that with BTGuard's commitment to protecting user privacy and you have a great P2P solution.
Areas for Improvement
This is one of those services that hasn't bothered to release their own client. While the OpenVPN client is fine as far as functionality goes, it doesn't offer much to engage people with using their VPN. Users will be limited with the number of servers and country coverage BTGuard has.
Conclusion
BTGuard is a very decent provider, but they don't have the ease of use that comes with a custom client, as many of our top providers do. Their network is more limited than many other providers, but it does offer the best locations for P2P. For those who want to torrent, the VPN is a better choice because of the encryption it offers, but the proxy might be enough for some. The prices are competitive, but not stellar. Overall, BTGuard is worth the money if you don't mind using the generic OpenVPN GUI and if your main concerns are privacy and suitability for torrenting.