Buffered is located in Hungary. If you're worried about the EU's data retention laws or the DMCA, the jurisdiction makes this VPN provider attractive from the start. The company was launched by two Americans and a Brit who wanted to improve what's available for Internet users who want to protect their privacy. The service, in addition to advertising itself as a privacy solution, also emphasizes its capability to unblock content, allowing those travelling abroad to see programs from their home nation, no matter where they are. This service is very straightforward, as is their client, so new VPN users shouldn't have any trouble finding their way around.
Pricing and Plans
All Buffered VPN plans include the company's VPN software and unlimited bandwidth. The pricing is as follows:
Monthly: $12.99
Six Months: $9.99 per month
Twelve Months: $8.25 per month
Buffered accepts PayPal and credit card payments.
Free Trial/Money Back Guarantee
There's a thirty-day money-back guarantee with your signup. There's no free trial, but you can get your money back at any time during your first thirty days of service.
Privacy and Anonymity
Buffered's Hungarian location means that you're not subject to the worst of the EU's and US's privacy-busting laws. The company advertises that it does not log any of your traffic and that any data you put across the Buffered system is indecipherable to the company.
Torrent Policy
Torrenting is allowed on this service.
Customer Support
Buffered has a well-designed site with an extensive knowledge base. Any trouble you have can first be investigated by seeing if one of the available articles addresses your issue, and it's likely that one of them will. There's no live-chat window on Buffered's site as of yet, but they do have a ticketing system that you can use if you need personalized support.
Product Testing
There's nothing really difficult about this service. Setting up the client is easy, selecting a server is easy and there's really nothing manual required of the users. Where building the Windows client is concerned, Buffered did a great job.
The client gives you everything you need, along with an announcements tab to boot. It might not be advanced enough to satisfy users who want to micromanage their connection, but it's easy enough to get an OpenVPN connection up and running with it.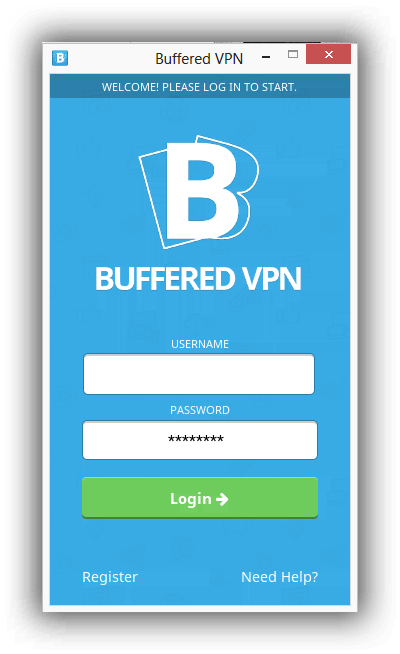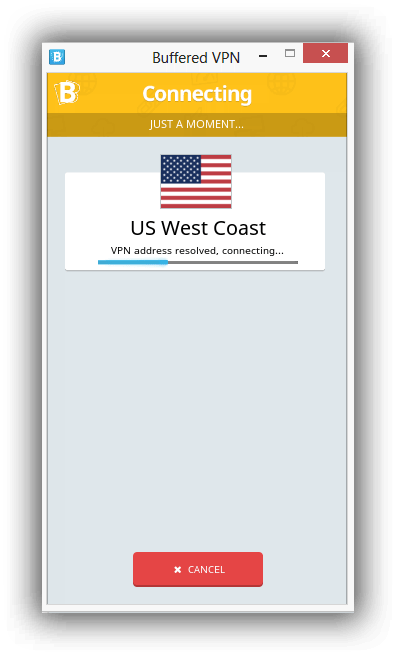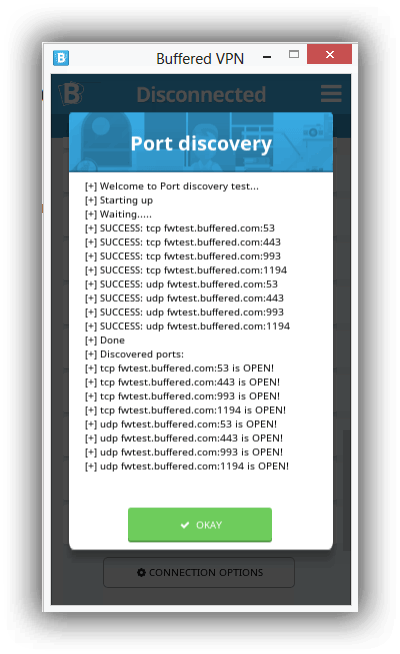 Windows, Mac OSX, Android, IPhone, etc.
Buffered has setup information and tutorials for Linux and Mac users. Mobile devices are also supported. You can connect using their software or manually.
Speed Test
Buffered was very fast in testing. We used the West US server and, as you can see from the speed tests, we were able to get nearly 40mbps download speed while connected.


IP Check and DNS Leak Test
Our IP address and DNS server addresses changed with no errors when we logged onto Buffered.
Feature Summary
No logging
Great jurisdiction
Torrenting allowed
Windows/Mac client
Mobile support
Countries Supported

Australia

Austria

Belgium

Brazil

Bulgaria

Canada

Denmark

Finland

France

Germany

Iceland

Israel

Italy

Latvia

Luxembourg

Mexico

Netherlands

Norway

Poland

Russian Federation

Singapore

Korea

Spain

Sweden

Switzerland

Ukraine

United Kingdom

United States
We Liked
Buffered has a lot going for it. They have a client that no one should have trouble using, fast servers and a great website. This company is newer, but it's definitely doing things right so far.
Areas for Improvement
Adding some more protocols might be good. Given that this VPN service has a good jurisdiction and client going for it already, IKEv2 and other feature enhancements could really put it over the top where privacy options are concerned.
Conclusion
Buffered isn't the cheapest VPN provider out there, but they are good. Their client is well-designed, their service is thought out and they're located in a nation that makes the EU and US problems with privacy non-issues. Their prices could be more competitive, but they are selling a good service, so what they charge isn't unjustified. They're competitive in just about every regard with the biggest providers out there.