Cryptofree is the free version of Cryptostorm which is an open-source based, activist-run VPN service. You can subscribe to this service using a variety of different cryptocurrencies. It uses a token system rather than a standard payment model, though you can go the more traditional route, as well. The company was launched in Iceland but has no central location. We tested the free version, Cryptofree.me for this review.
Pricing & Plans
Cryptostorm offers unlimited bandwidth on all its subscriptions and has multiple pricing that varies depending on your payment method. The pricing below shows plans under credit card payment:
One month: $6.00 (1 device)
Three months: $16.00 (2 devices)
Six months: $28.00 (3 devices)
One year: $52.00 (4 devices)
Two years: $87.00
Note that these prices reflect Bitpay rates. Other payment methods may have different prices attached to them. For instance, PayPal subscriptions are priced at:
One week – $1.86 (1 device)
One month – $6.00 (1 device)
One year – $52 (4 devices)
You can pay with a staggering array of different cryptocurrencies, including Bitcoin, Darkcoin, Namecoin, Zetacoin and Litecoin. The company advertises that they'll add new currencies when they become available. For Bitcoin or BitPay payments, pricing is as follows:
One month – $6.00 (1 device)
Three months – $16.00 (2 devices)
Six months – $28.00 (3 devices)
One year – $52.00 (4 devices)
Two years – $94.00 (5 devices)
5x 1 month bundle – $24.00
11x 1 month bundle – $48.00
25x 1 month bundle – $97.00
Lifetime – $500.00 (6 devices)
Free Trial/ Money-back Guarantee
You can use the Cryptofree.me version of this product by downloading and installing it, nothing else is required. There is no money back guarantee offered.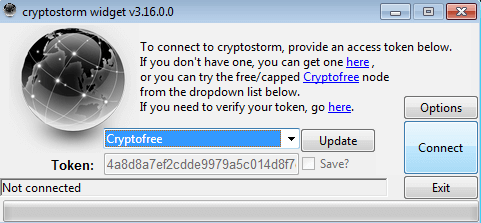 Privacy & Anonymity
Cryptostorm emphasizes privacy. They oversee their own network, according to their website, and use open-source software. They have a token-based network that allows you to pay with hashed tokens, meaning there's no easy way to attach your name to your payment. The company is decentralized, and they do not log. The privacy section of their site states the following:
VPN servers never save data that can be used to identify a customer
Chaining supported – you can also opt to use multihop to connect to another VPN or Tor before you connect to Cryptostorm
All server side configurations are public
Security through transparency
Token-based network access – access tokens are hashed before connecting
Decentralized organization
Torrent Policy
Torrents are allowed on this service.
Customer Support
You can contact Cryptostorm via their social media accounts as well as through email (info@cryptostorm.is). Their site also has a comprehensive FAQs section which would be very useful especially for new users.
Product Testing
We tested the free version of this product, which is capped at 256K. The client is bare bones, featuring nothing but a space for your token, connect/disconnect buttons and an options menu. You can watch the state of your connection below the main window, as shown in the screen shots.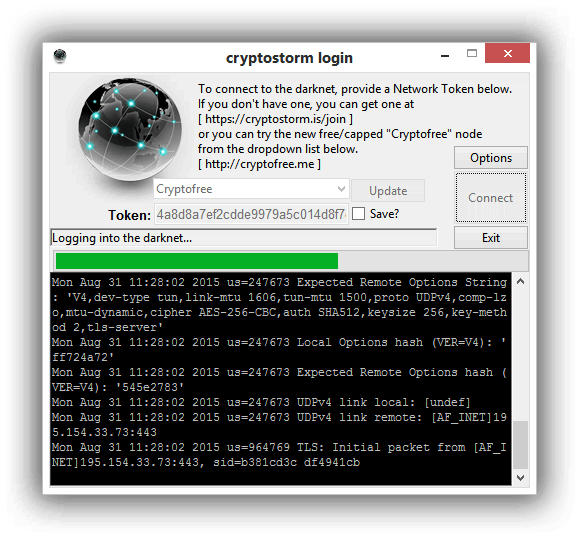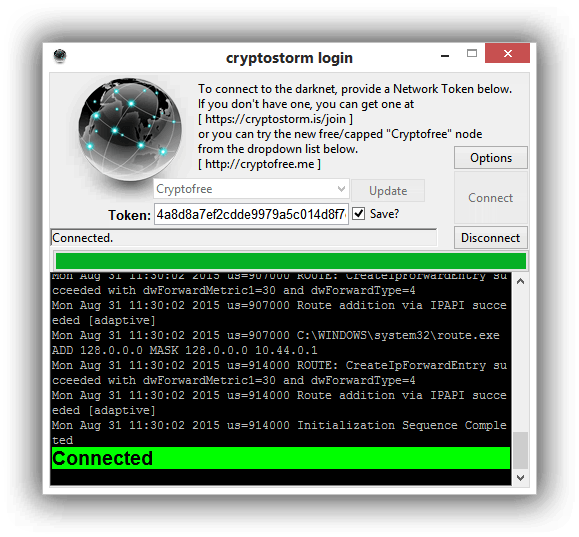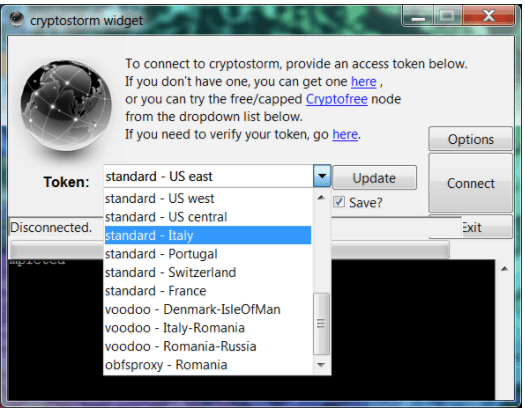 VPN Server Locations
Cryptostorm servers are located in more than 20 countries worldwide which covers Europe, North America and Asia.
Countries Supported:

Austria

Belarus

Belgium

Bulgaria

Czech Republic

Denmark

Estonia

Finland

France

Germany

Greece

Hungary

Ireland

Italy

Latvia

Lithuania

Moldova

Netherlands

Norway

Poland

Portugal

Romania

Serbia

Korea

Spain

Sweden

United Kingdom

United States
Speed Test
The speed test needs to come with a qualifier: the free version of this service is capped at 256K, so our expectations were not high in this regard. As expected, our speed was slow, but the company makes no claims that it will be fast using the free service.
IPCheck and DNSLeak Test
Our IP address checked out as coming from France. Our DNS did leak, but this is easy to remedy by manually configuring your device.
Feature Summary
Free version – Cryptofree
Token-based payment system
High level of anonymity
No logging
Open source
OpenVPN
Unlimited bandwidth with paid service
Additional Bonus Features
DeepDNS System

Encrypted DNS Servers – Chain DNS traffic with Anonymized DNS
DNSCrypt v2 – public DNSCrypt servers for encrypting your DNS traffic before you connect
Direct access to darknet

Anti-leak Protection

DNS/WebRTC leak protection
DNS-based ad/tracker blocking
Kill Switch included

Flexible connection options

SSH/HTTPs tunneling
BitTorrent Allowed
Connect to any port
We Liked
CryptoStorm is very much committed to providing users with anonymity. As an activist-operated and decentralized business, they value the privacy of their customers by providing a clear no logging policy, enough details on how their network operates and options like token-based network access to live up the service they uphold.
Areas for Improvement
While their site shows multiple contact points to reach Cryptostorm, the only active support for this product is available via forums. The posts are written at a very high technical level and, between that and the constant use of acronyms and slang, they are likely to drive most everyday users away without workable answers. It is not user-friendly where navigating and finding answers to questions is concerned. They may respond to email inquiries or social media posts but that may take quite some time.
Conclusion
Cryptostorm is a product by techies for techies, the more activist the better. It seems almost as concerned with cryptocurrency as it is with providing a VPN, but that's not at all a bad thing. The decentralized company design is interesting where privacy is concerned. If you want to be on the bleeding edge of privacy protection, this is a good provider to look at. If words like "hash," "tokens," and other terms are still confusing to you, you might want to go with a more traditional provider that accepts Bitcoin and that doesn't log.