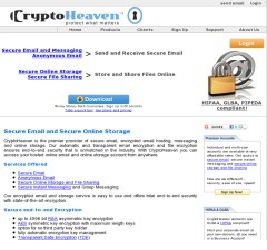 CryptoHeaven is not a VPN provider. The service certainly does have to do with privacy, however, and those who are concerned enough about their privacy may want to take a look at this service as something they could add to their VPN for a full privacy package. CryptoHeaven, like all good privacy service providers, takes some basic security tools and combines them in a package that makes the service very interesting.
CryptoHeaven Core Services
Secure Email Service
Secure Online Storage
Secure Instant Messaging
If you are VPN user or just value your privacy then chances are you will be interested in CryptoHeaven.  As mentioned in the list above, CryptoHeaven provides a secure email service,  secure online storage service and secure instant messaging.  The best part of this is that these services are all bundled together and this combination or bundling of services makes this a great choice for businesses that have trade secrets that might be targets for corporate espionage or companies that have legally protected information to exchange.
CryptoHeaven, for example, is HIPPA compliant, meaning that it's suitable for the exchange of protected medical information.
Here are the specific for those of hose
Security / Encyption Details for CryptoHeaven
Transparent Data Encryption
AES symmetric key encryption
4096 bit RSA asymmetric key encryption (4096 bit RSA encyption is very serious security intended for serious users.)
The secure online storage and file sharing is a particularly interesting product. It allows you to move very large files over encrypted connections and even to edit the files when they're in the secure online storage space. This secure tool does allow collaboration. Work with your coworkers on important projects where security is an issue without worrying about being spied upon! This is an interesting, and very secure, twist on the file sharing technology that's so popular today with people who work remotely from their offices.
Secure email is a great service for businesses that need to communicate instantly but that also need to communicate information that cannot be sent without encryption. This service comes for free with some of CryptoHeaven's plans, making it a great value.
This is not the usual service that you'd see here, but it's a great one if you need additional privacy and you already have a VPN set up. Between the two services, anonymity would not be an issue. This service is well designed and even encrypts the files before you transmit them to the online storage, so you aren't exposed at any point along the way during the upload. This and the other services make this a great offering.