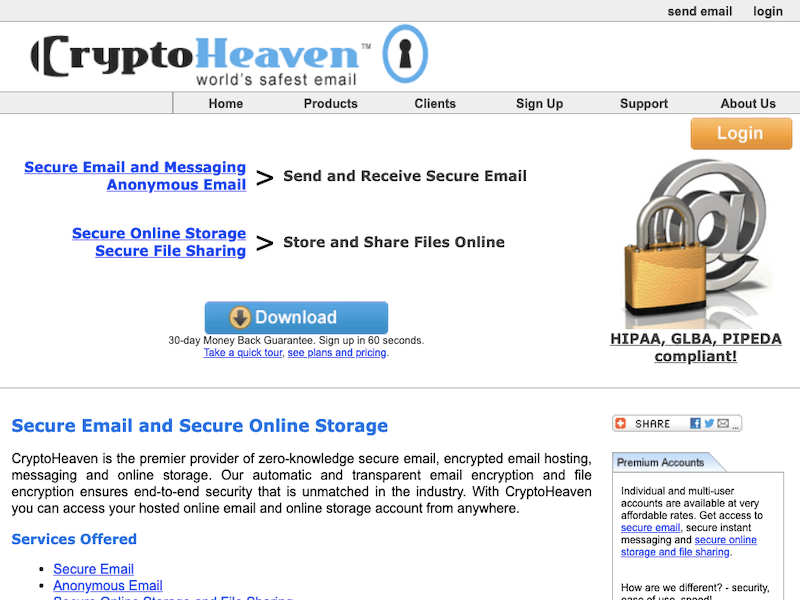 CryptoHeaven is not a VPN provider. The service certainly does have to do with privacy, however, and those who are concerned enough about their privacy may want to take a look at this service as something they could add to their VPN for a full privacy package. CryptoHeaven, like all good privacy service providers, takes some basic security tools and combines them in a package that makes the service very interesting.
CryptoHeaven Core Services
Secure Email

Automatic and transparent email encryption ensures end-to-end security. You can access your secure online email account from anywhere.

Anonymous Email

Send anonymous email and remain totally anonymous as your IP address and any track record of where your email is sent and received from are eliminated, rendering the emails untraceable.

Secure Online Storage and File Sharing

You can access, store and backup digital information in a secure, private and encrypted CryptoVault.

Secure Instant Messaging

CryptoChat allows you to collaborate with your co-workers by sending secure instant messages to any of your contacts.
If you are a VPN user or just value your privacy, then chances are you will be interested in CryptoHeaven. As mentioned in the list above, CryptoHeaven provides a secure email service, secure online storage service and secure instant messaging. The best part of this is that these services are all bundled together and this combination or bundling of services makes this a great choice for businesses that have trade secrets that might be targets for corporate espionage or companies that have legally protected information to exchange.
CryptoHeaven accounts are also GLBA and HIPAA compliant
Pricing & Plans
CryptoHeaven offers 2 main accounts: Personal and Business. Their personal accounts provide access for personal or small business needs and includes the following:
secure email
secure online storage
secure file sharing
secure instant messaging
secure group chat
choice of domain names
5 custom email addresses
secure access from anywhere
99.9% uptime guarantee
encrypted online storage
virus and spam filtering
no obligation, cancel at any time
CryptoHeaven's business accounts provide access for any size workgroup and includes the following:
everything listed under personal accounts, plus:
you@your-company.com
choice of alternate domain names
12 custom email addresses for each user
unlimited number of user accounts
online storage, up to 1000GB
administration tools
automatic company contact list
regular account backups
24/7 support
HIPAA & GLBA compliant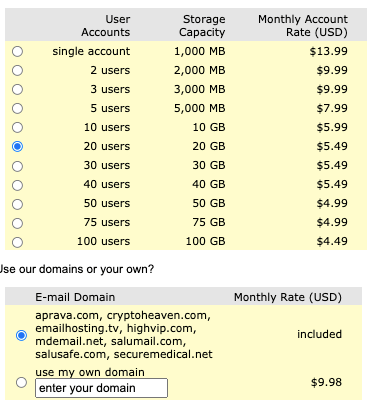 Free Trial/ Money-back Guarantee
CryptoHeaven offers a 30-day money-back guarantee on all their accounts
Security & Encryption Details
up to 4096-bit RSA asymmetric key encryption
AES symmetric key encryption with maximum length keys
zero-knowledge encrypted email cloud storage
fully automatic encryption key management
option for no third party key holder
Transparent Data Encryption (TDE)
Secure file sharing and secure file distribution
Document expiry settings
Additional products
Aside from secure email, online storage and secure instant messaging, CryptoHeaven also offers other products that also provide users with an extra layer of security for their online activities.
CryptoHeaven Web Edition

Intended for users who wish to access their CryptoHeaven accounts without installing any software

CryptoHeaven Secure Web Forms

Enables you to securely receive information from your website visitors directly into your CryptoHeaven account.

CryptoHeave Secure Email Gateway

Enables you to receive email from people who do not have a CryptoHeaven account.

CryptoHeaven Offsite Backup

Provides an automatic way for you to backup important and sensitive information safely and securely.
Privacy Policy
According to their website, "Your data stored on our servers is always encrypted, including message subjects, message body, file data, file names, file descriptions, folder names, folder descriptions, contact names, various keys and other information. Service administrators have access to the encrypted files, but its content is ineligible to them without your username and your passphrase. Your passphrase is never transmitted to us in a plain or encrypted form. CryptoHeaven has strict protocols that limit access to collected information. Only selected administrators have access to the user database."
Customer Support
CryptoHeaven has a secure contact page where you can send messages to their live support team. There is also an option to send an SSL encrypted email.
The support section of their website also has a list of helpful pages that would be very useful to new and old CryptoHeaven users. These pages include remote desktop support, FAQs, quick tour and user guide, to name a few.
We Liked
The secure online storage and file sharing is a particularly interesting product. It allows you to move very large files over encrypted connections and even to edit the files when they're in the secure online storage space. This secure tool does allow collaboration. Work with your coworkers on important projects where security is an issue without worrying about being spied upon! This is an interesting, and very secure, twist on the file sharing technology that's so popular today with people who work remotely from their offices.
Areas for Improvement
CryptoHeaven has a pretty solid service but could use some updating and some improvements on their website. It seems to have an outdated look and may have some outdated information as well. Based on our recent review, the last time it was updated was in 2011.
Conclusion
Secure email is a great service for businesses that need to communicate instantly but that also need to communicate information that cannot be sent without encryption. This service comes for free with some of CryptoHeaven's plans, making it a great value.
This is not the usual service that you'd see here, but it's a great one if you need additional privacy and you already have a VPN set up. Between the two services, anonymity would not be an issue. This service is well designed and even encrypts the files before you transmit them to the online storage, so you aren't exposed at any point along the way during the upload. This and the other services make this a great offering.