Last week ExpressVPN updated their Android based VPN client and as part of a promotional strategy they are offering a free 1 day VPN trail for their android based VPN client/service.
You can see that most people are pretty happy with ExpressVPN and the fact that they are actively updated and working on improving their VPN client seems to speak in their favor.  Here on the right you can see their user rating — (4 and a half stars) which is quite a good rating considering how often people like to complain on the Internet.
ExpressVPN for Android – Scope of Use
If you don't know about ExpressVPN, you can surf the Internet anonymously, safely and bypass geographical restrictions with ease. ExpressVPN allows you to do everything that other VPN services offer at faster speeds.
ExpressVPN for Android allows you to:
Unblock applications and websites such as Facebook, Twitter, or Skype
Select an IP address offered by ExpressVPN for online anonymity
ExpressVPN for Android – Prominent Features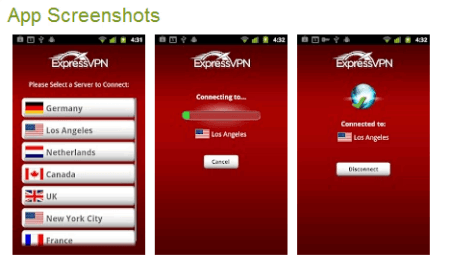 Here is a list of some features offered by ExpressVPN for Android:
User-friendly interface
Access the Internet fast, without any delay. Users do not need to feed a username, password, or server name. Just open the VPN application and select the desired server
Switch unlimitedly between VPN server locations (as of now, servers are located in UK, US, Germany, Netherlands, Hong Kong, and France). ExpressVPN has declared that it is soon going to add more locations
24 hour customer support through email as well as chat
Works with all mobile data carriers such as 3G, wifi, and GSM
Unlimited bandwidth
99.9% uptime
ExpressVPN for Android is available for free with all service plans offered by ExpressVPN.
Read our Review of ExpressVPN and find out why that are one of our favorite providers.