GeoEdge is headquartered in the US. The company is well known for their range of ad-testing products designed to combat malware and other threats. Their proxy service offers connections all over the world, and they have two different VPN services you can use, as well. The first is a standard VPN. The second, RapidVPN, allows you to select which applications are routed through the VPN server and which are not.
Pricing and Plans
GeoEdge plans are divided up according to the services included. The toolbar services provide an easy-to-use proxy for Chrome and Firefox users.
Basic $29 per month, no VPN
Start: $59 per month, no VPN
Grow: $99 per month, VPN
Connect: $169 per month, VPN
You can pay with major credit cards
Free Trial / Money Back Guarantee
There's a five-day free trial you can use to assess the service before buying it. No credit card is required to try the service out.
Privacy & Anonymity
GeoEdge says that they do not log your traffic and that your data is private. This service is not aimed at P2P users, however.
Torrent Policy.
Going through GeoEdge's site, it was difficult to find anything but sales language, but their service is decidedly not appropriate for torrenting. This is a service that's aimed at advertisers more than anything else.
Customer Support
Extensive customer support options are available at the GeoEdge site. Phone and email support options are provided, and there is documentation at the site, as well.
Product Testing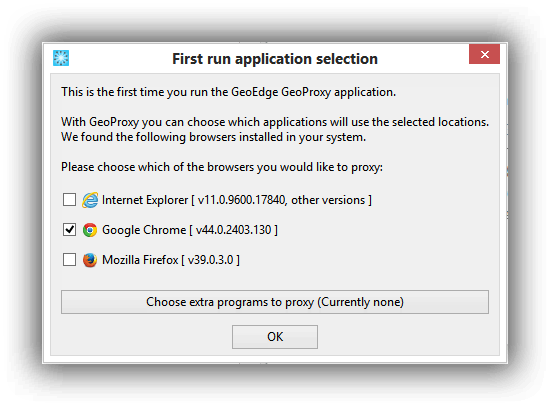 GeoEdge installs via a tool bar or an application that runs in the system tray on Windows. It allows you to select a nation or city for your proxy or VPN connection. The provider has other tools, as well, but it was clear in testing that this is really more of a tool for assessing marketing campaigns than a true VPN.
Windows, Mac OSX, Android, IPhone, etc.
There are options for Mac, Android and iPhone. Mobile apps are only available at the $99 per month and the $169 per month tier of service.
Speed Test

GeoEdge Baseline Speedtest
GeoEdge VPN Speedtest
Despite the very high price for a VPN connection from this provider, their speed was not particularly impressive. They dropped us from nearly 50Mbps to just over 3Mpbs when connected to a US server.
IPCheck and DNSLeak
Our IP address was changed but our DNS server addresses were transparent with this provider.
Feature Summary
Ad verification services
Worldwide proxy network
RapidVPN option
Toolbar for Chrome and Firefox
Mobile apps
Countries Supported

Albania

Andorra

Argentina

Australia

Austria

Bahrain

Belarus

Belgium

Brazil

Bulgaria

Canada

Chile

China

Colombia

Costa Rica

Croatia

Cyprus

Czech Republic

Denmark

Ecuador

Egypt

El Salvador

Estonia

Finland

France

Georgia

Germany

Greece

Guatemala

Honduras

Hong Kong

Hungary

Iceland

India

Indonesia

Iraq

Ireland

Isle Of Man

Israel

Italy

Japan

Jordan

Kazakhstan

Kenya

Kuwait

Latvia

Lebanon

Liechtenstein

Lithuania

Luxembourg

Malaysia

Malta

Mexico

Moldova

Morocco

Netherlands

New Zealand

Nicaragua
Nigeria

Norway

Oman

Pakistan

Panama

Peru

Philippines

Poland

Portugal

Puerto Rico

Qatar

Romania

Russian Federation

Saudi Arabia

Serbia

Singapore

Slovakia

Slovenia

South Africa

Korea

Spain

Sweden

Switzerland

Taiwan

Tanzania

Thailand

Tunisia

Turkey

Ukraine

United Arab Emirates

United Kingdom

United States

Uruguay

Venezuela

Viet Nam
We Liked
This really isn't a VPN service that's designed for privacy protection. This is more of an advertising tool, so there wasn't anything about GeoEdge that stood out as better than any other VPN option out there.
Areas for Improvement
The prices for this product are outrageous. The connection speed was exceptionally slow and the transfer limits are tiny.
Conclusion
GeoEdge is a tool for advertisers. It's not a VPN service like the others we review, though it does offer a VPN connection. The service is extremely expensive, the transfer limits are very small and getting a product similar to what our recommended VPN Providers offer—minus the ad verification—will cost you fifteen times more from GeoEdge than it will through a company like VyprVPN or IPVanish. This service, at least for someone who just wants a VPN, is not worth the price.