GeoSurf is a combination proxy/ VPN service/ marketing tool for those people who have a need to target specific areas or regions for advertising campaigns, or geotargeting. The company motto is "Surf locally without being local," and with the promises of their service you should be able to accomplish just that. Using their GeoSurf client you will be able to see your websites or advertising campaigns as if you were sitting in a home in the region you placed the website or ad in.
GeoSurf also offers a VPN service to protect your anonymity further and has a host of other functions and features designed with the internet marketer in mind.
The client has a built-in mobile emulator to let you see how the campaigns look from a mobile device and depending on your level of service you can have 80 or more cities available to you for your research.
Pricing & Plans
They have 4 levels of service that they refer to as Residential IP Proxies – from a starter pack to an enterprise plan, so you will be able to find a package to suit the needs you have. Here they are: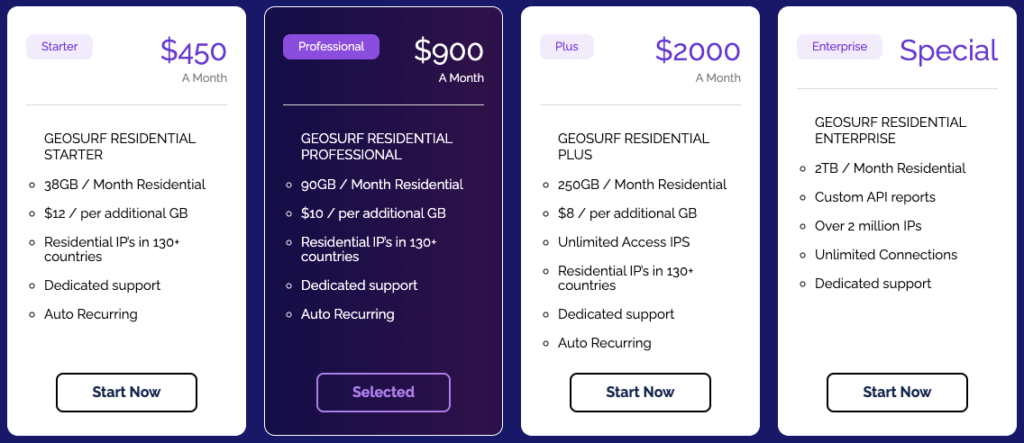 VPN access is considered as an advanced feature with GeoSurf. To check the pricing for this, contact their enterprise department and a representative will be in touch with you to set up a plan with all the options you want. You will only have access to their VPN network, unlimited bandwidth, smartphone access, more than 1 user, and unlimited support by purchasing through their Enterprise department.
GeoSurf accepts credit cards and PayPal (for US market). Enterprise customers can also pay via wire transfer.
Free Trial/ Money-back Guarantee
GeoSurf has a 5-day free trial. It is possible to receive the free trial without a credit card number, by contacting their support team.
Privacy & Anonymity
GeoSurf receives and collects personal data as it is necessary for the adequate facilitation and performance of the contract between user and GeoSurf, to provide you the Service, to secure their legitimate interests in analyzing the performance of their campaigns and Service, and to allow them to comply with their legal obligations.
User Account
Contact Us Information
Usage Data
Data received from Third Parties
Purchases
Log Files
Cookies and Other Tracking Technologies
Services Integration
Analytics
GeoSurf Logging Policy
GeoSurf makes use of log files. The data inside the log files includes internet protocol (IP) addresses, type of browser, your device's type, Internet Service Provider (ISP), date/time stamp, referring/exit pages, clicked pages and any other information your browser sends to them. They use such data to analyze trends, administer the sites and service, track user movement in the sites and service and gather statistical data.
Torrent Policy
On GeoSurf's site, there was no information if it is appropriate for torrenting. That being said, this service is aimed more at advertisers and marketers more than anything else.
Customer Support
GeoSurf has an extensive list of options as far as customer support is concerned including their contact page and message app options like Telegram, WhatsApp and Skype. Their website also has multiple resources from tutorials to FAQs.
Product Testing
There are several different varieties of GeoSurf for someone to use. The basic program consists of a toolbar add-on for Firefox or Internet Explorer and a smart phone connection.
With all we had to tell you about what you would be getting for your hard-earned money, we really gave away all of the best features of the client. The toolbar worked great within Firefox, and switching from out home on the East coast of the U.S. to inspecting our sites from a Frankfurt perspective took almost no time. All the controls you will use most are on the toolbar, along with the Geosurf Plus button.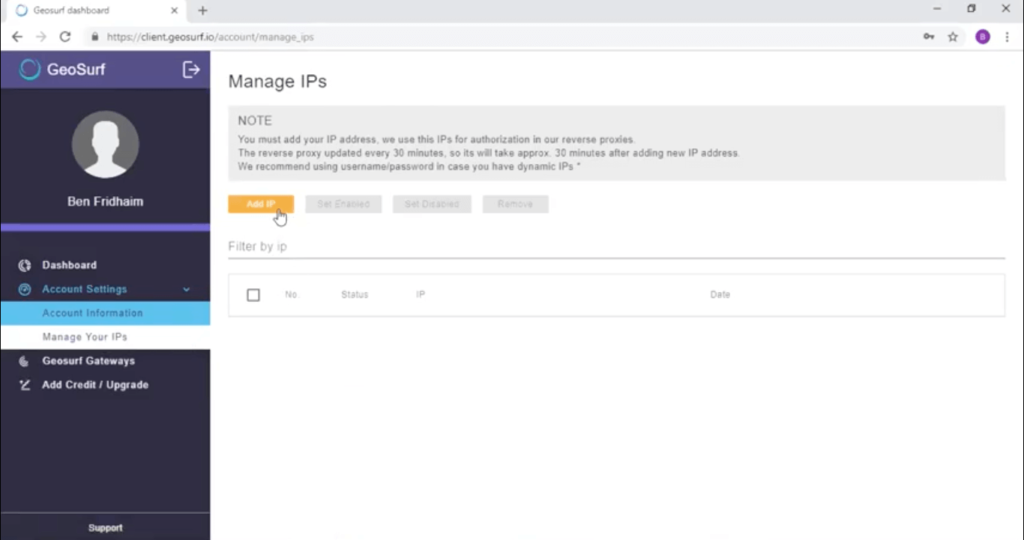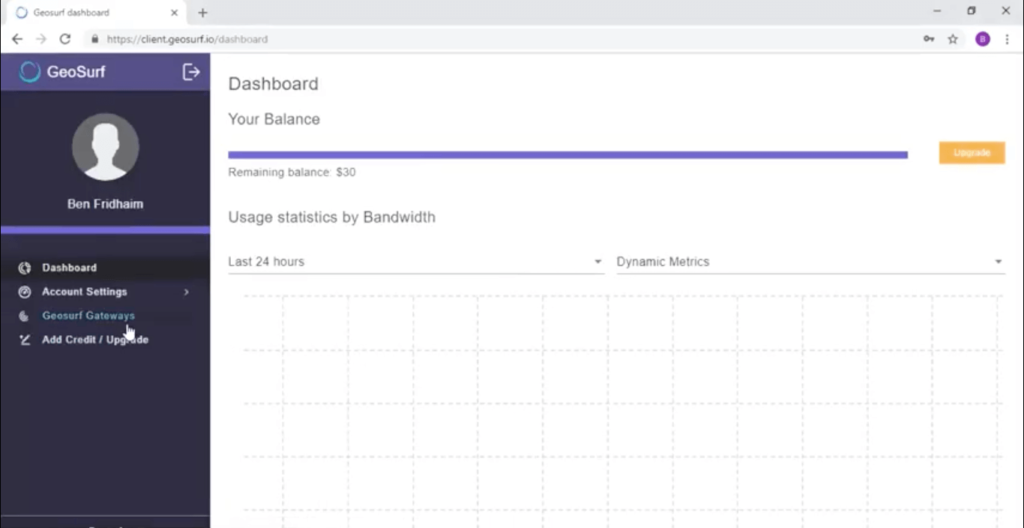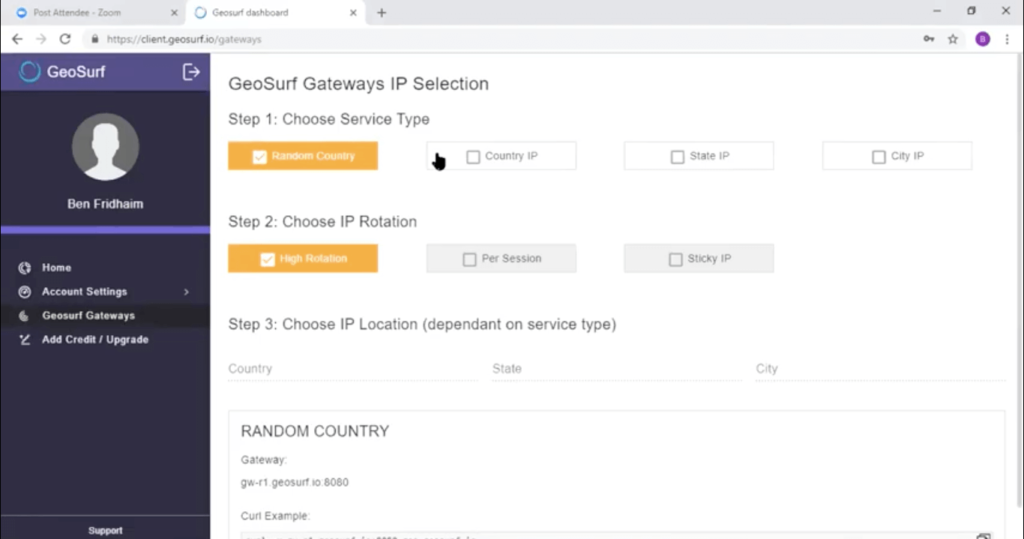 While surfing the internet, to find out if a site is already being monitored by Geosurf, click the geosurf Plus button, if the site is being monitored, (and a lot are,) you will receive a report with all the information we mentioned earlier. If not, you will have the option to submit the site for monitoring, The GeoSurf team will then check and see if the site can be monitored, and if so it will be added and you will be notified of the contribution.
When used in the correct way, GeoSurf can provide internet marketers with a whole host of information, and tools, that can potentially increase an ad campaigns ROI by 200% or 300%.
Server Locations
While these are proxy connections and not VPN connections, we were impressed at the variety and organization of the proxy lists. When you sign up for a GeoSurf plan, you instantly get access to 2 million Residential Proxies in 130+ countries and 1700+ cities around the world. In addition to the residential proxy network, our GeoSurf Premium Static network includes 120 countries and 30+ United States demographic market areas (DMAs).
Countries Supported:

Afghanistan

Algeria

Argentina

Armenia

Australia

Austria

Bahrain

Belarus

Belgium

Bosnia And Herzegovina

Brazil

Bulgaria

Canada

Chile

China

Colombia

Costa Rica

Croatia

Cyprus

Czech Republic

Denmark

Ecuador

Egypt

El Salvador

Estonia

Finland

France

Georgia

Germany

Ghana

Greece

Guatemala

Honduras

Hong Kong

Hungary

India

Indonesia

Iran, Islamic Republic Of

Iraq

Ireland

Israel

Italy
Jamaica

Japan

Jordan

Kazakhstan

Kuwait

Latvia

Macedonia

Malaysia

Mexico

Moldova

Mongolia

Montenegro

Morocco

Netherlands

New Zealand

Norway

Oman

Pakistan

Panama

Paraguay

Peru

Philippines

Poland

Portugal

Qatar

Romania

Russian Federation

Saudi Arabia

Senegal

Serbia

Singapore

Slovakia

Slovenia

South Africa

Korea

Spain

Sri Lanka

Sudan

Sweden

Switzerland

Taiwan

Thailand

Tunisia

Turkey

Ukraine

United Arab Emirates

United Kingdom

United States

Uruguay

Venezuela

Viet Nam

Zimbabwe
Speed Test
Using their toolbar in Firefox we found that switching from one country to another happens fast. And the same can be said of just switching from one region to another. This testing was done entirely on their proxy network.
We did not test out their VPN service because it was only available to people who had purchased the enterprise plan at over $100 / month.
IPCheck and DNSLeak Test
Our IP address was changed but our DNS server addresses were transparent with this provider.
Feature Summary
Residential Ips in 130+ countries
Dedicated Support
Multiple plans (Starter, Professional, Plus)
Option: Enterprise Plan (Special pricing)
38GB to 2TB Usage (depending on your plan)
Additional Bonus Features
GeoSurf products include the following:
Mobile VPN – especially designed for smartphones and is compatible with both Android and iOS operating systems. They offer our clients over 120 mobile device locations, so they can surf without being tracked or blocked on any mobile device.
GeoSurf Browser Extension – his simple plugin allows you to turn on and switch between Static and Residential IPs directly from your favorite browser.
Static Residential IPs – enable you to send out unlimited requests through legit verified IPs and still remain anonymous and safe. Our clients enjoy a selection of over 2 Million unblocked legit IP addresses.
Desktop VPN – download Geosurf Desktop VPN to your computer and you'll be able to access unlimited bandwidth and secure connections.
Sneaker Proxies – These proxies allow you to host multiple IP addresses, giving you access to multiple products at a time
Private Proxies – Private Proxies enable you to avoid geo-blocking. They offer clients more than a 100 IP locations, so you can choose and alter your IP address to access blocked content and websites.
We Liked
There is definitely a place for GeoSurf especially if you are an Internet or mobile marketer and you are making over 6 figures in profit a year then you might not be put off by their price.
Areas for Improvement
We like GeoSurf, however they are very expensive when compared to other providers such as HideMyAss. If you are a new marketer or someone interested, then $30 / month could represent a lot of money and then we would recommend a VPN provider for under $10/ month from our best vpn service providers list.
Also, if all that you need is a proxy service there are cheaper services such as proxybonanza $20 a month for 70 proxies.
Conclusion
If you are looking for a good and cheap VPN or proxy service then GeoSurf is definitely too expensive and we recommend a service like HideMyAss which will give you about 90% of the functionality at 33% of the price.
However for an experienced Internet marketer in the mobile space – there is currently no competition or tools that compare to GeoSurf and to get the information that Geosurf provides would take hours of research and configurations for a marketer so in this instance we highly recommended GeoSurf despite the relatively high cost.