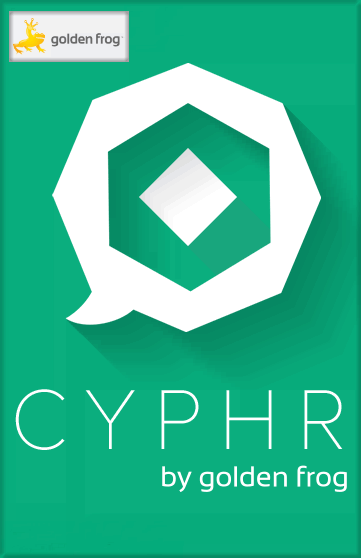 Golden Frog has a new app out that allows you to exchange messages privately. Named Cyphr, the app uses a public and private key system to ensure that messages can only be read by the intended recipient. Best of all, any data that could be used to identify who sent the message or what it contained is deleted from the servers after the message has been received, leaving no trail behind.
How it Works
Cyphr uses 256-bit AES symmetric key encryption to provide privacy. The keys are single use. A public and private key paring scheme ensures that no one except the person for whom you intended the message can read it. It even uses SSL/TLS to deliver the messages, so there's no metadata that can be intercepted while the message is en route. When the message is received, your recipient can be sure it's you because of the public key verification that each message is protected by.
Right now, you can use this app on Android and iOS devices. Golden Frog is working on a desktop version of the app and a web version, which are slated to be released soon. Golden Frog tends to have a fast development and release time, so it shouldn't be long until the two alternatives are available to users.
How it Makes Privacy Easy
The Cyphr app has configurable privacy settings that allow you to set the level of protection for any exchange of messages. This is excellent for people who might not always need to have the most secure settings, but who need to make sure that some of their communications are protected, such as business information and so forth.
The app messages right through Golden Frog's servers. There aren't any 3rd parties involved. When you send the message, Golden Frog stores your recipient's name, the time stamp and what they call a "blob", the content of the message, which even Golden Frog cannot decrypt. Once the message is received by the recipient, the aforementioned information is removed from the servers permanently, which leaves no trace behind.
As one more benefit, the servers are located in Sweden, so privacy protection is very good.
If you're interested in a more secure way to send messages, Cyphr has some very compelling features. Golden Frog has a good reputation for privacy and doesn't keep anything that you send, so there's nothing to retrieve from the servers and your privacy is assured.
Article Source