GoTrusted is headquartered in the US. The company provides a service that concentrates on making it easy to gain VPN security, so it's likely to be an option that people who aren't particularly technical will be interested in. They advertise their service as working well for users all over the world, have a very slick website and have been in business since 2005.
Pricing & Plans
GoTrusted has a single user plan which can be purchased on a 1-month, 6 month or 12-month basis.
GoTrusted also has group or business plans.
The company accepts major credit cards and PayPal for payment.
Free Trial/ Money-back Guarantee
You can get a seven-day free trial from this provider, but you have to enter a credit card or a PayPal account to do it. This free trial works on Windows, Mac, iPhone and Android. Once you've registered you can:
Use their service, full speed with no limitations.
It's the same service after the trial. You see what you pay for.
Access blocked websites, stream videos with privacy, hide your IP.
Cancel anytime, no questions asked.
If you don't cancel before the seven days are up, you'll get charged for a month's subscription.
Privacy & Anonymity
GoTrusted gathers/ tracks the following information:
Personal Information – for account processing
Session records – this gathered info is used to ensure the highest quality experience possible
Website Traffic patterns – track aggregate traffic patterns throughout their website. However, they do not correlate this information with personally identifiable data about individual users. They do track visits to their website from domain names, browser types and MIME types.
Provider Logging Policy
GoTrusted logs network performance but does not log your traffic.
Torrent Policy
Torrenting is allowed on this provider.
Customer Support
There's a live chat feature on the GoTrusted homepage that you can use to get assistance. Their support page also offers answers to common questions. If neither of those options works for you, there's an email you can use to contact support.
900 SE Ocean Blvd. – Suite D-232
Stuart, FL 34994
United States
Phone: +1 (305) 437-7620
Product Testing
The client for GoTrusted is very limited. This is not a service, at least in this particular regard, that's likely to appeal to people who enjoy having a lot of options presented to them right from the client.
This service is compatible with Windows, Mac, Android and IPhone devices. You'll have to configure mobile devices manually, but GoTrusted gives good instructions for doing so.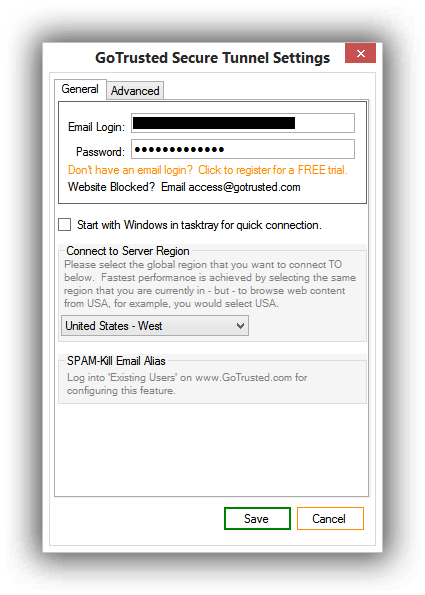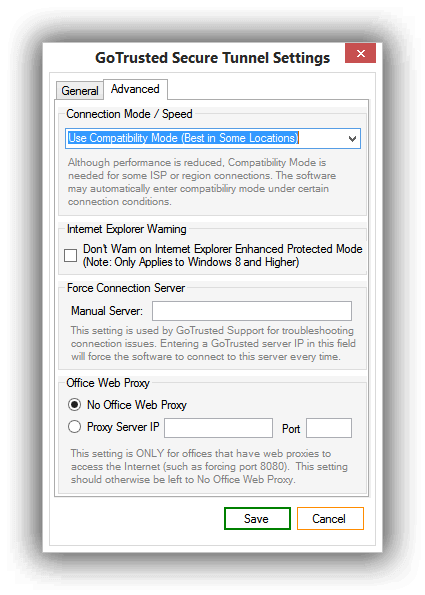 VPN Server Locations
GoTrusted has 70 locations available. However, their website does not provide the full list of supported countries.
Countries Supported: 

Ireland

Japan

Singapore

United Kingdom

United States
Speed Test
GoTrusted did very well in speed testing. Our speed did drop, of course, but it was still a brisk 28.69Mbps compared to a baseline of 43.53Mbps without the VPN connection.
IPCheck and DNSLeak Test
DNS did leak with this service. It would be advisable to configure your DNS settings manually or take other measures to ensure security in this regard.
Feature Summary
Unlimited Speed
Unlimited Transfer per Month
No IP Switch, VPN Type Limitations, or Other Hidden Costs
Connect your Laptop and Mobile Device at the Same Time, No Extra Charge
No Monitoring of Your Browsing Habits like ALL "Free" VPNs
Choose Monthly, 6-Month or Yearly Plans to Fit your Budget and Needs
Fast and Accurate Support Responses from their own Techs, No Outsourcing
Strong Encryption using Most VPN Types PLUS their Patented Encryption
PPTP, L2TP/IPSec, OpenVPN, SSL
Windows, Mac, Android, iOS
We Liked
The business plans are nice offerings. The company is clearly orienting itself toward business users, a niche where there isn't as much competition among VPN providers.
Areas for Improvement
The server selection is very limited here and that makes this service a poor one for torrenting or other P2P. The client really doesn't offer much to those who enjoy the experience of running a VPN, but it would be suitable for business users who just want to get it hooked up and forget about it.
Having to submit a payment method to try out the service makes GoTrusted less convenient with other providers in that regard.
Conclusion
GoTrusted isn't bad, but it doesn't really stand out as a great provider for personal users, either. It's solid in terms of speed and ease of use, which are the qualities business users are most likely to be worried about. For users who like to tweak their VPN settings, or who want features like kill switches and DNS leak protection built in, this isn't the best choice.
As always we recommend you check out our list of best vpn services and take a close look at GoTrusted. Also, maybe take advantage of their free trial and then make your own decision.