HiddenToolbox is a privacy tool. While it's not a replacement for a VPN service or a more developed anonymizing service like TOR, it is an advanced and powerful Windows based software (not a toolbar) designed to make all of your files invisible, organize them, and never get caught viewing your images, videos, or browsing on the web.
HiddenToolbox is unlike other encryption systems where it's obvious you're utilizing encryption on your computer. Once imported nobody will know the files exist on the computer, they are totally invisible, the computer appears to be completely clean.
Pricing & Plans
Their payment platform is currently being updated and does not show what their pricing is. However, you can buy HiddenToolbox by contacting them so they can issue a license directly through a PayPal payment.
The license includes free product updates, free support and free premium online services.
Quick Summary
Secret Web Browser
Import files to secret environment
File Organizer
Secret Media Player
Video Bookmarks
Search/ Files scanner
Playlists
Panic Button
Virtual Keyboard
Features
The program provides a private browser that doesn't store history and that will minimize the chances that your significant other, boss or anyone else will find something embarrassing on your computer.
The entire program is hidden from the Start menu, in fact. You open it up with a keyboard shortcut: QWOP simultaneously by default. It will then ask you for a password to open up the program.
From there, you get a browser, a media organizer, a search feature, a download manager and other interfaces. The program can play media files in most formats and allows you to view images without leaving any history on your computer.
The program uses 256-bit encryption to protect any files you have hidden.
There's also a feature that allows you to remotely destroy the program and all the hidden data associated with it.
PC Privacy features
Makes files invisible
HiddenToolBox program is invisible
Browser web in secret without leaving a trace
View your images and videos leaving no history
Hidden files encrypted to military standards
Instant file viewing with zero decrypt time
File shredder ensures deleted files cannot be unerased
Remote self-destruct when the PC cannot be reached
User defined instant shut down panic keys
Timer based auto shutdown
Pop up blocker
Secret Key recovery through web-based control panel
Store any files, videos, images, documents, PDF, Word, etc.
Media Tools
Organize media by keywords & comments
Create custom storage categories
Search engine – find your media fast by keywords, tags & comments
Import your favorite web bookmarks
System Requirements
Operating System: Win10, Win8/8.1, Win7, Vista, Win XP
RAM: 1.5Gig
Hard Drive Space: 200MB
CPU: 1.5GHz
Product Testing
HiddenToolbox did hide our IP while browsing with the bundled server. DNS leaked, however.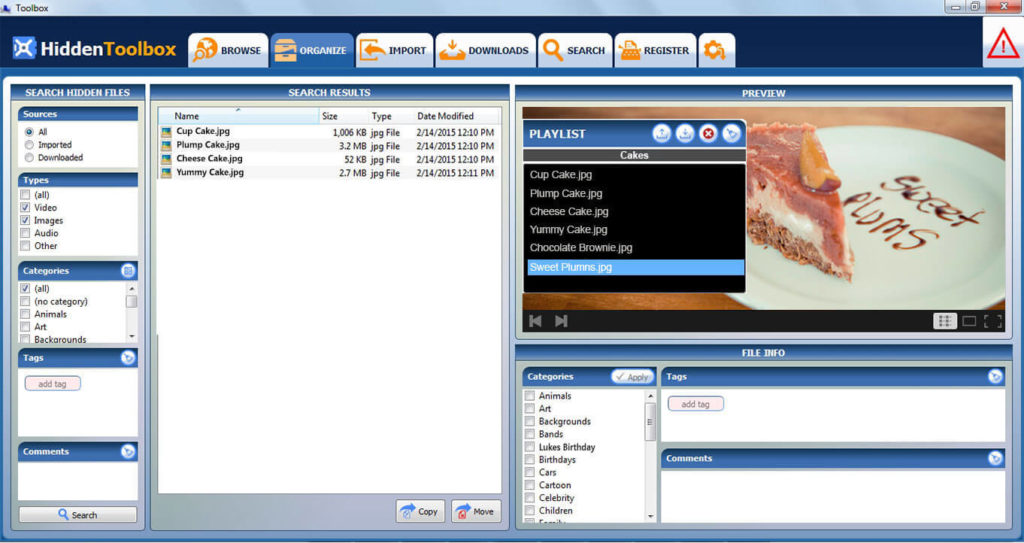 Customer Support
The HiddenToolbox site has a decent support page for any question you may need answering. We also recommend that you check out their FAQ section more details on their service. If those two pages aren't enough, reach out via their 'contact us' page.
Conclusion
HiddenToolbox might be a good solution if you just want to hide some files here and there. The anonymous browser is nice and it did hide our IP, but the DNS leak shows that, if your security concerns are very high-stakes—such as if you're in a nation where the Internet is censored by the state—HiddenToolbox is not a replacement for a VPN.
You can run a VPN with this service to improve your overall security. It does have more features than TOR, but it's not the same type of product, so it's important not to confuse the two.
Overall, HiddenToolbox isn't bad if you want to make your computer more private. If you need serious security, go with TOR and a VPN.